Part 8 in our Wound Care Guide series. See Part 1, Part 2, Part 3, Part 4, Part 5, Part 6, and Part 7. Check out our comprehensive, digital Wound Care Guide here.
---
I am going to make a bold statement: for every cushion purchased a back support should be purchased with it. No exceptions.
WHAT did she say??? You heard correctly!
I have been asked many times why I feel so strongly about replacing wheelchair sling backs to provide the optimal seating system for our patients. I will provide you with a multitude of reasons, which we will explore in a moment.
---
Almost immediately after making that statement, I get asked, "Why do manufacturers even bother putting a sling back on the chair if they are so 'bad?'" Great question, and I use a shoe analogy to explain my reasoning. You can go out and purchase a $50 pair of sneakers from Shoe Depot or go to a specialized running store and purchase a $180 pair of sneakers, and they will have one thing in common: the thin, flimsy foam insert that every manufacturer must supply to release the product to the market. The shoe manufacturer must supply the bare minimum insert to protect a foot from minimal shock and trauma while wearing the shoe. However, the research and time manufacturing the highest quality shoe was not spent in making the foam insert; it was in every other aspect of the shoe. The manufacturer looked at things like:
What is the shape and material of the toe box?
What is the best heel contour?
Is a neutral shoe better for someone who pronates or supinates with each stride?
The technology behind the shoe to allow for a comfortable, efficient, and injury-free stride sets it apart from the lower end models and not the thin, flimsy foam insert! Manufacturers understand that if you have a more complex podiatry need due to plantar fasciitis or Achilles tendonitis, etc, then you will have to replace the manufacturer insert with a more expensive, specialized insert or orthotic that can accommodate or correct the underlying issue. And this is the same situation with the sling back.
The sling back is just like that thin, flimsy foam insert in the shoe. It helps meet qualification for the wheelchair to be sold in the market but cannot accommodate or correct for any type of postural abnormality. Moreover, it will not be able to stabilize or create better pressure redistribution to prevent a fall or pressure injury in a seating system.
---
This important stability and prevention does not begin and end with the seat of the wheelchair. We have been singing songs since we were children that every bone, joint, and muscle is connected, affecting the movement and stability of the entire body. So we shouldn't focus solely on the pelvis and purchase only a cushion to fix a seating issue. It is all connected, and if we want the trunk, head, neck, and extremities to be better aligned, then we need to consider the critical role of the back support and how it affects the movement and stability of the pelvis and everything else below and above it.
A back support can allow you to:
Optimize the wheelchair configuration by opening or closing seat-to-back angle
Stabilize the spine/trunk more effectively to maximize alignment for increased independence with functional tasks
Allow for the ability to immerse and contour to the spine for maximum contact and decreased risk of pressure injury development.
If the back support can do so much, now it is easier to see that the cushion alone cannot solve the seating issue. We should now realize that our patients deserve more than the, "thin, flimsy foam" insert and need a more specialized option that will allow for optimal stability, alignment, and function!
---
---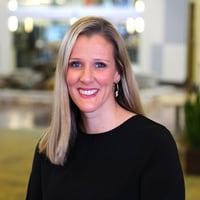 Ana Endsjo, MOTR/L, CLT
Clinical Education Manager LTC Division
Ana Endsjo has worked as an occupational therapist since 2001 in a variety of treatment settings. She has mainly worked with the geriatric population, dedicated to the betterment of the treatment of the elderly in LTC centers. Her focus has been on seating and positioning and contracture management of the nursing home resident. With this experience, her hope is to guide other therapists, rehab directors, nurses, and administrators through educational guides, blogs, webinars, and live courses in her role as Clinical Education Manager for the long term care division.