Part 6 in our Wound Care Guide series.See Part 1, Part 2, Part 3, Part 4, and Part 5. Check out our comprehensive, digital Wound Care Guide here.
---
Immersion is another method of pressure redistribution, neither better nor worse than offloading. Whether it is better or worse depends completely on the patient's individualized needs and what you as a therapist are trying to achieve.
Recall that the principle of offloading is redistributing pressure away from a small surface area onto a greater surface area that can withstand the constant pressure better, making a patient less likely to sustain a pressure injury.
Immersion, on the other hand, is the principle of conforming to the person's curvature by "sinking the body in." We allow the cushion and/or back support to take the body's shape, alleviating the bony prominences from unwanted peak pressure to maximize pressure redistribution.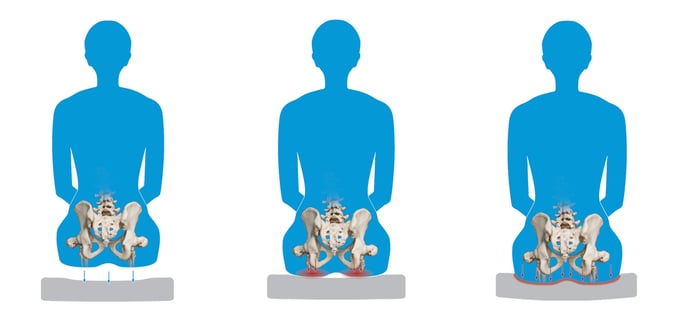 Without Immersion
Peak pressures under the ITs

With Immersion
Even pressure redistribution over entire gluteal surface
---
What are the benefits of using an immersion style cushion?
Less firm surface, creating a "softer" end feel for the patient; may be an ideal solution for pain management
Envelops or captures the exact curvature of the pelvis to increase pressure redistribution over the largest area possible
Reduces peak pressures at the bony prominences (ITs, sacrum, coccyx)
Good for any stage or location of a pressure injury
Less contouring may make independent transfers easier
What are the considerations of using an immersion style cushion?
Due to less aggressive contouring, may not be suitable for someone with trunk and pelvic weakness during prolonged sitting.
May not be suitable for someone who desires proprioceptive input from a firmer surface to maintain an upright, midline posture.
Some immersion style cushions require daily maintenance to ensure that the medium being used (air or gel) does not thin out from under the bony prominences. If not maintained, the cushion may "flatten out," placing the patient at higher risk for a pressure injury.
---
Some styles of immersion cushions require maintenance; however, don't let that scare you away from using that cushion if it truly is the ideal choice for the patient. Cushion manufacturers continually develop systems to help patients and therapists monitor air to ensure the ideal fit.
SmartCheck is a great example of this. ROHO SmartCheck will instantly tell you if you need to inflate or deflate the cushion to maintain the ideal cushion settings for that patient.
We need to trial as many options as we can, choose the pressure redistribution cushion that not only maps well but allows maximum function and independence at the same time!
---
---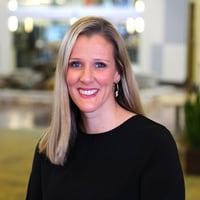 Ana Endsjo, MOTR/L, CLT
Clinical Education Manager LTC Division
Ana Endsjo has worked as an occupational therapist since 2001 in a variety of treatment settings. She has mainly worked with the geriatric population, dedicated to the betterment of the treatment of the elderly in LTC centers. Her focus has been on seating and positioning and contracture management of the nursing home resident. With this experience, her hope is to guide other therapists, rehab directors, nurses, and administrators through educational guides, blogs, webinars, and live courses in her role as Clinical Education Manager for the long term care division.