Part 7 in our Wound Care Guide series. See Part 1, Part 2, Part 3, Part 4, Part 5, and Part 6. Check out our comprehensive, digital Wound Care Guide here.
---
Sometimes we get really caught up on the pressure aspect of wound development and don't really consider that wounds can be caused by more than just pressure alone. In fact, there are three extrinsic factors that really make our patients more susceptible to pressure injuries:
Tissue death can occur with both pressure and shear, but the mechanism is quite different. Generally, as healthcare providers, we are more familiar with a pressure injury caused by pressure starting superficially at the epidermis and then moving deeper through the layers of skin. I usually refer to this type of pressure injury as an outside-in wound, since the damage starts at the outer layer of the skin, moving deeper into the more internal layers of skin, tissue, muscle, and bone. We begin treatment when we notice the telltale visual signs of: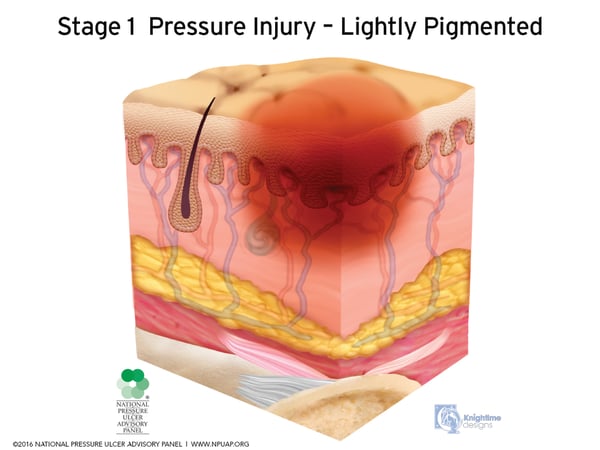 ---
However, we CANNOT forget about the severity of the damage caused by shear. Often pressure injuries caused by shear can be more dangerous than pressure alone.
Let's recall what shear is. Shear, by definition, is a combination of downward pressure AND friction and occurs while a patient is in movement in the wheelchair system. Shear commonly occurs in the wheelchair system:
While the patient is sliding into an abnormal posture due to an ill-fitting wheelchair system;
When there is unwanted movement in a wheelchair due to a lack of pelvic and/or trunk stability;
With agitated patients constantly shifting, repositioning, and reaching while in the wheelchair system;
During transfers in and out of the wheelchair;
When repositioning a patient multiple times in the wheelchair system by dragging their pelvis
I often refer to a shear as the "silent" extrinsic factor because it does its damage before giving telltale pressure injury signs like those caused by pressure alone. However, a pressure injury caused by shear is "silent" because it:
begins in the deeper layers of the skin at the bone-tissue interface,
forms from the inside and expands outward to the surface of the skin,
goes undetected longer since the pressure injury gives no telltale visual signs to begin intervention early.
I usually refer to this type of pressure injury as an inside-out wound as it begins deep at the bone-muscle interface and moves superficially. By the time a pressure injury caused from shear forces is visible, it usually is already at a very advanced stage, referred to as a deep tissue injury (DTI).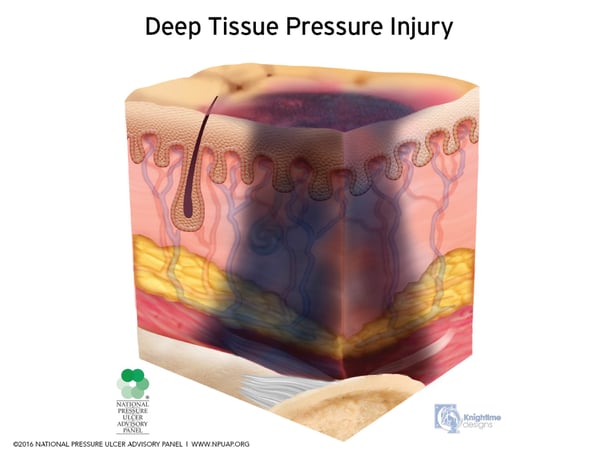 ---
Another factor that makes shear more dangerous than pressure alone is that it doesn't just cause ischemia of the tissue under a peak pressure. Rather, it causes permanent cell deformation. Cell deformation caused by shear is irreversible and happens more quickly than tissue ischemia caused by pressure alone. The constant downward pressure in combination with friction leads to permanent cell deformation and death by:
cutting off the oxygen supply to skin and tissue
tearing and damaging the capillary walls
allowing fluid to leak into surrounding tissue.
The importance of wheelchair configuration to prevent and treat pressure injuries and falls is critical in optimal wheelchair positioning. Here is a great short video that allows you to see firsthand the importance of wheelchair configuration!
---
---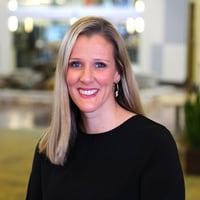 Ana Endsjo, MOTR/L, CLT
Clinical Education Manager LTC Division
Ana Endsjo has worked as an occupational therapist since 2001 in a variety of treatment settings. She has mainly worked with the geriatric population, dedicated to the betterment of the treatment of the elderly in LTC centers. Her focus has been on seating and positioning and contracture management of the nursing home resident. With this experience, her hope is to guide other therapists, rehab directors, nurses, and administrators through educational guides, blogs, webinars, and live courses in her role as Clinical Education Manager for the long term care division.