Part 2 in our Wound Care Guide series. See Part 1. Check out our comprehensive, digital Wound Care Guide here.
---
Let's start off this blog by taking a quick quiz:
True or False? A cushion alone will prevent a patient from sitting in or developing an abnormal posture.
True or False? Any wheelchair model will work for a patient as long as they have a skin protection cushion.
True or False? Specialized back supports are only for treating pressure injuries along the spine.
The answers are:
False!
False!
False!
It is the interaction between the appropriate wheelchair model, back support, and cushion that creates the optimal seating system to prevent a pressure injury! When we start putting the pieces together, it starts to add up to a "Simple Equation."
Optimal Seating System Equation

Understanding this equation is critical because patients are highly susceptible to pressure injuries in a seated posture due to the facts that:
40-90% more stress goes directly through the spine than when standing
75% of weight goes through the pelvis.
This makes it imperative that we position our patients with the appropriate seating system.
It is essential to understand the interplay between all three pieces (wheelchair, back support, and cushion) to create an optimal seating SYSTEM for prevention and treatment of pressure injuries.
And remember... all equipment is NOT created equal!!!
---
Join us next week as we go over the importance of cushions for the geriatric population.
---
---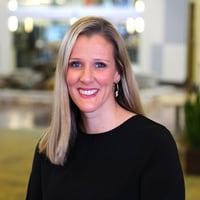 Ana Endsjo, MOTR/L, CLT
Clinical Education Manager LTC Division
Ana Endsjo has worked as an occupational therapist since 2001 in a variety of treatment settings. She has mainly worked with the geriatric population, dedicated to the betterment of the treatment of the elderly in LTC centers. Her focus has been on seating and positioning and contracture management of the nursing home resident. With this experience, her hope is to guide other therapists, rehab directors, nurses, and administrators through educational guides, blogs, webinars, and live courses in her role as Clinical Education Manager for the long term care division.