Part 4 in our Wound Care Guide series. See Part 1, Part 2, Part 3. Check out our comprehensive, digital Wound Care Guide here.
---
The rule of thumb to minimize peak pressures with the goal of reducing the risk of or healing an existing pressure injury is: remove pressure from a small surface area that cannot withstand constant pressure or shear forces and REDISTRIBUTE it across areas of greater surface area. For example, we can redistribute pressure from the ITs to the femur and as much of the gluteal surface as possible. And we achieve this through either offloading or immersion.
One method is not necessarily better than the other; a therapist must understand what the benefits and considerations are of all methods and choose the best option for each patient. Utilize cushions that through their construction offload or immerse, or combine the principles.
Let's review in detail the principle of offloading.
---
What is offloading?
Offloading is the principle of taking pressure off a small surface area and loading it onto a greater surface area that can withstand more pressure, preventing unwanted skin breakdown. Pressure is loaded onto a greater surface area through the built-in contours of a cushion that help align and stabilize the spine, pelvis, and LEs to allow the pressure and shear forces to be transferred to a greater surface area. The illustrations below create a clear picture of this principle: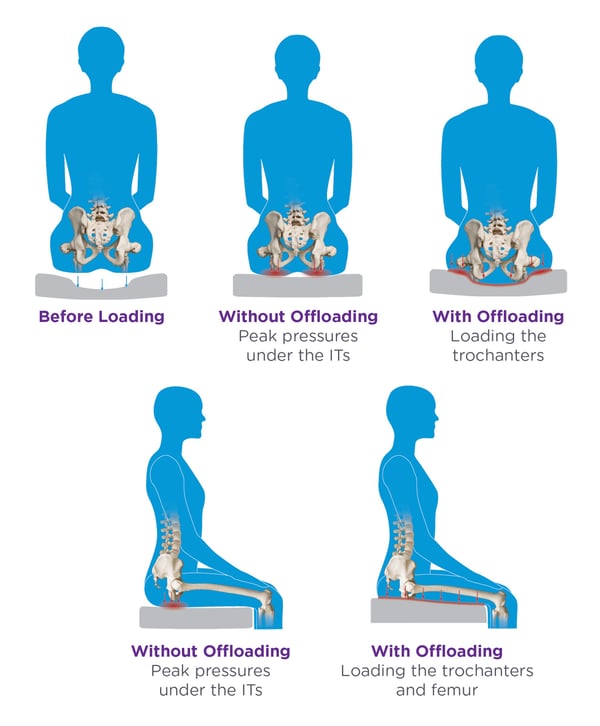 ---
What are the contours needed for offloading pressure?
Deep Posterior Well

When combined with lateral tapered adductors, offloads and suspends the ITs, sacrum, and coccyx and loads the femurs.

Lateral Tapered Adductors

Align the LEs and prevent abduction and external rotation for maximum femoral loading. Assist to load the trochanters.

Medial Abductor

Align the LEs and prevent adduction and internal rotation for maximum femoral loading.
---
Benefits and considerations of using an offloading style cushion
What are the benefits of using an offloading style cushion?
Firmer surface creates a "safer" end feel for patient.
Provides more stability to someone lacking trunk or pelvic strength, which helps prevent unwanted movement.
Partially or completely suspends the ITs, sacrum, and coccyx.
Redistributes pressure to areas that can withstand more pressure, i.e. femurs and greater trochanters.
What are the considerations of using an offloading style cushion?
Not good for patients with trochanter wounds since pressure is redistributed to that area.
Due to the firm feel, may not be suitable for someone with hypersensitivity.
Since the nature of the contours add more stability and "lock in" the pelvis, it may be more difficult for independent transfers.
Someone with significant contractures may not "fit" the pre-contoured shape.
The key as a therapist is to know your patient, understand the benefits and considerations of an offloading cushion, and trial this style of cushion. This way you can ensure they not only achieve the stability and pressure redistribution this style of cushion can provide but can also be certain they can function pain-free to their highest capacity.
---
References:
Turnham, Hollis, Esquire. "Consolidated Omnibus Budget Reconciliation Act of 1985 (COBRA)." Health Care Policy and Politics A to Z (n.d.): n. pag. Federal Nursing Home Reform Act from the Omnibus Budget Reconciliation Act of 1987. Web. 9 Aug. 2016. <http://www.ncmust.com/doclib/OBRA87summary.pdf>.
---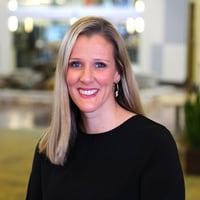 Ana Endsjo, MOTR/L, CLT
Clinical Education Manager LTC Division
Ana Endsjo has worked as an occupational therapist since 2001 in a variety of treatment settings. She has mainly worked with the geriatric population, dedicated to the betterment of the treatment of the elderly in LTC centers. Her focus has been on seating and positioning and contracture management of the nursing home resident. With this experience, her hope is to guide other therapists, rehab directors, nurses, and administrators through educational guides, blogs, webinars, and live courses in her role as Clinical Education Manager for the long term care division.