Part 2 in our series A to Z Considerations for Seating & Wheeled Mobility: A Quick Reference Clarifying Confusion Around CRT. See Part 1, Part 2, Part 3, Part 4, Part 5, Part 6, Part 7, Part 8, Part 9, Part 10, Part 11, Part 12, Part 13, Part 14, Part 15, Part 16, Part 17, Part 18, and Part 19. Looking for more resources on seating and wheeled mobility? Check out our digital Wheelchair Seating and Positioning Guide.
---
I will never forget meeting a gentleman with progressive COPD; he was in acute rehab after an acute COPD exacerbation and was extremely debilitated. As I completed my evaluation and asked my typical history questions, the gentleman shared with me:
That he only had the pulmonary endurance to perform bed<>recliner and recliner<>BSC transfers throughout the day at baseline.
This had been his life for several years.
He sat in his recliner, staring out of his window every day just wishing he had the endurance to make it outside. But, due to his severe shortness of breath and increased heart rate associated with mobility, this was not feasible for him.
I remember thinking to myself, "I cannot let this be his life. He deserves more."
---
As I continued my evaluation, I decided to record the patient's heart rate and O2 saturations with mobility. I demonstrated objectively the toll both ambulation and manual wheelchair propulsion took on his body, and I was able to justify a power wheelchair as a mobility aid to allow independent mobility both within and outside of his home. I remember how tearful he and his wife were when I shared that, according to my assessment, I would recommend a power wheelchair for mobility to allow a greater sense of independence and accessibility.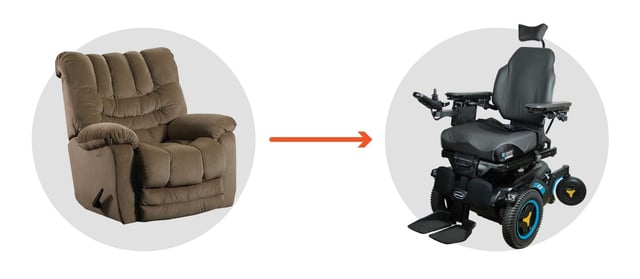 Tears of joy filled my eyes knowing this man had regained such independence and was no longer confined to his bed and recliner, constrained by the four walls of his house.
I share this story to demonstrate one example of the tricky "gray area" presentations we come across daily, and, one that many of us may not initially recognize as someone who qualifies for wheeled mobility. It is critical that we take all body systems and function into account when we broach the subject of mobility in general but especially when it comes to potentially qualifying someone for wheeled mobility.
Although we, as clinicians, certainly care about our clients' quality of life and their ability to function both in the home and the community, keep in mind that Medicare (and all insurers) ONLY takes into consideration what the individual does INSIDE of the home. In order for patients to qualify for wheeled mobility, they MUST require the mobility device in order to be safe and functional within the home environment in and of itself.
---
Below are some useful considerations and criteria to determine if a patient may benefit and qualify for wheeled mobility:
Patient is non-ambulatory
Decreased safety with ambulation or is at risk for falls within the home: Ask about history of falls and perform an objective balance assessment, i.e. BERG, DGI.
Must perform activities of daily living (ADL's) from a seated position: Can the patient be independent or more independent with ADL's if able to perform seated versus standing?
Unable to consistently ambulate throughout the day in the home: Look at a 24-hour period. Does the patient fatigue? Do the client's O2 saturations drop below or does his HR increase above a safe range?
Requires assistance for ambulation within the home and wheeled mobility would allow independence
Requires increased time for ambulation within the home: Perform a gait speed test, think about whether the patient can make it to the restroom without experiencing urge incontinence, and ask, would a wheelchair allow them to get to the restroom in time?
Patient/caregiver demonstrates appropriate use of the wheelchair for positioning and/or mobility: Is the patient dependent but the caregiver is willing and able to assist? Is the device needed for positioning to prevent pressure injuries or the development of an abnormal posture?
To perform their ADL's in the customary location within the home: Would wheeled mobility allow the patient to toilet in the restroom versus having to use a bedside commode?
Next week, we begin looking at efficiency in performing wheelchair evaluations and documenting medical necessity. I hope to see you then!
---
---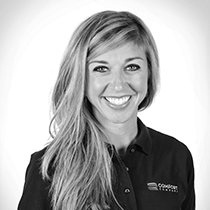 Lindsey Sharpe, PT, DPT
Lindsey Sharpe graduated with a BA in Exercise and Sport Science from the University of North Carolina at Chapel Hill in 2007 and with her Doctor of Physical Therapy from Elon University in 2010. Lindsey was a practicing clinician for seven years primarily focusing on neurological conditions and wheelchair seating and positioning.
Lindsey was first introduced to wheelchair seating and positioning during her time on the spinal cord injury team at the University of Virginia's acute rehab hospital where she discovered her interest in and passion for this niche in the therapy world. Lindsey went on to open a brand-new seating clinic with Carolinas Healthcare System in Concord, NC where she advanced her knowledge and skills performing both inpatient and outpatient seating evaluations for clients of all ages having a variety of diagnoses.