Part 11 in our series A to Z Considerations for Seating & Wheeled Mobility: A Quick Reference Clarifying Confusion Around CRT. See Part 1, Part 2, Part 3, Part 4, Part 5, Part 6, Part 7, Part 8, Part 9, Part 10, Part 11, Part 12, Part 13, Part 14, Part 15, Part 16, Part 17, Part 18, and Part 19.
---
Now that you have objectively justified that your client does, in fact, require wheeled mobility to perform functional tasks and MRADLs in a safe and timely manner, it is time to begin mobility equipment trials.
---
Functional Trials in a Manual Wheelchair
If you think an optimally configured manual wheelchair will allow your patient the level of safety and independence required to navigate the home and perform necessary daily activities, then you need to complete functional trials in a manual wheelchair.
Again, you must rule-out the least expensive mobility equipment options; here are some considerations in doing so:
Function and Efficiency
If your client can ambulate but is not efficient, you can repeat the timed gait distance test you utilized when assessing ambulation and compare the time to that of the client utilizing wheeled mobility as the means of mobility.
Can the client utilize a standard wheelchair (K0001) or a standard hemi-height wheelchair (K0002) safely and efficiently? If not, is a lightweight wheelchair (K0003) sufficient?
Adjustability
Does the K0001, K0002, or K0003 offer the level of adjustability your client requires to achieve an appropriate fit in the wheelchair? No? Then, you must look at a high-strength, lightweight wheelchair (K0004). While the K0004 offers increased adjustability and improved ability to customize the chair based on your client's specific needs, it is still very limited. If this is not sufficient, only then can you begin looking at an ultra-lightweight manual wheelchair (K0005). The K0005 is the lightest and most adjustable wheelchair; it offers the greatest level of customization and configurability within the manual wheelchair category.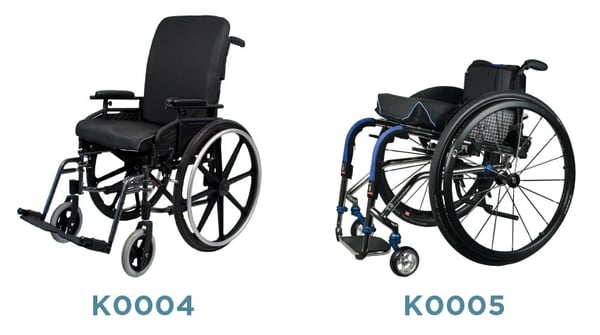 *TIP: The extent to which a K0005 manual wheelchair can be customized based on that specific client's body and individual needs often enables them to truly be a functional manual wheelchair user. The K0005 can be the difference in getting to the bathroom in time and avoiding incontinence throughout the day. It is my opinion that best practice is to at least assess for this category of manual wheelchair for anyone is who is a full-time user.
Dependent Propulsion
If the client is dependent but does NOT have the ability to drive a power wheelchair (be sure to think through alternative drive controls before ruling out power wheelchair options), then you will be considering a manual tilt-in-space chair that the caregiver can easily push and maneuver.
*TIP: Here is a chart to help you understand the pros and cons of each of the types of manual wheelchairs mentioned above: K0001-K0005 and manual tilt-in-space.
Real Life Suggestions
While it would be ideal to actually complete trials in each of these types of wheelchairs, we all know that time is a constraint. Check out next week's blog on real life suggestions to quickly rule out lower model manual wheelchairs from the data you gathered during your physical assessment.
---
---
References:
"Adult Wheelchairs Categorized and Explained - Northwest Pompano." Active Mobility Center, 10 May 2015. Web. 19 July 2016. http://nearsay.com/c/44448/33117/ adult-wheelchairs-categorized-and-explained 

Cole, Elizabeth. "Choosing the Appropriate Manual Wheelchair." US Rehab Seating and Mobility Master Program. 2016 Lecture. 

Manual Wheelchair Qualification Checklist. University of Pittsburgh. http://www.rstce.pitt.edu/RSTCE_Courses/RSTCE_Course_AAH/4cManualWCChecklist.pdf
National Academies of Sciences, Engineering, and Medicine. 2017. The Promise of Assistive Technology to Enhance Activity and Work Participation. Washington, DC: The National Academies Press. https://doi.org/10.17226/24740.
Mullis, Stacey, OTR/L, ATP; Endsjo, Ana, MOTR/L, CLT; Sharpe, Lindsey, PT, DPT. Seating and Positioning Guide. Comfort Company. 2017.
Watanabe, Laurie. "Justify It! K0005 Manual Chairs."Mobility Management, 1 Jan. 2014, mobilitymgmt.com/articles/2014/01/01/k0005-manual-chairs.aspx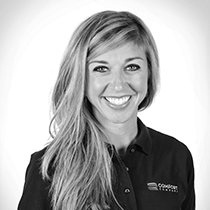 Lindsey Sharpe, PT, DPT
Lindsey Sharpe graduated with a BA in Exercise and Sport Science from the University of North Carolina at Chapel Hill in 2007 and with her Doctor of Physical Therapy from Elon University in 2010. Lindsey was a practicing clinician for seven years primarily focusing on neurological conditions and wheelchair seating and positioning.
Lindsey was first introduced to wheelchair seating and positioning during her time on the spinal cord injury team at the University of Virginia's acute rehab hospital where she discovered her interest in and passion for this niche in the therapy world. Lindsey went on to open a brand-new seating clinic with Carolinas Healthcare System in Concord, NC where she advanced her knowledge and skills performing both inpatient and outpatient seating evaluations for clients of all ages having a variety of diagnoses.