Today our focus turns towards alternative drive controls in our power wheelchair series. When a client seems unable to use a standard joystick, the first step is to try some modifications that may solve the problem:
Positioning of the individual

Mounting/placement of the joystick

Alternative joystick knobs (shape, texture, height)

Programming adjustments (ie. throw, dampening, deadband, etc)
But sometimes clients don't have the upper extremity control, endurance, or coordination to use a standard joystick. In this case there are technologies available depending on the movement and strength of the individual. These options are called alternative drive controls and we will start with discussing the benefits and considerations of: head array, sip & puff, and switch arrays & multiple-switch control.
---
Head Array
Uses head movement to activate proximity or mechanical switches built into pads. Some newer models also have a proportional component.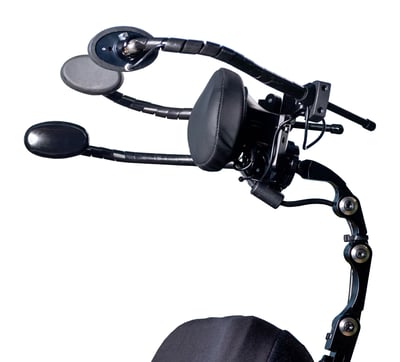 | | |
| --- | --- |
| Benefits may include | Considerations |
| Aesthetically pleasing to many since there is nothing in front of the face | Requires good head/neck control |
| Often do not need to move out of the way for transfers, but need to be careful if using hoyer/sling | Client may lose head array access if he/she shifts out of position |
---
Sip and Puff
Sip & puff is a pneumatic switch that uses varying air pressure from the person's mouth via sips in or puffs out, to control the wheelchair.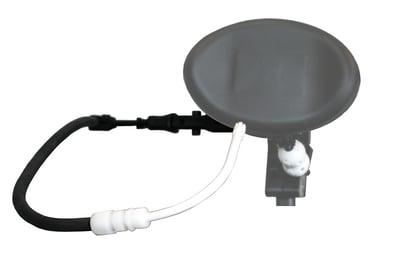 The most common commands are: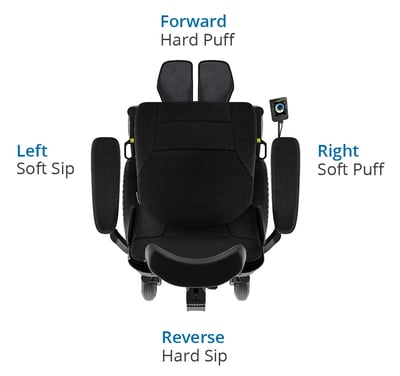 | | |
| --- | --- |
| Benefits may include | Considerations |
| Forward and reverse can be "latched" so that client does not have to maintain hard commands for long periods of time | If latched, requires an emergency stop switch that client can access |
| Amount of sip and puff required to activate can be programmed based on end user's capabilities | Client must have good oral motor control and be able to manage secretions |
| Straw can travel with client if he/she shifts out of position | Some people have difficulty differentiating between hard and soft commands |
| Easy to move drive control out of the way when transferring in/out of the wheelchair | Consider client's cognitive abilities, particularly if programming as latched |
---
Switch Arrays & Multiple-Switch Control
A switch array is a series of two or four switches (proximity or fiber optic), typically mounted in a tray, used to operate the power wheelchair. Multiple switches can also be set-up wherever needed based on the user's available movement. When using multiple switches, a combination of mechanical, proximity, or fiber optic switches may be used based on the available movement and strength at each switch site.
Benefits may include

Considerations

Allows for power wheelchair operation with very little movement from the wheelchair user

Does require at least two switch sites

Can take advantage of multiple switch sites throughout the body if needed, for example, one switch at each hand and a switch at the knee

Must consider additional electronic components needed to interface the switch array or multiple switches with the power wheelchair

Switches may be less demanding cognitively than a proportional input device
---
Join us next time in our power wheelchair series as we look at the rest of the alternative drive control options.
---
---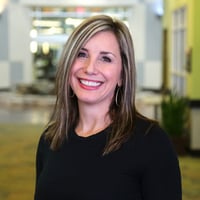 Stacey Mullis, OTR/ATP
Director of Clinical Marketing
Stacey serves as Director of Clinical Marketing for Permobil. A practicing OTR for over 20 years, she has experience in school-based pediatrics, inpatient rehabilitation, long term care, and home health. With her interest in wheelchair seating and positioning, Stacey engaged the challenges of providing appropriate seating in various clinical settings. She now uses this experience to develop programs and resources to educate clinicians on the principles of seating and wheeled mobility. She is passionate about equipping clinicians and through her previous role as Director of Clinical Education with Comfort Company and now with Permobil she has taught nationally and internationally to increase therapist capacity in this specialty area. Mullis graduated from Western University in London, Ontario, Canada with a BA Linguistics and BSc Occupational Therapy. She is a member of the NCOTA, CTF Executive Board, NRRTs, RESNA, and AOTA.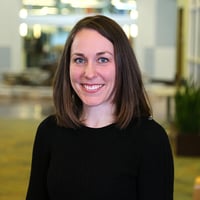 Angela Regier, OTD, OTR/L, ATP/SMS
Clinical Education Manager
Angela Regier, OTD, OTR/L, ATP received her doctorate of occupational therapy from Creighton University in 2007 and is a RESNA-certified assistive technology professional. Regier joined Permobil in 2017 as a Clinical Education Manager for the western region. Prior to joining Permobil, Regier was at Craig Hospital in Englewood, Colorado where her career focused on inpatient and outpatient spinal cord injury rehabilitation. Prior to leaving Craig Hospital, she was supervisor of the Wheelchair Seating and Mobility Clinic where she provided comprehensive seating and mobility interventions for individuals with acquired brain and spinal cord injury. Regier has published and speaks on the topic of seating and mobility for acquired brain injury and spinal cord injury. She has also served as an adjunct faculty for the Creighton University Entry-Level Distance OTD Program (Regis) in Denver, Colorado.