This is the 2nd blog in our series about power wheelchairs. Check out the 1st blog and our Power Wheelchair Guide for more information about power mobility.
---
As we work our way through our blog series on power wheelchairs and mobility, we're taking a look at drive wheel placement. The drive wheel is simply the larger wheel on the power wheelchair and can have a big impact on the way the power wheelchair maneuvers in different environments. Below we discuss the three main options of drive wheel placement and their benefits and considerations. Keep in mind that not everyone will benefit from the same drive wheel configuration. It is important to ask questions and complete an evaluation to determine which drive wheel would be best for your client.
---
CRT Front-Wheel Drive (FWD) Wheelchair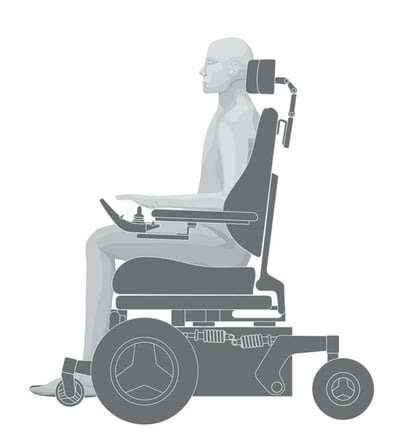 With FWD, the drive wheels are at the front of the wheelchair and there are two caster wheels at the rear of the wheelchair. This drive configuration is often preferred for reasons listed below. For a more in-depth review of front-wheel drive wheelchairs, check out part 1 of our series about drive wheel on a power wheelchairs.
Benefits may include

Considerations

The front drive wheel is the first to meet an obstacle and pulls the rest of the wheelchair over the obstacle resulting in a smoother transition

There may be a slightly longer learning curve to successfully use a front-wheel drive, as much of the wheelchair is behind the client*

Force is higher when distributed to only four tires (instead of 6) resulting in increased traction when going over various terrains

Lack of front caster interference allows lower extremities to be tucked further back. Could be of particular importance for clients with tight hamstrings

Can easily navigate tight corners in a home, such as 90° turns in a hallway

Can get directly in front of sinks, counters, etc, and allows the end user to pull up closer to counters/items

For alternative drive control users, particularly those using switch input devices such as head array or sip & puff, less casters on the ground means less of an impact of "caster whip". This results in less corrective inputs required when changing directions
*Some find this to be the easiest to learn to drive and describe it as most similar to walking. For example when I get to a door I immediately turn in.
---
CRT Mid-Wheel Drive (MWD) Wheelchair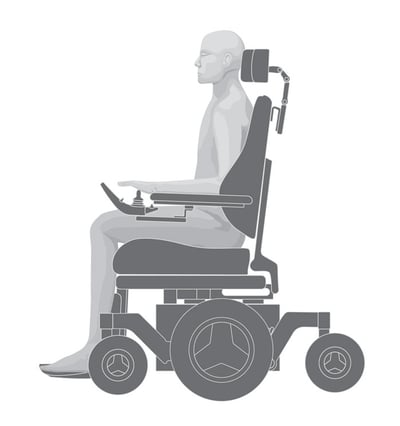 With MWD, the drive wheel is directly under the wheelchair user, and there are four caster wheels on the ground – two in front of the drive wheel and two behind the drive wheel. This drive configuration is often preferred for indoor use because of its tight turning radius. However, with advances in suspension, MWD wheelchairs have improved in outdoor performance. For a more in-depth review of mid-wheel drive wheelchairs, check out part 2 of our series about drive wheel on a power wheelchairs.
Benefits may include

Considerations

The drive wheel placement allows for the tightest turning radius when completing a 360° turn

On uneven terrain or grade transitions, casters can get stuck on an obstacle, resulting in high centering (suspending the drive wheel off the ground)

Can easily navigate most turns in the home

Many find this base the most intuitive to drive since the user's center of gravity is directly over the drive wheel

Front and rear casters help provide a stable base
---
Rear-Wheel Drive (RWD) Wheelchair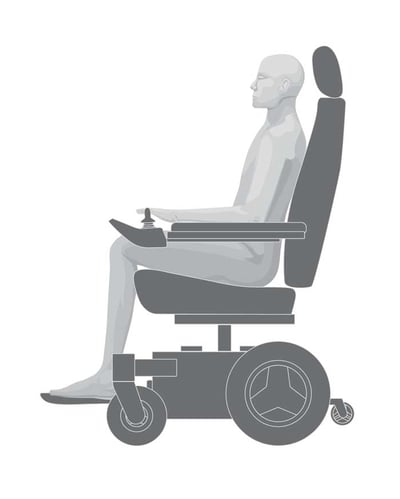 With RWD, the drive wheels are at the rear of the wheelchair and the two casters are at the front of the wheelchair. This was the original PWC configuration in the US. With advancements in MWD and FWD, it is no longer the standard and not commonly used, however, there are end users that have used RWD for years and prefer to stay with this base type.
| | |
| --- | --- |
| Benefits may include | Considerations |
| Having drive wheels in the rear provides a very stable base anteriorly | Largest turning radius making it difficult to maneuver in the home and vehicles |
| Designed with directional stability meaning that the wheelchair will naturally track straight | Large front casters can interfere with lower extremity positioning since the casters make it difficult to tuck lower leg; also contributes to an overall increased footprint. Due to limitations in lower extremity positioning, RWD may not be a good options for clients with tight hamstrings |
| Good performance outdoors since there are only 2 casters and the drive wheels, does not typically result in high centering (suspending the drive wheel off the ground) | May feel tippy rearward |
---
The best drive wheel placement for you client depends on:
the primary environment the power wheelchair will be used in

what your client is currently using

what your client has used in the past
And as always, allow sufficient time for trial as there may be a learning curve, especially for new power wheelchair users.
Join us next time as we continue to look at drive wheel configuration and how it impacts indoor maneuverability.
---
---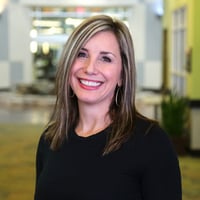 Stacey Mullis, OTR/ATP
Director of Clinical Marketing
Stacey serves as Director of Clinical Marketing for Permobil. A practicing OTR for over 20 years, she has experience in school-based pediatrics, inpatient rehabilitation, long term care, and home health. With her interest in wheelchair seating and positioning, Stacey engaged the challenges of providing appropriate seating in various clinical settings. She now uses this experience to develop programs and resources to educate clinicians on the principles of seating and wheeled mobility. She is passionate about equipping clinicians and through her previous role as Director of Clinical Education with Comfort Company and now with Permobil she has taught nationally and internationally to increase therapist capacity in this specialty area. Mullis graduated from Western University in London, Ontario, Canada with a BA Linguistics and BSc Occupational Therapy. She is a member of the NCOTA, CTF Executive Board, NRRTs, RESNA, and AOTA.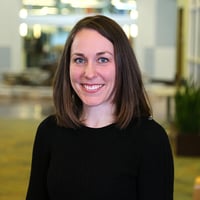 Angela Regier, OTD, OTR/L, ATP/SMS
Clinical Education Manager
Angela Regier, OTD, OTR/L, ATP received her doctorate of occupational therapy from Creighton University in 2007 and is a RESNA-certified assistive technology professional. Regier joined Permobil in 2017 as a Clinical Education Manager for the western region. Prior to joining Permobil, Regier was at Craig Hospital in Englewood, Colorado where her career focused on inpatient and outpatient spinal cord injury rehabilitation. Prior to leaving Craig Hospital, she was supervisor of the Wheelchair Seating and Mobility Clinic where she provided comprehensive seating and mobility interventions for individuals with acquired brain and spinal cord injury. Regier has published and speaks on the topic of seating and mobility for acquired brain injury and spinal cord injury. She has also served as an adjunct faculty for the Creighton University Entry-Level Distance OTD Program (Regis) in Denver, Colorado.