Part 14 in our LTC Seating & Positioning series intended to shed some light on the mystery of seating and positioning in the LTC setting. See the rest of the blog posts in the following links: Part 1 (Best Wheelchair Options in LTC), Part 2 (Posture Problems), Part 3 (Posterior Pelvic Tilt), Part 4 (Anterior Pelvic Tilt), Part 5 (Pelvic Obliquity), Part 6 (Pelvic Rotation), Part 7 (Fixed vs Flexible Postural Abnormalities), Part 8 (Windswept Posture), Part 9 (Incorrect Seating Dimensions), Part 10 (Issues with Current Wheelchair System: Seat-to-Floor-Height), Part 11 (Issues with Current Wheelchair System: Back Support), Part 12 (Issues with Current Wheelchair System: Legrest), Part 13 (Issues with Current Wheelchair System: Armrest)
Looking for more information on seating and positioning? Check out our digital, rehab-focused Wheelchair Seating & Positioning Guide here.
---
A head support is an accessory that can be very difficult to properly fit or place on the wheelchair. Why? Because the head is constantly moving and even the slightest shift in trunk or pelvic alignment requires realignment! It is difficult to get that head support in the "perfect place"! Detailed caregiver education needs to be provided to assure that the head support pads are being placed appropriately. If head supports are placed improperly or the wrong pad size is used, you may see:
Primitive Reflexes and the patient may go into hyperextension
Unwanted pressure in a susceptible area, increasing the risk of a nasty pressure injury
Pain due to pressure on a sensitive area, increasing unwanted movement instead of stabilizing the head.
Here is a closer look into how an improper head support can be the culprit behind the body moving into unwanted, harmful positions. Proper head support is important for:
Socialization and communication
| | |
| --- | --- |
| A standard posterior head support pad should be positioned in the suboccipital area with the goal to prevent excessive extension, rotation, or lateral flexion | |
Specific head support issues your resident could be having in relation to improper head support
TOO HIGH

What is going on?

Negative Result

What can you do?

The pad will rest on the occipital area or above, causing strain on the neck

Resident will try to adjust by moving the head away from the pad

Place pad in suboccipital area
TOO LOW

What is going on?

Negative Result

What can you do?

The pad will rest on the cervical spine, resulting in poor posterior support

Head extension

Place pad in suboccipital area
One important key is to utilize a head support with maximum adjustability

that supports the head posteriorly and laterally simultaneously and is angle adjustable.
Remember, there is no perfect science when positioning the head. Trunk and pelvic stability through an appropriate cushion and back support must be achieved first. Once you have established optimal alignment and stability of the trunk and pelvis, you will be ready to trial the head support!
Please refer to the Seating and Positioning Guide to see what measurements need to be taken to ensure an accurately fitted wheelchair system!
---
---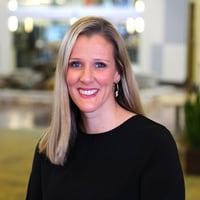 Ana Endsjo, MOTR/L, CLT
Clinical Education Manager LTC Division
Ana Endsjo has worked as an occupational therapist since 2001 in a variety of treatment settings. She has mainly worked with the geriatric population, dedicated to the betterment of the treatment of the elderly in LTC centers. Her focus has been on seating and positioning and contracture management of the nursing home resident. With this experience, her hope is to guide other therapists, rehab directors, nurses, and administrators through educational guides, blogs, webinars, and live courses in her role as Clinical Education Manager for the long term care division.