Part 7 in our LTC Seating & Positioning series intended to shed some light on the mystery of seating and positioning in the LTC setting. See Part 1, Part 2, Part 3, Part 4, Part 5, and Part 6. Check out a digital rehab version of the LTC Seating & Positioning Guide here.
---
As therapists, it is our nature to think we can fix everything. We feel our goal should be to restore our patients back to "normal" when we see poor posture with wheelchair positioning. With the geriatric population, however, "normal" is very different than when they were 20, 30, or 40 years old. The skeleton is less flexible, muscles are tighter, and skin is frailer. It is unrealistic to think we are going to fix someone who has been sitting in a specific posture for 10, 15, or 20+ years.


---
What we CAN do is accommodate for any abnormal posture. When we accommodate, we must switch gears from thinking we have to fix it to:
Envelope it

Immerse it

Capture their now "normal" anatomical curvature
Our new focus should be to reduce the negative effects of poor posture and strive to:
Decrease pressure and risk for wounds

Decrease pain

Prevent further progression of the deformity of their skeleton

Maximize safety for them in their chair
---

The question you should ask yourself is, "How do I know when to correct the postural abnormality and when do I accommodate for it?"
Each abnormality is either FIXED or FLEXIBLE. We need to understand whether a postural abnormality is fixed or flexible before choosing the appropriate equipment in order to decide if we need to ACCOMMODATE FOR or to CORRECT it.
When a posture is FIXED, the skeleton does not move out of that posture; it is "stuck." Therefore, the need is for equipment that will ACCOMMODATE for that poor posture in order to provide optimal support and pressure redistribution. The GOAL is the prevention of further progression.
When a posture is FLEXIBLE, the skeleton still moves, the deformity can be reversed, and equipment should be chosen to help CORRECT the abnormal posture. The GOAL is to restore movement of the skeleton to prevent the posture from becoming fixed and allow greater freedom of movement.
We have to remember: accommodating for the deformity is okay. We can't always fix it. We should not make our job harder than it already is! If you remember this:

Fixed Posture = Accommodate
Flexible Posture = Correct
It is crucial that you understand what you are looking at and decide whether your goal is to correct or accommodate for the abnormal posture. Then you are well on your way to provide the appropriate seating system for each resident.
---
---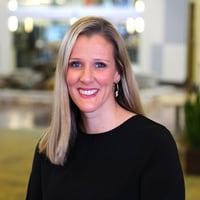 Ana Endsjo, MOTR/L, CLT
Clinical Education Manager LTC Division
Ana Endsjo has worked as an occupational therapist since 2001 in a variety of treatment settings. She has mainly worked with the geriatric population, dedicated to the betterment of the treatment of the elderly in LTC centers. Her focus has been on seating and positioning and contracture management of the nursing home resident. With this experience, her hope is to guide other therapists, rehab directors, nurses, and administrators through educational guides, blogs, webinars, and live courses in her role as Clinical Education Manager for the long term care division.