This is the 7th blog in our manual wheelchair guide series.See the 1st blog, 2nd blog, 3rd blog, 4th blog, 5th blog, and 6th blog. Check out the Manual Wheelchair Guide to learn more.
---
We're continuing our conversation about configuring a K0005 wheelchair to an individual. So far we've looked at seat-to-floor height, seat slope, and ergo seat. Today we're looking at foot support-to-seat length and front frame angle.
---
Foot Support-to-Seat Length
The foot support-to-seat length is also known as leg rest length. It is important to provide lower extremity support, ensuring optimal femoral contact at the seat surface and clearance of obstacles at the footplates.
It is important to use a demo wheelchair with the person in the desired position of propulsion, to get the most accurate measurement. It is also important to know the height of the cushion being used in the wheelchair to determine the length of the leg rest needed.
Foot support-to-seat - too short
This can raise the knees which reduces clearance for under tables and increases the slope of the upper legs which can make it harder to carry items

Can reduce femoral contact and increase peak pressure at the ITs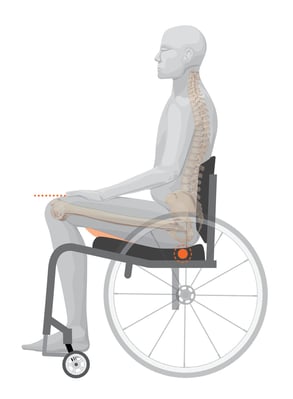 Foot support-to-seat - too long
Lower legs are unsupported and pressure increases across the distal femur. The client may slide forward to reach the foot support, and by doing so, shift into a posterior pelvic tilt

This can increase risk of a postural abnormality and peak pressures at the seat and back support surfaces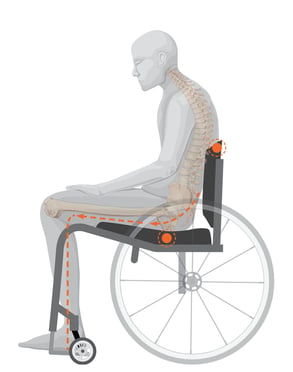 ---
Front Frame Angle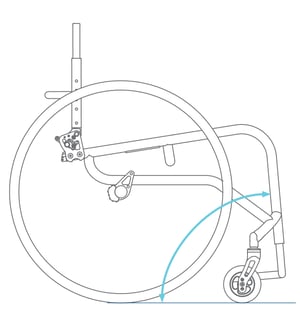 Front frame angle is critical to provide appropriate support to the lower extremities.
This should be set by asking the client where they want their feet (further in or out) and have the client place their feet where they want them. The front frame angle selected should be the one where the ball of the client's foot can rest on the foot rest tube. Measuring for the overall frame length is a more accurate way of determining the appropriate front frame angle for a client.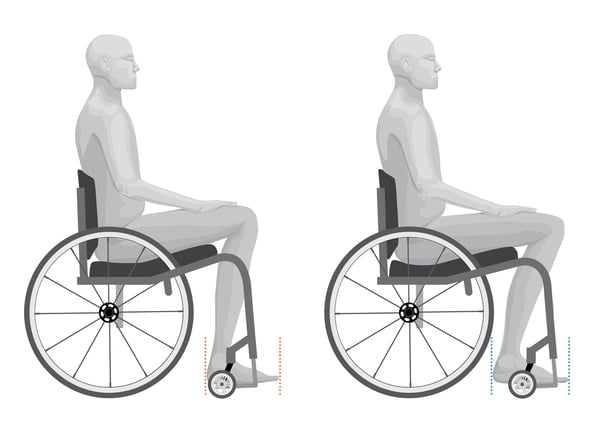 Example visual: A tall individual may need to tuck their legs in tight under the WC due to their longer lower leg length. This allows them to still clear the edges of tables, desks, counters and keep their overall wheelchair footprint smaller. They must have an available ROM at the knee for this.
---
Join us next time in our manual wheelchair guide blog series as we look at the configuring the K0005
seat width and front seat width.
---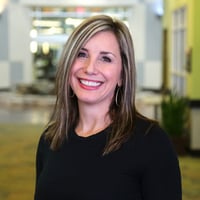 Stacey Mullis, OTR/ATP
Director of Clinical Marketing
Stacey serves as Director of Clinical Marketing for Permobil. A practicing OTR for over 20 years, she has experience in school-based pediatrics, inpatient rehabilitation, long term care, and home health. With her interest in wheelchair seating and positioning, Stacey engaged the challenges of providing appropriate seating in various clinical settings. She now uses this experience to develop programs and resources to educate clinicians on the principles of seating and wheeled mobility. She is passionate about equipping clinicians and through her previous role as Director of Clinical Education with Comfort Company and now with Permobil she has taught nationally and internationally to increase therapist capacity in this specialty area. Mullis graduated from Western University in London, Ontario, Canada with a BA Linguistics and BSc Occupational Therapy. She is a member of the NCOTA, CTF Executive Board, NRRTs, RESNA, and AOTA.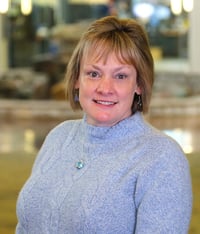 Ginger Walls, PT, MS, NCS, ATP/SMS
Director of Clinical Sales and Education
Ginger has 25 years of experience as a physical therapist in the area of neuro rehab and wheelchair seating/mobility. She directed the Outpatient therapy clinics and the Seating/Mobility Program at Medstar National Rehabilitation Hospital in Washington, D.C. Additionally, Ginger has provided a variety of continuing education courses and lectures in the area of seating/mobility for many years. She has presented at major industry conferences including ISS, RESNA, and the PVA Summit. Ginger took on the role of Clinical Education Specialist for Permobil in 2015 and was appointed Director of Clinical Sales and Education in 2020.