This is the 2nd blog in our manual wheelchair guide series. See the 1st blog here. Check out the Manual Wheelchair Guide to learn more.
---
The first blog in our manual wheelchair guide series focused on DME short-term use manual wheelchairs. Today we turn our focus to Complex Rehabilitation Technology long-term use manual wheelchairs. There are two categories of equipment that have distinct requirements and criteria: Durable Medical Equipment (DME), and Complex Rehabilitation Technology (CRT). CRT products are significantly different than standard DME.
---
Manual Tilt-in-Space for a dependent wheelchair user
When is a Tilt-in-Space wheelchair appropriate?
Client is dependent in mobility
Client is unable to perform independent pressure relief
Client requires gravity-assisted positioning/repositioning
Client requires postural support, head and trunk control, and accommodation of postural asymmetries
The goal is to increase sitting tolerance/endurance
Client needs improved line of sight due to forward head posture
Client will benefit from trunk support and open thoracic posture for increased respiratory function
Client requires safe positioning for feeding/gravity-assisted swallowing
*
A manual tilt-in-space wheelchair requires a PT/OT evaluation, justification that other manual wheelchairs are not appropriate, and an ATP involved in the process.
---
K0005 Ultra lightweight MWC for an independent user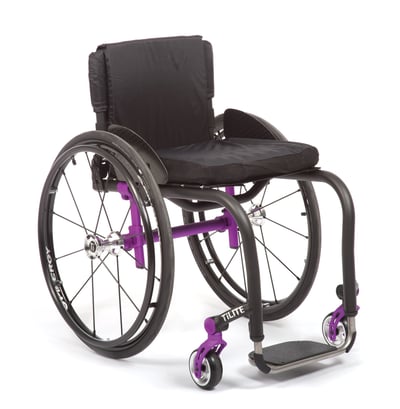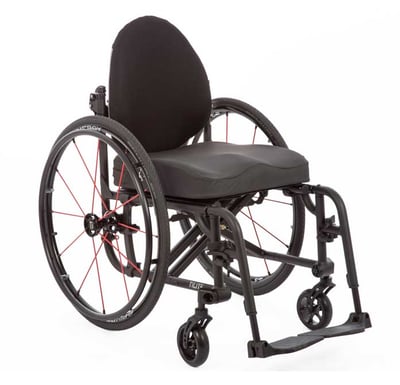 This is THE manual wheelchair for a full-time wheelchair user with goals to be active at home and in the community. These wheelchairs can be individually configured to meet the needs of the wheelchair user and optimize function and propulsion. They are designed to be used on indoor and outdoor surfaces in the community and can be folding or rigid.
*
A K0005 wheelchair is the BEST PRACTICE for any full-time wheelchair user!! The K0004 is never "good enough."
---
Join us next time in our manual wheelchair guide series as we look closer at the K0005 ultra lightweight manual wheelchair.
---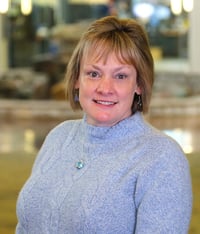 Ginger Walls, PT, MS, NCS, ATP/SMS
Director of Clinical Sales and Education
Ginger has 25 years of experience as a physical therapist in the area of neuro rehab and wheelchair seating/mobility. She directed the Outpatient therapy clinics and the Seating/Mobility Program at Medstar National Rehabilitation Hospital in Washington, D.C. Additionally, Ginger has provided a variety of continuing education courses and lectures in the area of seating/mobility for many years. She has presented at major industry conferences including ISS, RESNA, and the PVA Summit. Ginger took on the role of Clinical Education Specialist for Permobil in 2015 and was appointed Director of Clinical Sales and Education in 2020.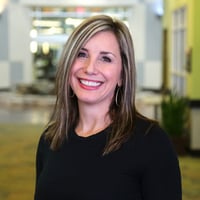 Stacey Mullis, OTR/ATP
Director of Clinical Marketing
Stacey serves as Director of Clinical Marketing for Permobil. A practicing OTR for over 20 years, she has experience in school-based pediatrics, inpatient rehabilitation, long term care, and home health. With her interest in wheelchair seating and positioning, Stacey engaged the challenges of providing appropriate seating in various clinical settings. She now uses this experience to develop programs and resources to educate clinicians on the principles of seating and wheeled mobility. She is passionate about equipping clinicians and through her previous role as Director of Clinical Education with Comfort Company and now with Permobil she has taught nationally and internationally to increase therapist capacity in this specialty area. Mullis graduated from Western University in London, Ontario, Canada with a BA Linguistics and BSc Occupational Therapy. She is a member of the NCOTA, CTF Executive Board, NRRTs, RESNA, and AOTA.