This is the first in our manual wheelchair guide series. Check out the Manual Wheelchair Guide to learn more.
---
There are two categories of equipment that have distinct requirements and criteria: Durable Medical Equipment (DME), and Complex Rehabilitation Technology (CRT). DME wheelchairs are the standard wheelchairs you see in hospitals or nursing homes and are purchased in bulk to meet short term needs.
---
Standard MWCs: K0001, K0002, K0003
Standard Heavy Duty MWCs: K0006, K0007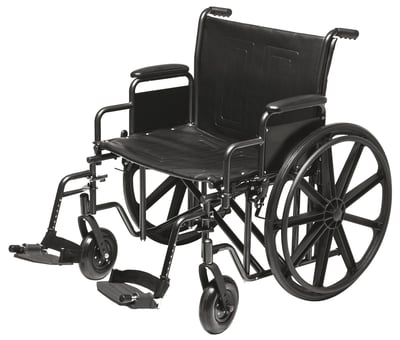 These wheelchairs are most appropriate for use on firm, level surfaces and are not appropriate for full-time/long-term use.
| | |
| --- | --- |
| Considerations | Why it matters |
| Minimal adjustability if any | Cannot be optimally configured to an individual which can result in decreased comfort, inefficient propulsion, and poor postural support |
| Front casters and tires are usually solid tires | Solid tires are not designed for uneven terrain, carpet, or sloped surfaces and can increase difficulty of propulsion |
| Rear wheel position is fixed and rearward | Weight is distributed to the front caster, making the wheelchair harder to push. This wheel position results in an inefficient push stroke, leading to fatigue and risk of shoulder injury over time |
| Heavy | This makes ANY self-propulsion inefficient and puts the user at risk for fatigue and injury |
| Arm rest height is not adjustable | Inappropriate arm rest height can interfere with propulsion and can affect the overall seated posture. This can also increase the risk of postural deformity over time |
| Minimal seat-to-floor height (STFH) adjustment if any | STFH affects foot propulsion |
---
Manual Recline WCs: E1225/E1226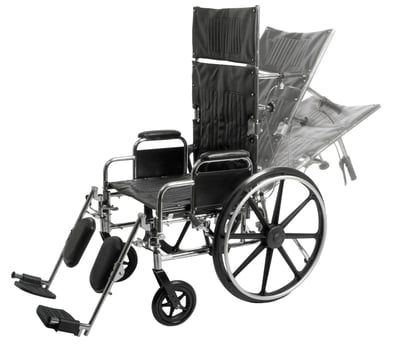 These wheelchairs are similar in features to standard WCs, but provide the option of changing the seat-to-back angle. The back support has an extension that supports the head posteriorly when reclined.
Considerations

Why it matters

Heavier due to hardware, back height, elevating legrests, anti-tip bars

Makes it more difficult to self-propel and transport

Same consideration as Standard MWCs

E1225 = semi-reclining (15° & 80°), E1226 = fully-reclining (80° or greater)
---
High Strength Lightweight MWCs: K0004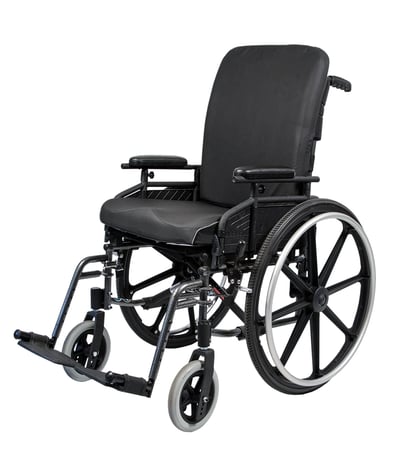 A K0004 is similar to a standard wheelchair, but is designed to be somewhat lighter and more adjustable. They are not intended for full-time/long-term use, but for part-time or intermittent use on firm, level surfaces. They may be partially disassembled by caregivers for transport.
| | |
| --- | --- |
| Considerations | Why it matters |
| Some have partial rear seat-to-floor height adjustability | This can improve self-propulsion efficiency and/or create a "fixed dump" or seat slope for positioning |
| Have lower achievable STFH of 14.5" compared to Standard MWCs | This can allow for better foot propulsion for average lower leg length individuals |
| Some have back cane adjustability | This allows for changing the seat-to-back angle (STBA) |
| Some have arm rest height adjustability | This allows for improved rear wheel access and postural support |

ALWAYS verify K0004 features before ordering. Not ALL K0004 MWC models have adjustability
---
Now that we've reviewed the more basic DME models of manual wheelchairs, join us next time in our manual wheelchair blog series when we will explain complex rehab technology manual wheelchairs that are designed for long term use.
---
---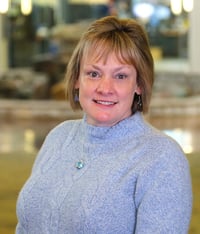 Ginger Walls, PT, MS, NCS, ATP/SMS
Director of Clinical Sales and Education
Ginger has 25 years of experience as a physical therapist in the area of neuro rehab and wheelchair seating/mobility. She directed the Outpatient therapy clinics and the Seating/Mobility Program at Medstar National Rehabilitation Hospital in Washington, D.C. Additionally, Ginger has provided a variety of continuing education courses and lectures in the area of seating/mobility for many years. She has presented at major industry conferences including ISS, RESNA, and the PVA Summit. Ginger took on the role of Clinical Education Specialist for Permobil in 2015 and was appointed Director of Clinical Sales and Education in 2020.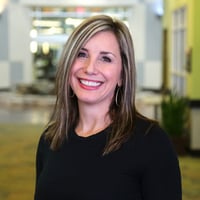 Stacey Mullis, OTR/ATP
Director of Clinical Marketing
Stacey serves as Director of Clinical Marketing for Permobil. A practicing OTR for over 20 years, she has experience in school-based pediatrics, inpatient rehabilitation, long term care, and home health. With her interest in wheelchair seating and positioning, Stacey engaged the challenges of providing appropriate seating in various clinical settings. She now uses this experience to develop programs and resources to educate clinicians on the principles of seating and wheeled mobility. She is passionate about equipping clinicians and through her previous role as Director of Clinical Education with Comfort Company and now with Permobil she has taught nationally and internationally to increase therapist capacity in this specialty area. Mullis graduated from Western University in London, Ontario, Canada with a BA Linguistics and BSc Occupational Therapy. She is a member of the NCOTA, CTF Executive Board, NRRTs, RESNA, and AOTA.