This is the 5th blog in our series about MyPermobil and Fleet Management. See part 1, part 2, part 3, and part 4.
---
Now that we've reviewed the functionality of the MyPermobil app, we are excited to present an interview with Brenda Weeks where she shares her experiences with the MyPermobil app and Fleet Management.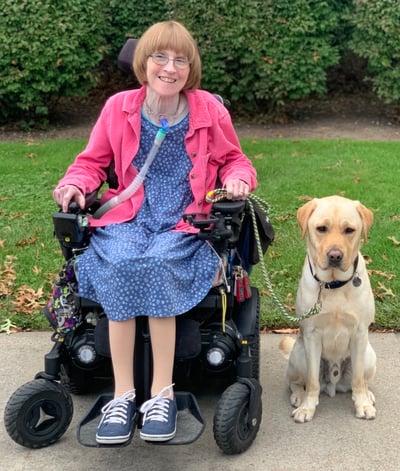 Brenda has multiple sclerosis (MS) and has used a power wheelchair for the past 26 years, and the MyPermobil app since 2018. On April 28th, 2021 Brenda joined Eleni Halkiotis, Permobil Clinical Education Manager, for a virtual interview where she shared her experiences using this technology.
Eleni: To begin, how do you access and use your MyPermobil app?
Brenda: I use the MyPermobil app from my cell phone. I've become left-handed because of my MS, so I mount my smartphone off my left armrest. I use my left hand to swipe the screen and tap on the different app features. I have a USB charger on my Permobil M5 so my smartphone can charge while mounted on my chair.
Eleni: How do you use the MyPermobil app in your daily life?
Brenda: I love using the MyPermobil distance feature to track how far I walk my service dog, Clint. I've had a service dog for many years and need to make sure my dog gets plenty of exercise. I can get a good idea of how far we've gone by looking at the daily mileage in the app. I know on average how much I ride just around the house, so the extra beyond that is usually the distance Clint and I have traveled for his exercise in a day.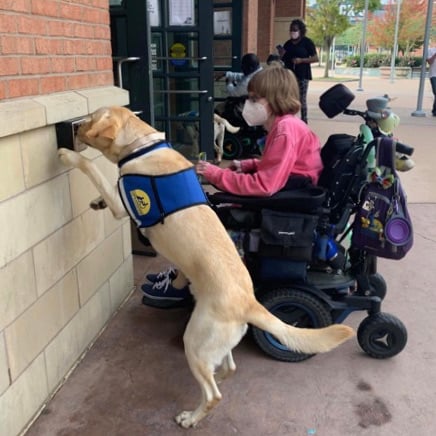 Eleni: Wow, that's the first dog walking example I've heard for using the MyPermobil app! Sounds like you're a big dog lover?
Brenda: Yes, I love dogs. My husband and I own a boarding kennel. I've had four service dogs so far. The experience has been so moving that I wrote a children's book about service dogs and post weekly blogs about my service dog adventures!
Eleni: That's incredible! Besides dog walks, what are some other ways in which you find the MyPermobil App and Fleet Management helpful?
Brenda: I really appreciate how Fleet Management allows service technicians to start the maintenance and repair process right here in my home. I live 45 minutes away from the wheelchair repair shop and I am a full-time ventilator user. The fact that I can stay at home and get the repair process started remotely makes me feel well cared for.
Eleni: Sounds like Fleet Management allows the service provider to get a jump start on managing your maintenance and repair needs right from your living room and, in some cases, may even save you a trip to the repair shop! Do you have any specific examples of how Fleet Management or the MyPermobil App have helped with repairs?
Brenda: Well, my husband and I are big Disney fans. Back in 2015 at Disney World, I had some power wheelchair battery problems. Several weeks before the trip I requested new batteries, but they hadn't arrived before leaving for Disney. One afternoon at the park, I started heading back to the hotel to rest and charge my chair. Before I could make it back to the hotel, the batteries totally gave out! I had to call my husband who was waiting in line for a ride at the other end of the park. He came over and physically pushed me in my power wheelchair all the way back to the hotel. If the MyPermobil app had been around in 2015, that wouldn't have happened. I could have used the MyPermobil app to get a better estimate of my remaining battery range to make sure I got back to the hotel before the batteries completely died.
Eleni: What an experience! That speaks to the benefit of having the battery health status information in the MyPermobil app. How does the MyPermobil app help you monitor your power seat function usage?
Brenda: The Seating part of the app helps because it shows in degrees how much I've changed my body position. Because of my MS, I can't always sense exactly what position my body is in. When I start to ache, I know I'm in a bad position, but otherwise I can't tell how much my legs are elevated, back reclined, or seat tilted. I've learned now what angles feel the best for my body. Like in how many degrees of tilt and recline I need to keep my back from aching, and how to move my legs up to manage swelling, and down to clear legs of tables and other obstacles.
Eleni: Well Brenda, thank you very much for sharing your experience using the MyPermobil app and Fleet Management! Your stories will help a lot of other Permobil blog readers learn how these technologies can help them in their everyday lives.
Brenda: You're very welcome! It was my pleasure!
---
Click here to learn more about MyPermobil and join us next time as we discuss the MyPermobil system log and in-app tutorials.
Interested in learning more about Brenda and her love of service dogs? Click here to visit her blog!
---
---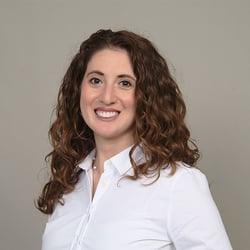 Eleni Halkiotis, MOT, OTR/L, ATP
Eleni is a graduate of the master's degree occupational therapy program at the University of the Sciences in Philadelphia. She has been practicing occupational therapy since 2005. Her specialization in seating began in 2009 in New York City at Bellevue Hospital and continued at Independence Care System (ICS). At ICS Eleni was the primary therapist for the multiple sclerosis (MS) team. She provided in-clinic and home visiting treatment in English and Spanish for manual and powered mobility and seating and positioning interventions to members with MS and a vast array of other physical disabilities and chronic conditions. Eleni has participated in clinical research in multiple practice settings and very much enjoys teaching. She served as an adjunct professor in the occupational therapy program at Thomas Jefferson University in 2006 and 2007, and since 2009 continues to teach biannually at New York University. She has presented professionally at the International Seating Symposium in 2013 and 2017, the European Seating Symposium in 2013, and the World Federation of Occupational Therapy Congress in 2018. She holds licenses to practice occupational therapy in the United States of America and in the United Kingdom.