Have you ever questioned whether you have enough battery charge to get to where you want to go? Unsure of when you last charged your chair? How about easy access to your chair serial number? A Permobil Connect-ready wheelchair, which includes all new M & F series Corpus and Corpus VS models, can help! A Permobil Connect-ready wheelchair includes a ConnectMe unit mounted on the wheelchair. Once activated by the consumer, the Connect-enabled wheelchair transmits critical wheelchair data to the MyPermobil app and Fleet Management portal.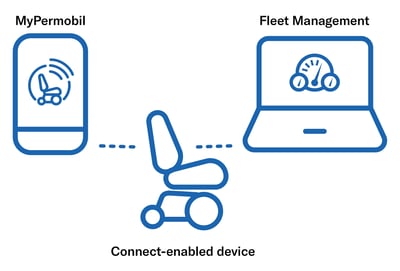 The MyPermobil app helps you, the consumer, stay informed about your Permobil power wheelchair. The app is free to download from the App or Google Play stores. Information sent from the wheelchair through the ConnectMe unit is displayed within the MyPermobil app. This includes details on your battery charge, distance traveled, visibility to locations visited with the integrated map, and power seating activity. You can now access these key wheelchair insights hands-free with the new MyPermobil Voice Assistant.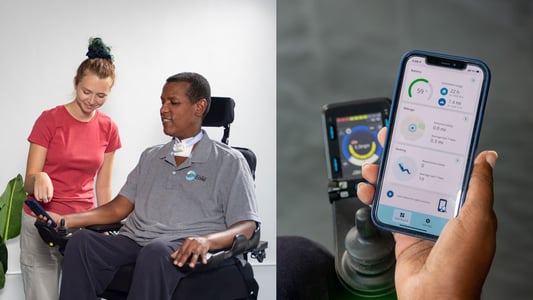 Fleet Management, a web-based portal for service providers, also receives information sent from the ConnectMe unit. This gives your service provider the opportunity for real-time access to critical wheelchair data and analytics. Why is this important? With access to this data, your service provider can start diagnosing the issue and, in some cases, resolve the issue remotely. For example, your service provider can log into Fleet Management to identify what error code you are experiencing or evaluate your battery health. What does this mean for you? A faster repair evaluation, so you can get back to doing what's important to you. This can be particularly helpful if you reside in a rural setting where it can otherwise be difficult to access service in a timely way.
Ready to get started? As mentioned, all new Permobil M & F-series Corpus & Corpus VS models are Connect-ready. To start transmitting wheelchair data to the MyPermobil app and Fleet Management portal, the wheelchair must be activated. This can be done at or after delivery of the wheelchair. Are you a consumer or clinician? Learn more about MyPermobil and how to activate a Connect-ready wheelchair. Are you a service provider? Learn more about the Fleet Management portal.
Join us for the rest of this series, as we go into more detail about the benefits of MyPermobil for the end user, and Fleet Management for the service provider.
---
---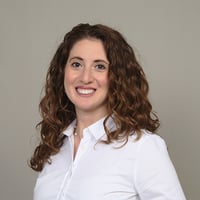 Eleni Halkiotis, MOT, OTR/L, ATP/SMS
Regional Clinical Education Manager
Eleni is a graduate of the master's degree occupational therapy program at the University of the Sciences in Philadelphia. She has been practicing occupational therapy since 2005. Her specialization in seating began in 2009 in New York City at Bellevue Hospital and continued at Independence Care System (ICS). At ICS Eleni was the primary therapist for the multiple sclerosis (MS) team. She provided in-clinic and home visiting treatment in English and Spanish for manual and powered mobility and seating and positioning interventions to members with MS and a vast array of other physical disabilities and chronic conditions. Eleni has participated in clinical research in multiple practice settings and very much enjoys teaching. She served as an adjunct professor in the occupational therapy program at Thomas Jefferson University in 2006 and 2007, and since 2009 continues to teach biannually at New York University. She has presented professionally at the International Seating Symposium in 2013 and 2017, the European Seating Symposium in 2013, and the World Federation of Occupational Therapy Congress in 2018. She holds licenses to practice occupational therapy in the United States of America and in the United Kingdom.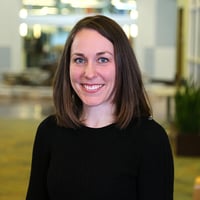 Angela Regier, OTD, OTR/L, ATP/SMS
Senior Portfolio Marketing Manager, Power Permobil
Angela Regier, OTD, OTR/L, ATP received her doctorate of occupational therapy from Creighton University in 2007 and is a RESNA-certified assistive technology professional. Regier joined Permobil in 2017 as a Clinical Education Manager for the western region. Prior to joining Permobil, Regier was at Craig Hospital in Englewood, Colorado where her career focused on inpatient and outpatient spinal cord injury rehabilitation. Prior to leaving Craig Hospital, she was supervisor of the Wheelchair Seating and Mobility Clinic where she provided comprehensive seating and mobility interventions for individuals with acquired brain and spinal cord injury. Regier has published and speaks on the topic of seating and mobility for acquired brain injury and spinal cord injury. She has also served as an adjunct faculty for the Creighton University Entry-Level Distance OTD Program (Regis) in Denver, Colorado.