This is the 4th blog in our series about MyPermobil and Fleet Management. See part 1, part 2, and part 3.
---
In this blog, we will continue reviewing the functionality of the MyPermobil app in more detail, focusing on the Seating information found in the app.
For many, life in a wheelchair includes using power seat functions. Changing position by using tilt, recline, and elevating leg rests allows for pressure redistribution which is critical for some individuals for the prevention of skin breakdown. Not to mention the functional benefits of these power seat functions as well as seat elevate, anterior tilt, and standing! The Seating section of MyPermobil was included due to the critical nature that power seat functions play in the life of the individual using a Permobil power wheelchair.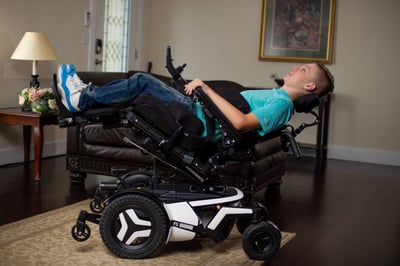 The Seating section of MyPermobil includes live actuator angles when the phone is connected to your wheelchair via Bluetooth, something that occurs during set-up of the app. This gives you real-time feedback about your position in space for each of the following power seat functions: tilt, recline, elevating legrests, and seat elevate.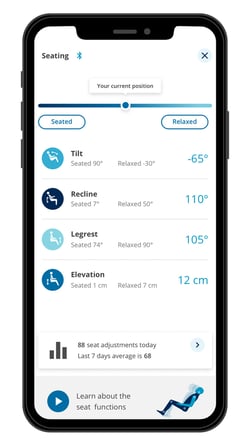 For example, sitting upright will show that you are in 0º of tilt, 45º or even 50º of tilt is displayed when tilted all the way back. This can be helpful for individuals who cannot feel, see, or sense parts of their body. Brenda, who we will meet later in this blog series, explained how she uses the Seating section of MyPermobil. She shared, "Because of my MS, I can't sense exactly what position my body is in. Using the MyPermobil app, I've learned what angles feel the best for my body. Like in how many degrees of tilt and recline I need to keep my back from aching, and how to move my legs up to manage swelling, and down to clear legs of tables and other obstacles."
You can also view the number of seating adjustments completed each day, as well as 7-day and 30-day averages. Compare the current 7-day and 30-day averages to the previous period to track changes in your seating activity over time. For purposes of the MyPermobil Seating section, adjustments are counted when there is a change of at least 5º in tilt, recline, or elevating legrest; and a minimum change of at least 1" for seat elevation.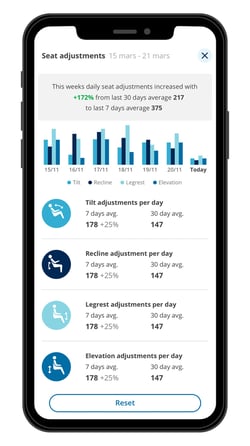 Last, but certainly not least, you can save up to two preferred positions: Position 1 and Position 2. This can be helpful for those wanting a visual cue as to whether they've reached a desired position. For example, a position recommended by your therapist for pressure relief or the perfect position for entering your vehicle easily and safely. Pair this saved position functionality with memory seating and a softkey to easily reach a desired position!
The MyPermobil Seating section is another way that Permobil empowers you to make the most out of your power wheelchair experience. Join us next time as we dive into the latest feature of MyPermobil, the MyPermobil Voice Assistant.
---
---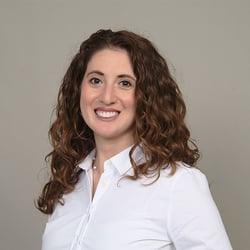 Eleni Halkiotis, MOT, OTR/L, ATP
Eleni is a graduate of the master's degree occupational therapy program at the University of the Sciences in Philadelphia. She has been practicing occupational therapy since 2005. Her specialization in seating began in 2009 in New York City at Bellevue Hospital and continued at Independence Care System (ICS). At ICS Eleni was the primary therapist for the multiple sclerosis (MS) team. She provided in-clinic and home visiting treatment in English and Spanish for manual and powered mobility and seating and positioning interventions to members with MS and a vast array of other physical disabilities and chronic conditions. Eleni has participated in clinical research in multiple practice settings and very much enjoys teaching. She served as an adjunct professor in the occupational therapy program at Thomas Jefferson University in 2006 and 2007, and since 2009 continues to teach biannually at New York University. She has presented professionally at the International Seating Symposium in 2013 and 2017, the European Seating Symposium in 2013, and the World Federation of Occupational Therapy Congress in 2018. She holds licenses to practice occupational therapy in the United States of America and in the United Kingdom.