Part 21 in our LTC Seating & Positioning series intended to shed some light on the mystery of seating and positioning in the LTC setting. See the rest of the blog posts in the following links: Part 1 (Best Wheelchair Options in LTC), Part 2 (Posture Problems), Part 3 (Posterior Pelvic Tilt), Part 4 (Anterior Pelvic Tilt), Part 5 (Pelvic Obliquity), Part 6 (Pelvic Rotation), Part 7 (Fixed vs Flexible Postural Abnormalities), Part 8 (Windswept Posture), Part 9 (Incorrect Seating Dimensions), Part 10 (Issues with Current Wheelchair System: Seat-to-Floor-Height), Part 11 (Issues with Current Wheelchair System: Back Support), Part 12 (Issues with Current Wheelchair System: Legrest), Part 13 (Issues with Current Wheelchair System: Armrest), Part 14 (Issues with Current Wheelchair System: Head Support), Part 15 (Why is wheelchair seating & positioning important for our residents?), Part 16 (How to Measure: Step of a Seating Eval), Part 17 (How to Measure: Specific Measurements), Part 18 (How to Choose a Cushion in Long Term Care), Part 19 (How to choose a specialized back support in Long Term Care), Part 20 (The Great Elevating Leg Rest Myth)
---

One common question asked in regards to wheelchair seating and positioning in the long term care (LTC) setting is: When would I need to add accessories? As in most things, LESS is MORE and this is certainly true in wheelchair positioning. If you take your time selecting the right model and size wheelchair and then select an appropriate cushion and back support, accessories may not be needed. Too often accessories are used as "bandaids" to a less than optimal wheelchair system. When used the proper way, they can be the finishing touch to achieve the best posture possible for your resident!
UPPER EXTREMITY SUPPORTS
Upper extremity supports can be added onto the existing wheelchair armrest to:
Add additional postural support
Decrease contracture risk
Decrease dependent edema in UE
Increase comfort while sitting in wheelchair
Most of us don't sit with our elbows bent to 90 degrees with the forearm straight out. So why do we position our residents this way, especially when dealing with abnormal tone or decreased range of motion? Choose an upper extremity support that has angle adjustability!!
Types of upper extremity supports:
You can choose a basic non-adjustable support or you can choose a pad style and hardware style to suit the needs of your resident.
Hardware Types
Slide On: Pad will be aligned with existing wheelchair armrest
Bolt On: Pad will be aligned with existing wheelchair armrest
Swing-Away: Pad can move towards or away from body as needed
Articulating: Pad can be positioned in any plane, most adjustable option
Wheelchair Pad Types
Standard trough that keeps arm from sliding off the pad in any direction
Minimal contour for low profile support
Moldable option at the wrist for extension of wrist and finger abduction
---
LOWER EXTREMITY SUPPORTS
Added to a chair:
Support the lower leg, foot, and ankle in optimal position
Decrease risk of contracture
Accommodate for contractures and protect from injury
Manage abnormal tone and reflexes
Support an amputated limb
Support a limb post surgery on leg rest
Types of lower extremity supports:
Double Foot Support with Separator
Don't forget that quality wheelchair leg supports have a range of sizes or can be customized. Consider where you want the support and measure to ensure you get the right fit. An external fixator support provides great stability and support for a LE post hip/knee surgery, or when a LE immobilizer is in use!
---
LATERAL TRUNK SUPPORTS
Prevent lateral leaning due to decreased trunk strength and balance.
Correct or accommodate for a scoliosis or trunk rotation and prevent further progression of the postural abnormality
Decrease pressure points on the apex of the curvature that could possibly lead to skin breakdown and cause pain to the resident
Types of Lateral Supports:
Mounted swing-away or fixed lateral supports
Traditional foam lateral supports
If your resident has tone and/or is a heavy leaner, choose mounted lateral trunk supports. Traditional foam supports cannot withstand the sustained pressure and the foam will collapse.

---
Remember, when considering whether to use accessories LESS is MORE. Always consider the entire wheelchair seating system first. If the wheelchair, cushion, and back support are not enough to achieve your resident's optimal posture, it's time to accessorize!
---
---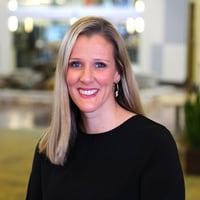 Ana Endsjo, MOTR/L, CLT
Clinical Education Manager LTC Division
Ana Endsjo has worked as an occupational therapist since 2001 in a variety of treatment settings. She has mainly worked with the geriatric population, dedicated to the betterment of the treatment of the elderly in LTC centers. Her focus has been on seating and positioning and contracture management of the nursing home resident. With this experience, her hope is to guide other therapists, rehab directors, nurses, and administrators through educational guides, blogs, webinars, and live courses in her role as Clinical Education Manager for the long term care division.