Part 17 in our LTC Seating & Positioning series intended to shed some light on the mystery of seating and positioning in the LTC setting. See the rest of the blog posts in the following links: Part 1 (Best Wheelchair Options in LTC), Part 2 (Posture Problems), Part 3 (Posterior Pelvic Tilt), Part 4 (Anterior Pelvic Tilt), Part 5 (Pelvic Obliquity), Part 6 (Pelvic Rotation), Part 7 (Fixed vs Flexible Postural Abnormalities), Part 8 (Windswept Posture), Part 9 (Incorrect Seating Dimensions), Part 10 (Issues with Current Wheelchair System: Seat-to-Floor-Height), Part 11 (Issues with Current Wheelchair System: Back Support), Part 12 (Issues with Current Wheelchair System: Legrest), Part 13 (Issues with Current Wheelchair System: Armrest), Part 14 (Issues with Current Wheelchair System: Head Support), Part 15 (Why is wheelchair seating & positioning important for our residents?), Part 16 (How to Measure: Step of a Seating Eval)
---
Now that we understand the importance of proper measurements in providing the most appropriate equipment, let's look at the key ones in depth. Get your measurement form out and practice these with a colleague. You'll soon feel comfortable with all of them and how they translate to your equipment selections!
Seat Dimension
*Remember to have the resident sitting on a flat, firm surface for accurate measurements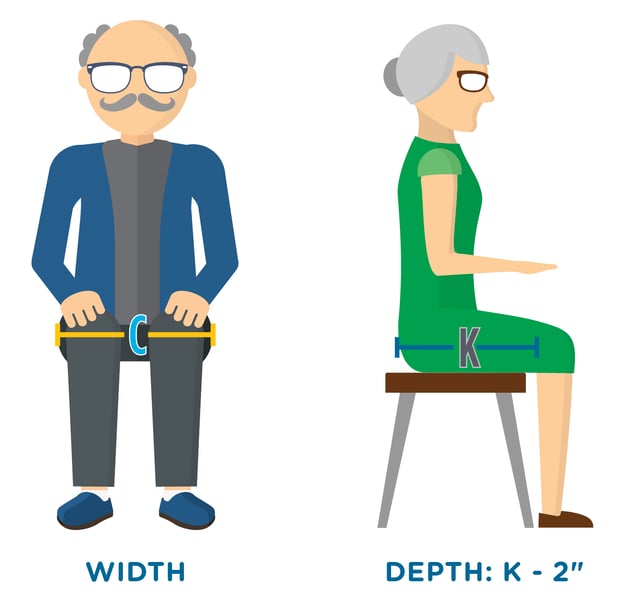 How to measure width:
Measure from widest point to widest point of hips including all residual tissue
How to measure depth:
Measure from the buttocks, including any excess tissue, across the femur to the popliteal fossa
---
Seat-to-Floor Height
(STFH, AKA Lower Leg Length)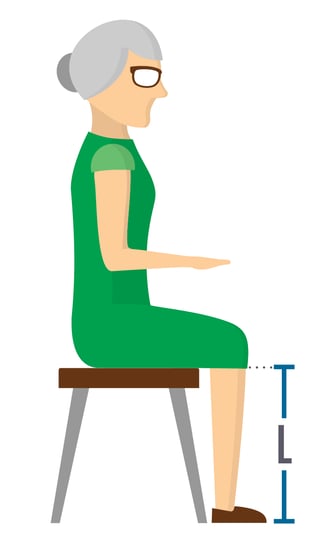 How to Measure:
Measure from the top of the resident's seat to the floor (top of cushion if applicable)
Measure with feet on floor with shoes that they normally wear or barefoot if they do not normally wear shoes, and measure bottom of foot/shoe to popliteal fossa
*If providing the resident with a new cushion, remember to consider the thickness of the desired cushion and adjust STFH accordingly
---
Back Support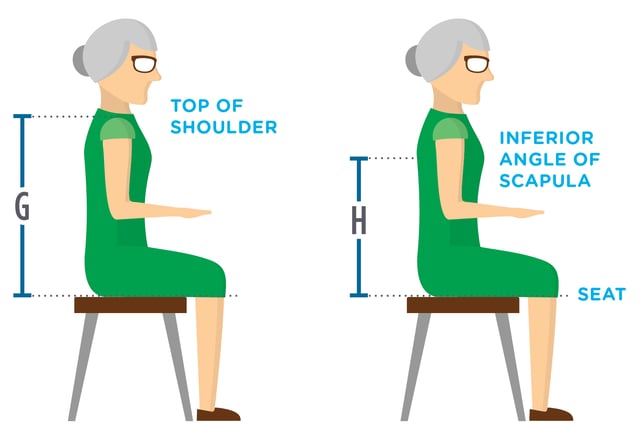 | | |
| --- | --- |
| Resident needs a positioning back due to poor trunk strength | Resident is a self propeller with good trunk strength |
How to Measure Height:
Measure the person in the position you are striving to achieve
*Measure both sides left and right in case of scoliosis and/or a pelvic obliquity
*An average back height for a self propeller in 16" tall while 18"-20" is the average for a person who is dependent in propulsion
---
Leg rest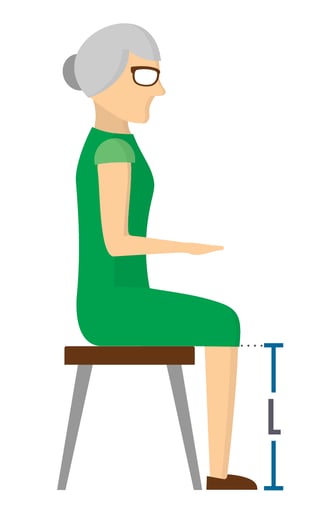 How to Measure Length:
Measure from bottom of foot/shoe to popliteal fossa, including shoes that resident normally wears
*There must be a 2" clearance from foot plate and floor to clear thresholds
---
Armrest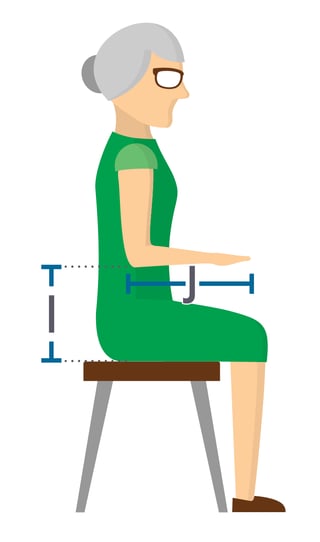 How to Measure Height (I):
Seat your resident with shoulder in neutral and elbow bent at his or her side to 90 degrees
Measure from top of seat to under forearm/elbow
*K0001, K0002, K0003 chairs DO NOT come wiht height adjustable armrests. This is just one more reason they are NOT the most cost-effective option when thinking long term.
If resident is needing a specialized arm length (J): measure from end of elbow to where the therapist wants the desired replacement arm support to end
---
Head Support
THERE IS NO MIRACLE FORMULA FOR FITTING A RESIDENT FOR A PROPER HEAD SUPPORT
How to Measure Height:
The rest of the body must be in the best alignment possible before trying to fit for a head support.
Remember that head position changes constantly with the slightest movement of the body.
Aim to position the pad in the suboccipital area.
Choose a head support with lateral, anterior/posterior, and angle adjustability.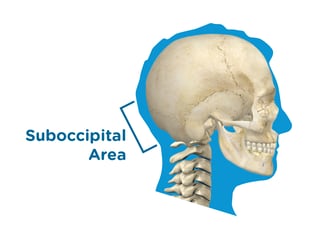 *Never use a tall backrest as a head support.
---
Next week we will look at cushions and how to select the most appropriate cushion for each of our residents. This is often difficult with all the choices available and the scrutiny that we are under as therapists to make a wise clinical and financial decision. We understand the challenge and will provide you with helpful tips to get it right every time!
---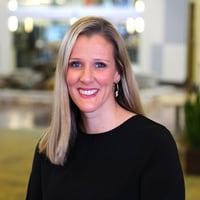 Ana Endsjo, MOTR/L, CLT
Clinical Education Manager LTC Division
Ana Endsjo has worked as an occupational therapist since 2001 in a variety of treatment settings. She has mainly worked with the geriatric population, dedicated to the betterment of the treatment of the elderly in LTC centers. Her focus has been on seating and positioning and contracture management of the nursing home resident. With this experience, her hope is to guide other therapists, rehab directors, nurses, and administrators through educational guides, blogs, webinars, and live courses in her role as Clinical Education Manager for the long term care division.