This is last blog in the series Maintaining Your Ride. Check out blog 1, blog 2, blog 3, and blog 4.
---
This is the last part in our maintaining your ride blog series. So far we've covered cleaning and disinfecting seating and positioning products, manual wheelchairs, and power wheelchair. We've also discussed maintaining your power or manual wheelchair. Now we turn to some FAQs regarding wheelchair cleaning and maintenance. If you have a question about this topic, please post it in the comments section.
What type of oil is best for lubricating parts of the wheelchair?
We recommend using a silicon-based spray. We do NOT recommend WD40 as it can dry out certain wheelchair parts.
Do you recommend deflating the ROHO cushion prior to disinfecting so when the cushion air dries the cells are not close or touching each other?
While the ROHO cushion shouldn't be overinflated, if the cushion is properly set up there is no need to deflate the cushion prior to cleaning or disinfecting. One trick is to drape the cushion over your forearm to get in between the cells.
Are there any suggestions on cleaning hand rims, wheel locks, and center hubs of rear wheels on a manual wheelchair?
All the high-touch areas of the manual wheelchair should be cleaned often. The key to cleaning these elements is using a mild soap and rinsing that off. The key to cleaning spokes and center hubs of rear wheels is to use mild cleaners and very soft brushes or cloths and wiping these elements instead of rinsing with water as we don't want to get a lot of water in these areas.
Can a power washer be used on manual or power wheelchairs?
No, we do not recommend using power washers on either manual or power wheelchairs. The key to cleaning these products is using mild cleaners and gently rinsing or wiping down the components.
How do you manage the salt either from living close to the ocean or the salt used in cold climates to melt snow and ice from wheelchairs?
Salt can cause corrosion and rusting on wheelchair hardware, so a light oil wiped over the hardware can help protect from salt and corrosion. A multipurpose spray such as Boeshield T-9 can provide corrosion protection, waterproof lubrication, and moisture displacement.
Do you need to completely remove the caster on a manual wheelchair in order to get hair and debris out or to oil it?
Casters are easier to clean if they are removed from the wheelchair, so we recommend taking the wheels off to clean the caster.
How often should leg rests, back rests, and other parts of a power wheelchair be lubricated?
If you're hearing noises you do not typically hear with your power actuators, contact your provider and let them know what has changed that is causing the atypical noise. They will be able to advise you on your power wheelchair.
---
We hope you learned something new about wheelchair cleaning and maintenance throughout our 5-part blog series. If you have a question about this topic, please post it in the comments section.
---
---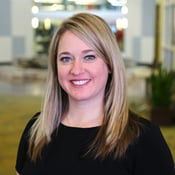 Tricia Garven, MPT, ATP
Regional Clinical Education Manager
Tricia is currently a Regional Clinical Education Manager at Permobil. Prior to joining the clinical team at Permobil, she was in a similar role as the Clinical Applications Manager for ROHO. Previously, in clinical practice, Tricia specialized in neuro rehabilitation at Baylor Institute for Rehabilitation (BIR) in Dallas, Texas. While working at BIR, she gained extensive knowledge in the prescription and training of custom wheelchairs and seating. She also worked as the outpatient wheelchair seating clinic specialist. Now with Permobil, Tricia is presenting educational programs to therapists and DME providers regarding seating, mobility and pressure ulcer prevention. Tricia is an active member of RESNA, Clinician's Task Force, and the APTA. Within the APTA, Tricia is a member of the Neurology Section as well on the nominating committee for the newly formed AT-SWM SIG.