This is 3rd blog in the series Maintaining Your Ride. Check out blog 1, blog 2, and blog 4.
---
In our maintaining your ride blog series, we've looked at cleaning and disinfecting seating and positioning products, manual wheelchairs, and power wheelchairs. To keep your wheelchair in good working order we strongly recommend maintenance. Today we are focusing on power wheelchair maintenance.
Steps for maintaining a power wheelchair
Clean power wheelchairs often
Inspect for wear & tear
Tighten hardware such as on headrest and seating components
Inspect the seating components such as cushions and back supports
Adjust as needed
Be proactive with replacement components including batteries
Download any Permobil's power wheelchair manual here to view the recommended maintenance schedule
Why is maintaining a power wheelchair so important? In 2017 an online survey conducted by PatientsLikeMe on power wheelchair users, 56% of the people surveyed had parts of their power wheelchair break or malfunction. The most common parts reported broken or malfunctioned were the battery, arm rest, and lift/tilt function. Being aware and maintaining your power wheelchair is important, so you can contact your service provider before you are in an emergency situation. For example, if your battery isn't charging like it used to, be proactive and contact your service provider. By proactively maintaining your wheelchair, hopefully worn components can be repaired or replaced before broken parts lead to power wheelchair users being without mobility for days and in some cases over a month with an unsafe or non-functional chair
With Permobil M & F Corpus/Corpus VS power wheelchairs there is a platform called Connect that has an end user application called MyPermobil. As a power wheelchair user with any of the following models: M3 Corpus, M5 Corpus, F3 Corpus, F5 Corpus and F5 Corpus VS, you have the option to accept and turn on this service by activating the connectivity function in order the use the MyPermobil app. The MyPermobil app helps end users get the most out of their Permobil power wheelchair by providing continuous real-time information such as current battery charge, integrated map, and seating activity tracking. Learn more about MyPermobil here: https://hub.permobil.com/mypermobil-2.0.
---
Join us next week as we go over manual wheelchair maintenance. Want to hear more about wheelchair and cushion maintenance? Check our our podcast all about this topic.
---
---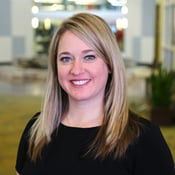 Tricia Garven, MPT, ATP
Regional Clinical Education Manager
Tricia is currently a Regional Clinical Education Manager at Permobil. Prior to joining the clinical team at Permobil, she was in a similar role as the Clinical Applications Manager for ROHO. Previously, in clinical practice, Tricia specialized in neuro rehabilitation at Baylor Institute for Rehabilitation (BIR) in Dallas, Texas. While working at BIR, she gained extensive knowledge in the prescription and training of custom wheelchairs and seating. She also worked as the outpatient wheelchair seating clinic specialist. Now with Permobil, Tricia is presenting educational programs to therapists and DME providers regarding seating, mobility and pressure ulcer prevention. Tricia is an active member of RESNA, Clinician's Task Force, and the APTA. Within the APTA, Tricia is a member of the Neurology Section as well on the nominating committee for the newly formed AT-SWM SIG.