This is 2nd blog in the series Maintaining Your Ride. Check out blog 1 here, blog 3, and blog 4.
---
Last week we talked about seating and positioning care and maintenance specifically looking at cleaning and disinfecting wheelchair cushions. This week we're talking a look at the cleaning and disinfecting manual and power wheelchairs.
Cleaning a Manual Wheelchair
Like with cushions, manual wheelchairs first need to be cleaned with a damp cloth and mild detergent, rinsed thoroughly with clean water, wiped dry with a clean cloth, and left to air dry. Be sure to use a soft cloth avoiding an abrasive or rough texture which could damage or scratch the frame.
For cleaning manual wheelchairs, pay special attention to the parts that are touched most often such as hand rims, wheel locks, front frame of the wheelchair, and arm rests. Don't forget the different components that a family member or caregiver may touch frequently such as push handles.
To clean hair that gets caught in the Velcro on the seat upholstery, use a wire bristle pet brush to pull out that hair, fuzz, and lint. Another place that can get fairly dirty on a manual wheelchair is the rear wheel axle. We recommend cleaning it with a soft cloth to clear the dirt from the axle and lubricate with a silicone-based lubricant.
---
Cleaning a Power Wheelchair
Cleaning a power wheelchair does differ from a manual wheelchair. Before cleaning a power wheelchair, make sure the power is off and if you're cleaning any of the electronic components such as the drive control consider flipping the breaker circuit so there is no risk of the power being on. One place that tends to get dirtiest on a power wheelchair besides the joystick and joystick receiver can be the footplate. A foaming cleanser can be helpful to tackle this tough spot to saturate the footplate where the grippy tape is located to really clean within there while using a bristle brush to scrub out that area. Another helpful cleaning tip is to use canned air or an air compressor can be helpful for removing dirt and crumbs as well as drying the product itself. Although we don't recommend taking the cover or shroud off the power wheelchair, it is an area that can get pretty dirty depending on your lifestyle and where you're using the power wheelchair and how dusty it is where you live.
Specifically looking at cleaning power wheelchairs base, use a mild detergent on a damp rag, but most importantly do not use flowing water to rinse such as a garden hose or a bucket of water. It is important to not use any running water on the base of the power wheelchair as all of the components that would be sensitive to water are protected by that shroud. Focus on cleaning routinely touched parts of the wheelchair such as the driver control unit switches, arm rests, push handles, and other areas. You will want to pay special attention to these features.
You may be tempted to wipe the moveable components, such as the seat elevator, and remove the lubricant, but it's a very important piece of the equipment to keep the mechanics of the power wheelchair working properly. If you have squeaks and noises from the wheelchair, call your wheelchair service provider. We do not recommend the use of WD40 for lubricating the wheelchair.
---
Disinfecting a Manual or Power Wheelchair
After cleaning the wheelchair, use an approved disinfectant from the EPA list with a dampened cloth to wipe down the wheelchair to disinfect. Rinse with clean water and wipe dry with a cloth and let air dry. While disinfecting pay special attention to the wheelchair parts you touch most often.
---
Join us next week in this blog series as we discuss power wheelchair maintenance. Want to hear more about wheelchair and cushion maintenance? Check our our podcast all about this topic.
---
---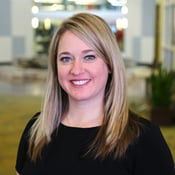 Tricia Garven, MPT, ATP
Regional Clinical Education Manager
Tricia is currently a Regional Clinical Education Manager at Permobil. Prior to joining the clinical team at Permobil, she was in a similar role as the Clinical Applications Manager for ROHO. Previously, in clinical practice, Tricia specialized in neuro rehabilitation at Baylor Institute for Rehabilitation (BIR) in Dallas, Texas. While working at BIR, she gained extensive knowledge in the prescription and training of custom wheelchairs and seating. She also worked as the outpatient wheelchair seating clinic specialist. Now with Permobil, Tricia is presenting educational programs to therapists and DME providers regarding seating, mobility and pressure ulcer prevention. Tricia is an active member of RESNA, Clinician's Task Force, and the APTA. Within the APTA, Tricia is a member of the Neurology Section as well on the nominating committee for the newly formed AT-SWM SIG.