This is 4th blog in the series Maintaining Your Ride. Check out blog 1, blog 2, and blog 3.
---
Manual wheelchair users are not excluded from the need to perform regular wheelchair maintenance. The adverse effects of not maintaining a manual wheelchair include wheelchair breakdown and being without mobility.
Steps for Maintaining a Manual Wheelchair
Clean manual wheelchairs often and we recommend every 2-3 weeks

Inspect for wear & tear

Tighten hardware such as seating components such as caster/forks. Listen for sounds your wheelchair doesn't normally make as this is a good indicator a part is loose.

Inspect seating components such as cushion, seat sling, and back support

Adjust as needed such as wheel locks and tire pressure adjustments

Proactive replacement such as tires, casters, and upholstery
Download any Permobil TiLite wheelchair manual here to view the recommended maintenance schedule
---
Manual Wheelchair Universal Terms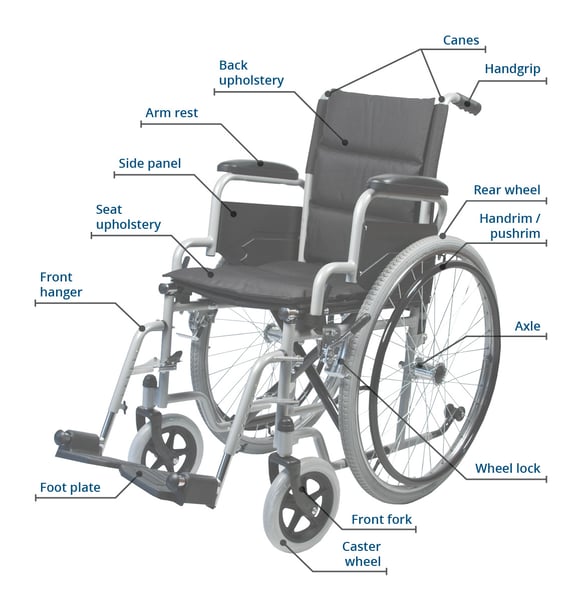 ---
Rear Tire Maintenance
Specifically, for manual wheelchairs, rear tire maintenance is important. Start by checking the pressure in the tires. Low pressure robs performance, increasing tire wear, and can be a safety issue with wheel locks not functioning as expected. Look for wear patterns on your tires: toe-in issues will wear the outside edges on the tires while toe-out will wear the inside edge. Solid tires can wear just as much a pneumatic tires and can have wear pattern problems as well. If you discover wear pattern problems, contact your local service provider for regular maintenance and adjustment to avoid ongoing issues.
If you're going on a trip, take a few things to be proactive in case something happens. Having the ability to repair a flat tire while traveling can be helpful, so taking a manual air pump, tire levers, and a tube patch kit are important things to have incase you do experience a flat tire while away.
---
Rear Wheel Maintenance
These are a few things to pay attention to in regards to the rear wheels: 1. slop in axles can result a loose rear wheel connection or misalignment 2, the quick release button functioning properl 3. bearings which can be missing or not spinning properly.
---
Center of Gravity (COG) Maintenance
For COG maintenance, make sure to not over tighten the camber tube clamp especially if you have a carbon fiber camber tube. Check the alignment of the camber tube with the flat section perpendicular to the ground. If the camber tube isn't aligned, it can cause the toe-in and toe-out issues we discussed in the rear tire maintenance section. Make sure the bracket to frame screws are tight or not missing as that will result in the center of gravity to move which can make the wheelchair tippy or sluggish. Check for excessively worn parts such as bumpers or frame protectors which are parts that need to be replaced several times over the life of the wheelchair.
---
Caster Tires, Wheels, and Forks
Check for excessive wear on the caster tires and replace as necessary. For the caster wheels tend to bearing issues such as cleaning out hair or other debris, add oil as needed, check for damage on the bearing seals, and make sure the axles aren't loose. Same maintenance is applied to caster forks by making sure hardware is tight and oiling or replacing as needed. Keep in mind to not overtighten the fork stem unit as overtightening can damage the bearings.
---
Frame Components & Accessories
The frame components such as the upholstery, seat back, seat sling, and footrest are areas that can get frayed from excessive wear and can be replaced. If the seat sling is sagging which naturally happens over time, most of them are adjustable so tighten the seat sling. When looking at the footrest, check the angle adjustment and footrest clamps to make sure the screws are tight to keep the footrest from slipping. Frame accessories like side guard brackets can get loose and can cause a rattling sound, so check those to make sure they are adjusted properly. Wheel locks can rotate if loose and compromise the working of the wheel lock itself.
---
While it might be overwhelming to consider all the parts that need maintaining in a power or manual wheelchair, according to the University of Pittsburgh from 2017, "CMS considers it reasonable to expect that beneficiaries will perform the maintenance." To break this down a little further, the responsibilities of the wheelchair user include reading and using the owner's manual for their particular wheelchair, performing routine maintenance, and cleaning. Join us next week as we look at some FAQs regarding wheelchair cleaning and maintenance. Want to hear more about wheelchair and cushion maintenance? Check our our podcast all about this topic.
---
---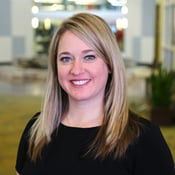 Tricia Garven, MPT, ATP
Regional Clinical Education Manager
Tricia is currently a Regional Clinical Education Manager at Permobil. Prior to joining the clinical team at Permobil, she was in a similar role as the Clinical Applications Manager for ROHO. Previously, in clinical practice, Tricia specialized in neuro rehabilitation at Baylor Institute for Rehabilitation (BIR) in Dallas, Texas. While working at BIR, she gained extensive knowledge in the prescription and training of custom wheelchairs and seating. She also worked as the outpatient wheelchair seating clinic specialist. Now with Permobil, Tricia is presenting educational programs to therapists and DME providers regarding seating, mobility and pressure ulcer prevention. Tricia is an active member of RESNA, Clinician's Task Force, and the APTA. Within the APTA, Tricia is a member of the Neurology Section as well on the nominating committee for the newly formed AT-SWM SIG.