In this series we're taking a closer look at justification and clinical tips for a few seating and positioning accessories. See Part 1 and Part 2.
---
As I mentioned last week, less is more when it comes to wheelchair positioning. The goal is to select the right model and size wheelchair and select the most appropriate seat cushion and back support making accessories unnecessary. But there are times when adding the appropriate accessories can help you achieve an optimal posture for stability and function.
Clinical indications for use of lateral trunk supports:
Reducible Postures: A spinal curvature that is flexible can be corrected with the proper use of lateral trunk supports and prevent further deformity.
Non-Reducible Postures: When a posture is non-reducible it means that it can't be corrected, but it could continue to get worse. By accommodating a fixed spinal curvature with lateral trunk supports, you can minimize the progression of the deformity.
Progressive diagnoses: Particularly with progressive neurological diseases, a client may sit well for the first couple of hours in their wheelchair. As the day progresses, muscles fatigue and can result in the trunk collapsing or leaning to one side. By providing appropriate lateral trunk supports, you may increase stability and function throughout the day.
Abnormal tone in the trunk muscles and/or pelvis: In the case of high tone or low tone, lateral trunk supports can be used to promote an optimal upright posture for stability and function. At times the abnormal tone is asymmetric and the addition of a lateral upper leg support positioned at the hip can create a three-point system of support, resulting in optimal pressure distribution and upright posture.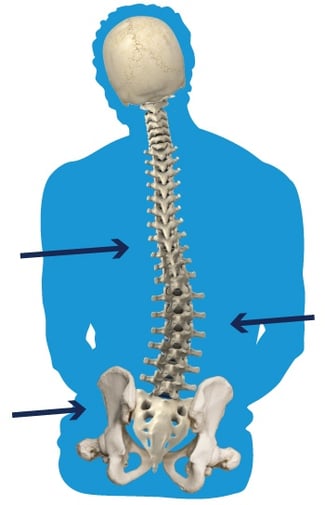 ---
How to select lateral trunk supports
Just like lateral upper leg supports, when choosing lateral trunk supports you need to consider the pad and the hardware.
The pad: When choosing the pad, consider shape and moldability. The contact points between the pad and the body will tell you what you will need. Consider that our bodies are not flat, so a moldable pad allows you to customize the surface area to client's trunk, increasing pressure distribution. The shape of the pad also affects the amount of pressure distribution that can be achieved. A pad shaped to fit the anatomical curves of our bodies may distribute pressure more evenly than a generic square pad. When choosing the size of the pad, consider that you don't want to impede upper extremity function or movement. By utilizing a three-point system of support as mentioned above, a smaller pad size can be sufficient for pressure distribution even with heavy leaners.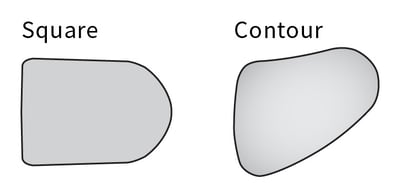 The hardware: When assessing lateral trunk support hardware, consider whether the client needs to be able to remove it during transfers, and whether they can do this independently or need caregiver assistance. Does the hardware allow you to adjust the placement of the swing-away latch based on your client's needs? Also consider how close the hardware allows you to get in to the trunk and whether it has a joint that allows angling of the pad.
---
Criteria and Justification
Now that you know why properly fitting lateral trunk supports are necessary for some clients, the next step is to successfully justify it under Medicare criteria. We're first going to take a look at what that Medicare criteria is, and then we'll go over a few sample justifications for lateral trunk supports.
The HCPCS code for head support is E0956 and the criteria is as follows:
Medicare Criteria:
Has significant postural asymmetries AND one of the qualifying diagnoses for positioning back support.
The examples below describe examples of clinical reasoning for a positioning back support that would meet the Medicare Criteria. For qualifying diagnoses, use the diagnosis search found at https://www.comfortcompany.com/icd_decision_tree
Compensate for decreased stability and balance due to decreased strength (poor endurance, abnormal tone, poor motor control, other) and allow increased ability to participate in ADLs and IADLs (eating, operating / propelling his/her wheelchair, performing personal care, using his/her computer/AAC device/EADL, writing, reading, others)
Help correct (accommodate) his/her spinal kyphosis (other spinal deformity) and promote an upright posture
Prevent recurrence (progression) of his/her spinal kyphosis (other spinal deformity)
Provide increased pressure distribution across the posterior trunk to decrease the risk of pressure injuries on his/her vertebrae
By describing your individual client's physical presentation as in the examples above, you are painting a word picture for the reviewer. In addition to describing the postural asymmetries, include a description of why your client needs the lateral trunk support. The justifications provided below are examples only and are not all-inclusive. Use these as a guide and tailor them to describe the clinical indications of your individual client.
Sample justification for BodiLink Lateral Trunk Supports
Lateral Trunk Supports are necessary to provide specific support to the lateral aspects of the trunk to:
Correct (prevent further progression of) his/her right lateral lean (scoliosis) due to trunk weakness (abnormal tone, poor motor control, poor endurance, fatigue, pain, other);
Provide proximal stability to the trunk to allow use of his UEs for function (eating, operating / propelling his/her wheelchair, performing personal care, using his/her computer/AAC device/EADL, writing, reading, others);
Provide a counterpoint to help correct (prevent further progression of) his/her trunk rotation;
Provide proper trunk alignment to ensure improved pressure distribution, decreased fatigue in sitting, decreased secondary postural changes, improved respiration and swallowing.
---
I hope these posts have been helpful. We continuously seek to offer resources to help you in daily practice, so stay in touch with us, and let us know if you'd like to learn more about a particular topic!
---
---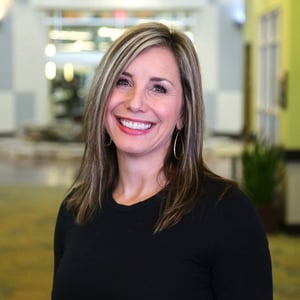 Stacey Mullis, OTR/ATP
Director of Clinical Marketing
Stacey is Director of Clinical Marketing. She graduated from Western University in London, Ontario, Canada with a BA Linguistics and BSc Occupational Therapy and has practiced as an OTR for over 20 years. With experience in pediatrics, inpatient/outpatient rehabilitation, long term care, and home health, Stacey has faced the challenges first hand of providing appropriate seating in various clinical settings. This led her to pursue an apprenticeship at Care Partners Seating Clinic in Asheville, NC to advance her skills, and she obtained her ATP certification in 2012. Mullis is a member of the NCOTA, CTF, NRRTs, RESNA, and AOTA.