This is the 2nd blog in our series on alternative drive controls. Check out the 1st blog here. Check out the Power Wheelchair Guide for more information on power mobility, and The Wheelchair Handbook: A Consumer's Guide to Seating and Mobility Equipment for more information on the wheelchair provision process.
---
When determining whether an alternative drive control is needed, it is important first to consider the following with a standard joystick:
Positioning of the individual – Have you optimized positioning for support while allowing for freedom of movement and use of available range of motion/strength?
Mounting/placement of the joystick – Consider the location and height of the joystick. Sometimes a half inch lower, or slightly inward of the armrest can mean the difference between success and failure.
Alternative joystick knobs – There are a variety of joystick knobs that fit on a standard joystick and provide different shapes, textures, and heights based on the individual's unique hand and/or arm function.
Programming adjustments – In addition to programming the chair's speeds, programming adjustments can be made to impact how the joystick responds to the individual's movements (throw, tremor dampening, deadband, etc.).
Access to additional wheelchair functionality – Access to power seat functions, mode, and powering the chair on/off are important for maximizing the chair functionality and the individual's independence.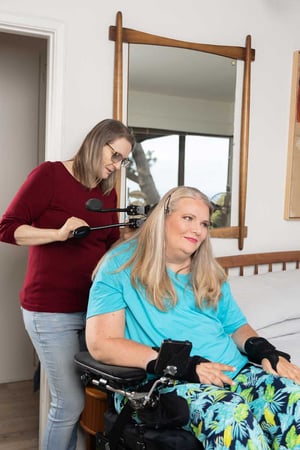 Once a standard joystick has been trialed with these considerations without success, the use of an alternative drive control may be evaluated. When considering alternative drive control options, it is important to keep the following in mind:
Maximize positioning and stability needs before beginning.
Identify where there is movement and where the movement is most consistent – start there.
Evaluate how much movement is available. Ask how much range of motion is required to effectively operate the alternative drive control being considered. Do different positions of the drive control elicit more or less access and consistency?
Evaluate how much strength is available. Ask how much strength is required to deflect the chosen proportional input device or how much strength is required to activate the switched/non-proprtional input device.
Consider access to seat functions, other modes such as Bluetooth, as well as power on/off.
Consider additional factors like the cognitive demands of the drive control and the visual perceptual abilities of the individual.
Is fatigue a factor? Does the individual have enough endurance for the chosen drive control?
Some clients with fatigue can use a standard joystick part of the day, and require an alternative drive control for part of the day.
If your client has a progressive disorder, consider potential future alternative drive control needs/options and discuss with their equipment provider. Depending on how quickly you or your client's condition is progressing, sometimes alternative drive controls are ordered before they are needed.
---
Join us next time as we review the two main categories of power wheelchair drive controls: 1) proportional, and 2) switched/non-proportional.
Interested in learning more about alternative drive controls and the new options from Permobil? Sign up for our July webinar here.
---
---
Sarah Lusto, PT, MSPT, ATC, ATP
Regional Clinical Education Manager
Sarah Lusto PT,MSPT, ATC, ATP is a physical therapist and the Regional Clinical Education Manager for Permobil in the Mountain Region. Prior to joining Permobil in 2021, Sarah worked at the Kessler Institute for Rehabilitation where she gained extensive experience in neuro rehabilitation. At Kessler, she served as the inpatient wheelchair team lead and a member of the outpatient wheelchair clinic. She has lectured for numerous Occupational Therapy, Physical Therapy, and Medical Residency Programs and was a faculty member for Kessler's PT Neuroresidency program. She has also presented at ASCIP and the International Seating Symposium. Sarah is a current member of RESNA and the APTA Assistive Technology/Seating & Wheeled Mobility SIG.