The Wheelchair Handbook
A consumer's guide to seating and mobility equipment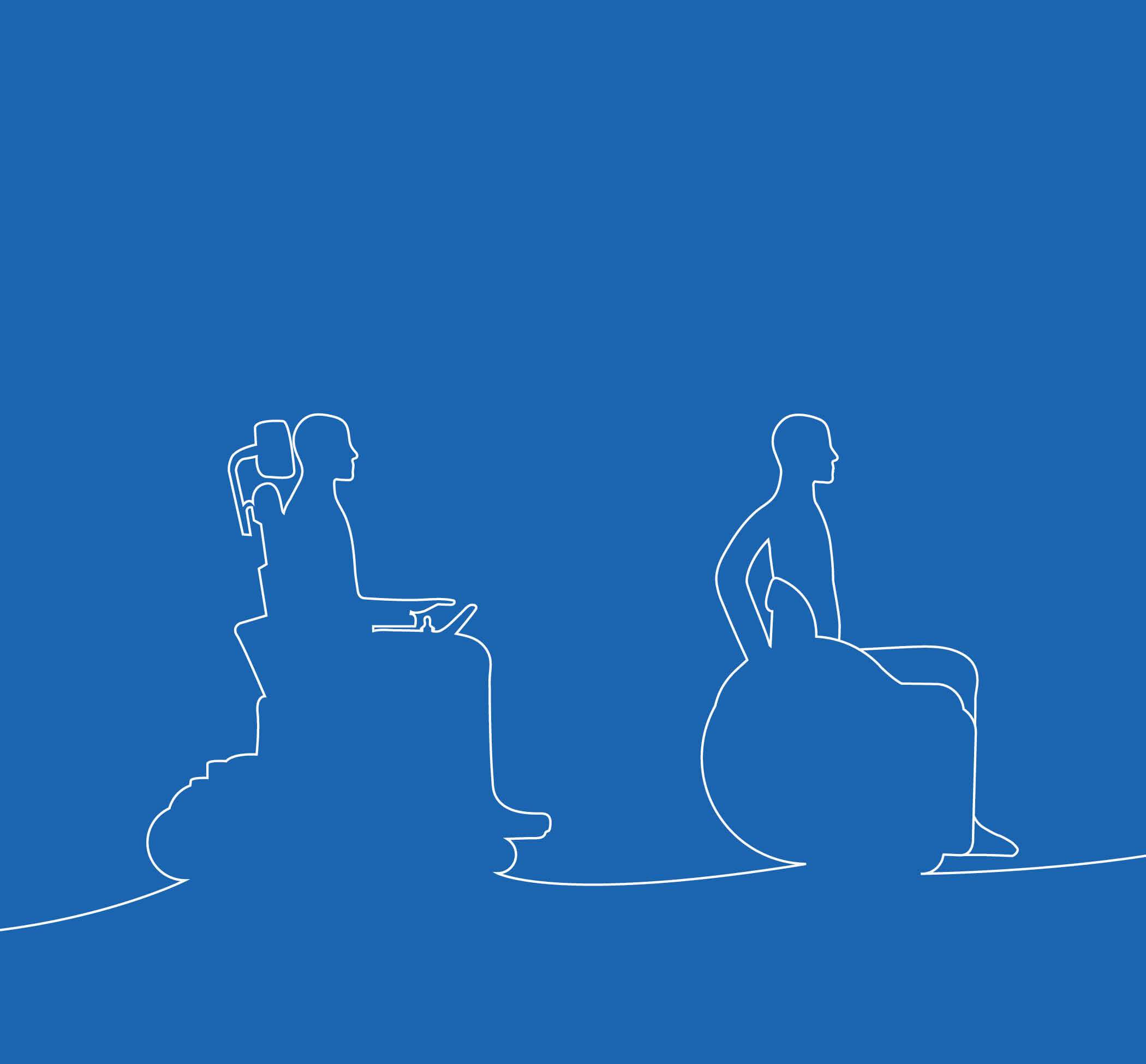 Introduction
This guide is intended to provide you, the consumer, with information about the wheelchair service provision process. This guide can be used when you are being evaluated for your first wheelchair, before receiving a new or replacement wheelchair, and to share with your caregivers involved in these processes.
For the purposes of this guide, the term "consumer" will be used to represent those using wheelchairs and is inclusive of other terms referring to these individuals such as patients, end user, clients, wheelchair user, wheelchair rider, and riders.
This guide seeks to show the equipment solutions that Permobil manufactures and how they may benefit a variety of consumers in many ways. Please note: we intended to include a wide variety of equipment solutions but this is not all inclusive. Consult with your healthcare providers and work with your team to identify the best technology solutions for you and your needs.
This document contains current information based on the time of the publication October 2021.
Disclaimer: The information in this document is for educational purposes only and is not intended to be billing or legal advice. The information provided does not guarantee funding from any source. For coverage information, verify the policy of the appropriate provider.
Dedication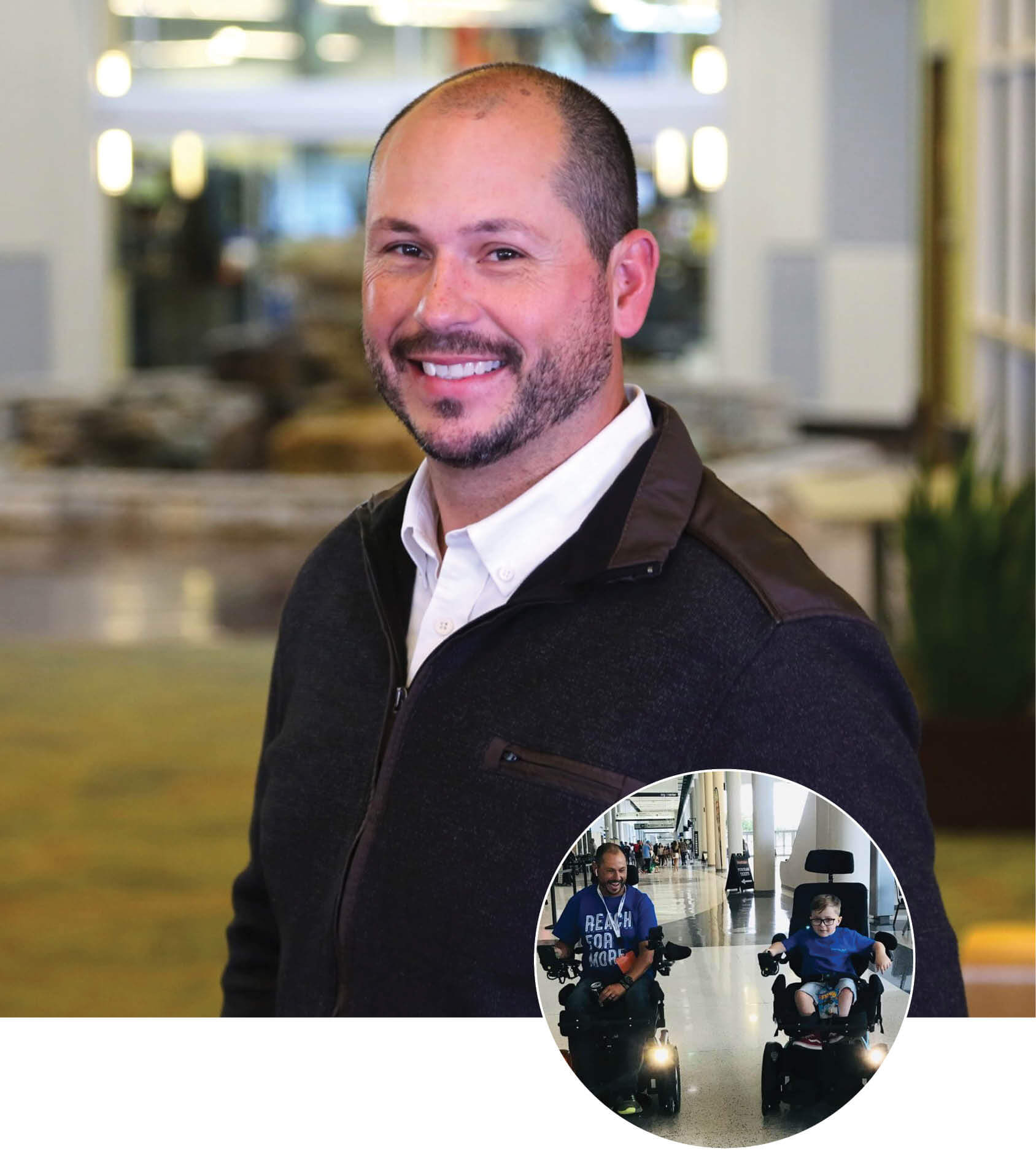 This guide is dedicated to Brandon Edmondson, Permobil Business Region Americas' late Director of Clinical Education (1975-2020). Brandon's vision of Clinical Education in the Complex Rehabilitation Technology industry helped to create this department within Permobil and strongly influenced the development of this guide. We remain forever grateful to the impact Brandon made in the CRT world.
The Wheelchair Handbook
A consumer's guide to seating and mobility equipment
Chapter 1
Your right to choose
Your right to choose
When a wheelchair fits you and matches your "individual lifestyle", your daily focus can shift to participating in what is meaningful to you. Conversely, when equipment is selected without your input, the wheelchair can become a barrier to your independence. You are the expert in the subject of you.
Successfully matching you to your equipment, requires insight into your routines, challenges, values, and preferences. Your team can best assist you if you come prepared to explain your routines and any medical challenges. Having a clear picture of what your needs are, and understanding the process of equipment provision is essential to reaching a good outcome.
Selecting your clinical team
Working with a physician and therapy team that have experience recommending complex seating and mobility equipment will help ensure your required documentation is completed with proper assessment measures and submitted in a timely manner.
You are in charge!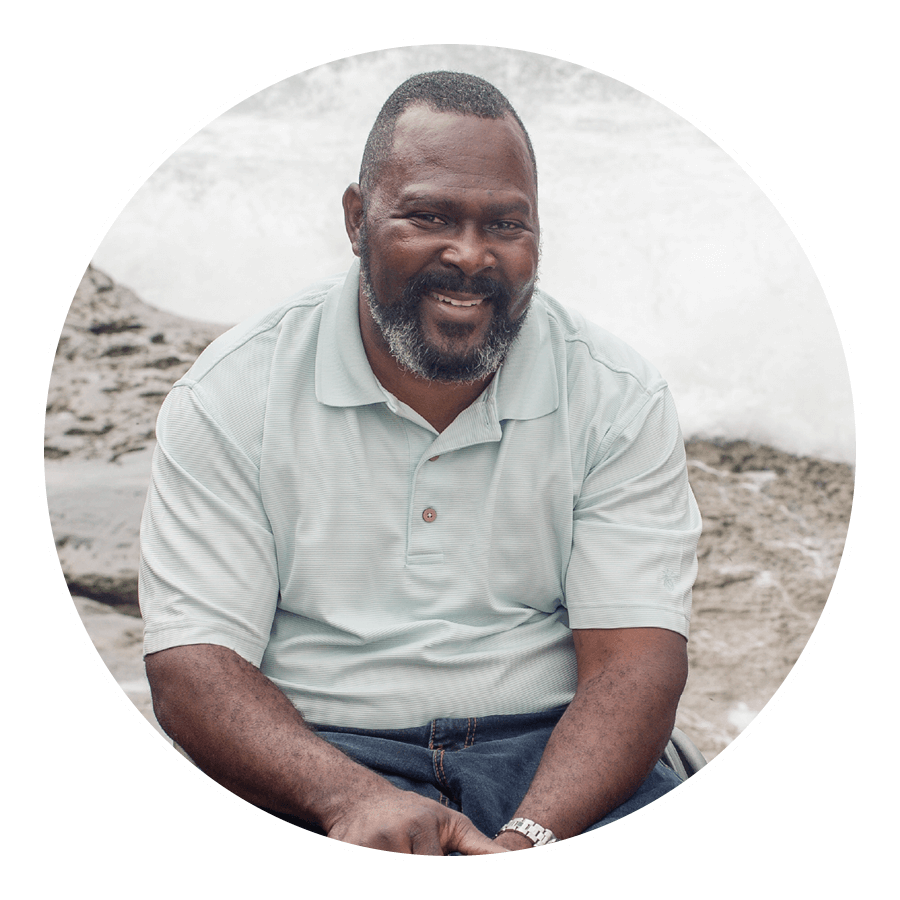 When selecting a wheelchair, ask to see a few different wheelchair styles that may meet your needs. Be sure to ask about the pros/cons of each. Request a trial in each, in your home when possible, so that you can compare their performance and how the different chairs maneuver in your spaces.
Specify what equipment you are interested in
You are the leader of your team, and it is important to voice your needs and preferences. In addition, if your team recommends a specific device or component, a provider should discuss any changes in the type of equipment with you before they complete the order. When your equipment arrives, check that you are receiving what you and your team expected.
In the United States only
If there is a question about whether your insurance will cover a specific item, you may request that the item(s) in question are still submitted to insurance even if the team is hesitant.
This ensures your right to appeal if insurance denies that coverage, and your right to a fair hearing if your appeal is denied.

While this will make the process of getting your equipment take longer, you may get a ruling in your favor.

There are no fees for appeals or hearings to serve as a barrier to exercising this right.

Also, a denial may be necessary if you plan on approaching alternative funding resources.

Many alternative funding resources require an insurance denial before they will assist with funding.
Request that your supplier is a RESNA-certified Assistive Technology Professional (ATP). RESNA members must subscribe to a code of ethics/standards of practice, which includes protecting a consumer's right to choose what medical equipment is requested.
The primary goal of Medicaid is to provide medical assistance to persons in need and to furnish them with rehabilitation and other services to help them "attain or retain capability for independence or self-care" (42 U.S.C. § 1396). This includes equipment needed outside of the home.
If you are a US Military Veteran, we encourage you to contact your local VA Hospital for support with mobility equipment.
Chapter 2
Process to obtain equipment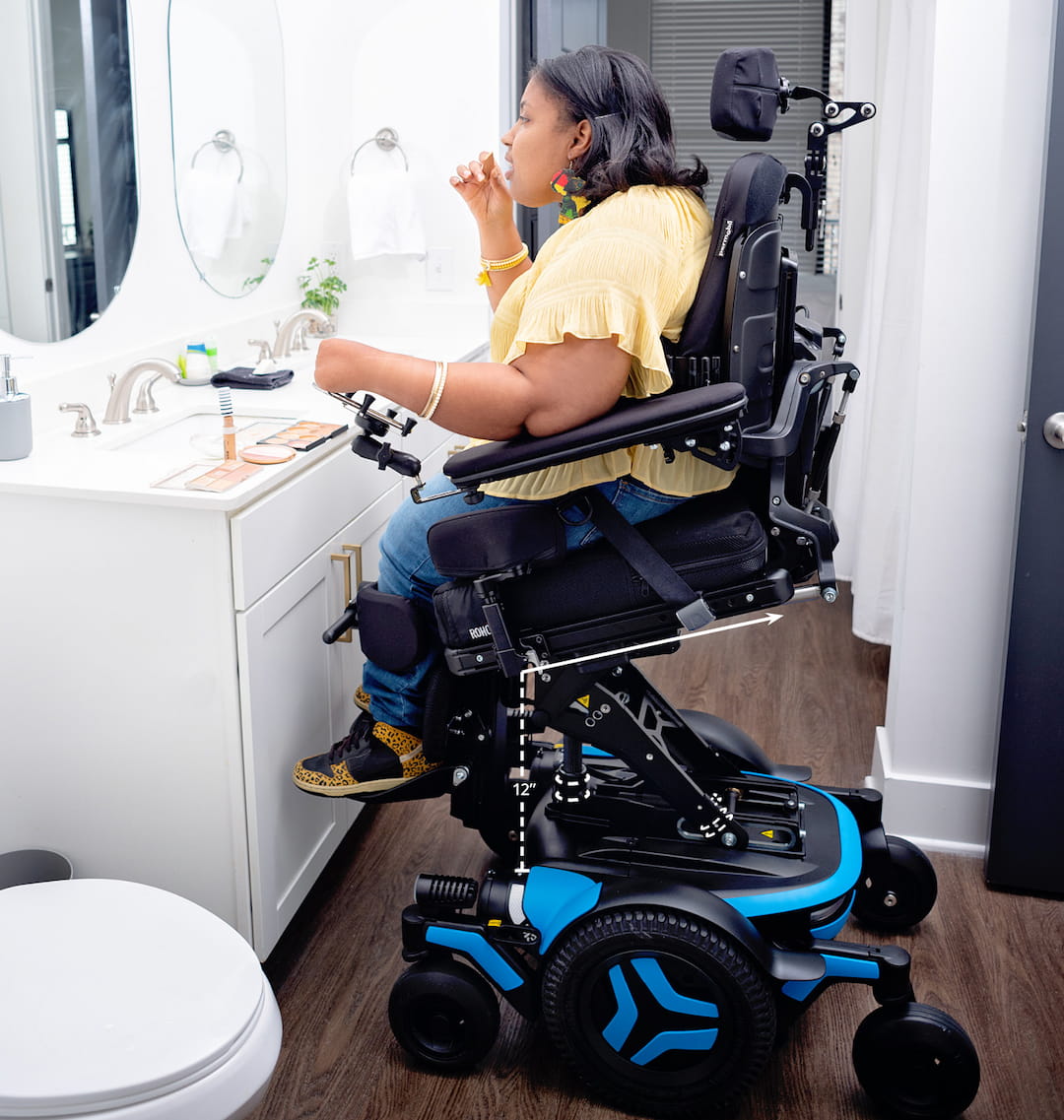 Process for new equipment
The process for obtaining new equipment can be daunting. We've broken this process down into 11 parts.


5. Equipment evaluation
6. Recommendations & selections
7. Coordinate necessary documentation
8. Approval is decided by funding source
9. Return to OT/PT for fitting and training
10. Provider delivers equipment
11. Education on maintenance, repairs, & follow-up
Replacement equipment
Complete a self-assessment: Think about your needs in all environments and also what works with your current equipment, as well as what needs to be different.

Some repairs or replacement solutions only require a physician prescription (ie. new drive tires for a power chair).
Some repairs or replacement solutions require an OT/PT evaluation, as well as a physician prescription (ie. replacement power wheelchair).
Typically, funded repairs include normal wear and tear items such as tires, batteries, seat covers/upholstery, hardware, etc.
If you need to repair/replace a complete power or manual wheelchair, keep in mind that the cost to repair your chair typically needs to exceed the cost of replacing it with a new chair. Additionally, replacement equipment is also considered when there is a documented change in your condition.
If you already have accessible transportation, it's a good idea to make sure your new equipment fits in that existing vehicle.
Helpful tip
Every individual has distinctive and unique needs. Permobil has a range of heavy-duty products with higher weight capacities and sizes. This includes both mobility and seating solutions, which will meet your needs to increase your independence, protect your skin, and support your functional needs. Heavy-duty products can also be beneficial if you have a lot of muscle tone, spasticity, and movement that causes increased wear and tear on your equipment.
Chapter 3
Power wheelchairs
A power wheelchair is recommended when you are unable to functionally walk or propel an optimally configured manual wheelchair for all your necessary and desired activities. Your clinician can help determine what power wheelchair solutions match your unique needs, environments, mobility limitations, diagnosis, and life roles. Your team can also help identify what power seat functions, seating system, and accessories will help increase your function, independence, comfort, and safety.
Jake, Business Owner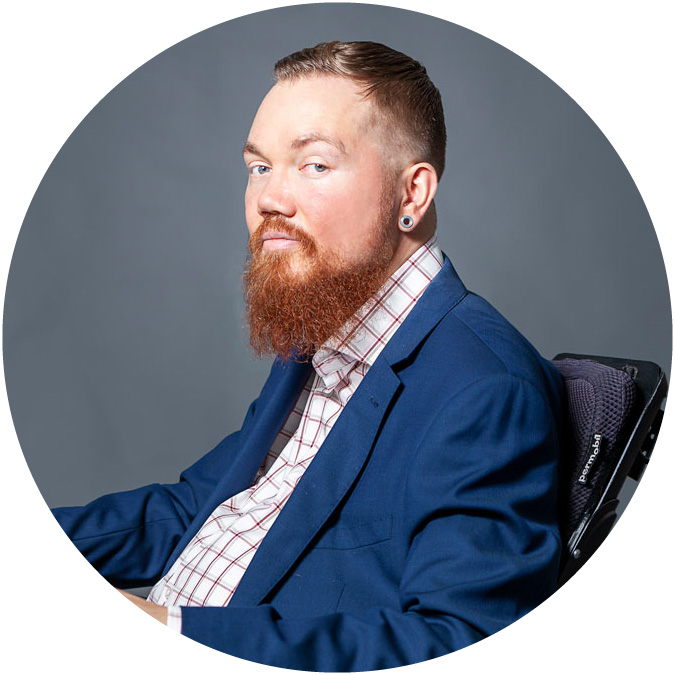 "No matter what end of the spectrum of life you're on, the wheels keep moving forward. Time doesn't stop for me, you or anyone so we keep rolling."
Wheelchair base configuration
The placement of the large drive wheel is your choice (front, middle, or rear). What will work best for you depends on many factors including your body, your function, and your environment. Where would you like to use your chair? What do you need to be able to do from your chair? We will focus on front and mid-wheel drives below, while also recognizing that there are other configurations available. Click on the links below to learn more about each type of wheelchair base configuration.
Helpful tip
The equipment trial is a great time to experience equipment in your environment before finalizing your choice.
Power seat functions
Power seat functions provide you with the ability to reposition yourself throughout the day as needed for functional tasks, reduce pressure over your sitting surfaces, and increase your comfort throughout the day. The power seat functions that are often discussed include: tilt, recline, and elevating legrests. Other power seat functions include seat elevate and forward tilt (at Permobil, we call those ActiveHeight™ and ActiveReach™), and let's not forget standing. We will go into all of these in more detail and show how these power seat functions can have a positive impact on your functional tasks and life roles.
Power tilt
Power recline
Power elevating leg rests
Power adjustable seat height (ActiveHeight™)
ActiveReach™
Power adjustable footplate height
Drive controls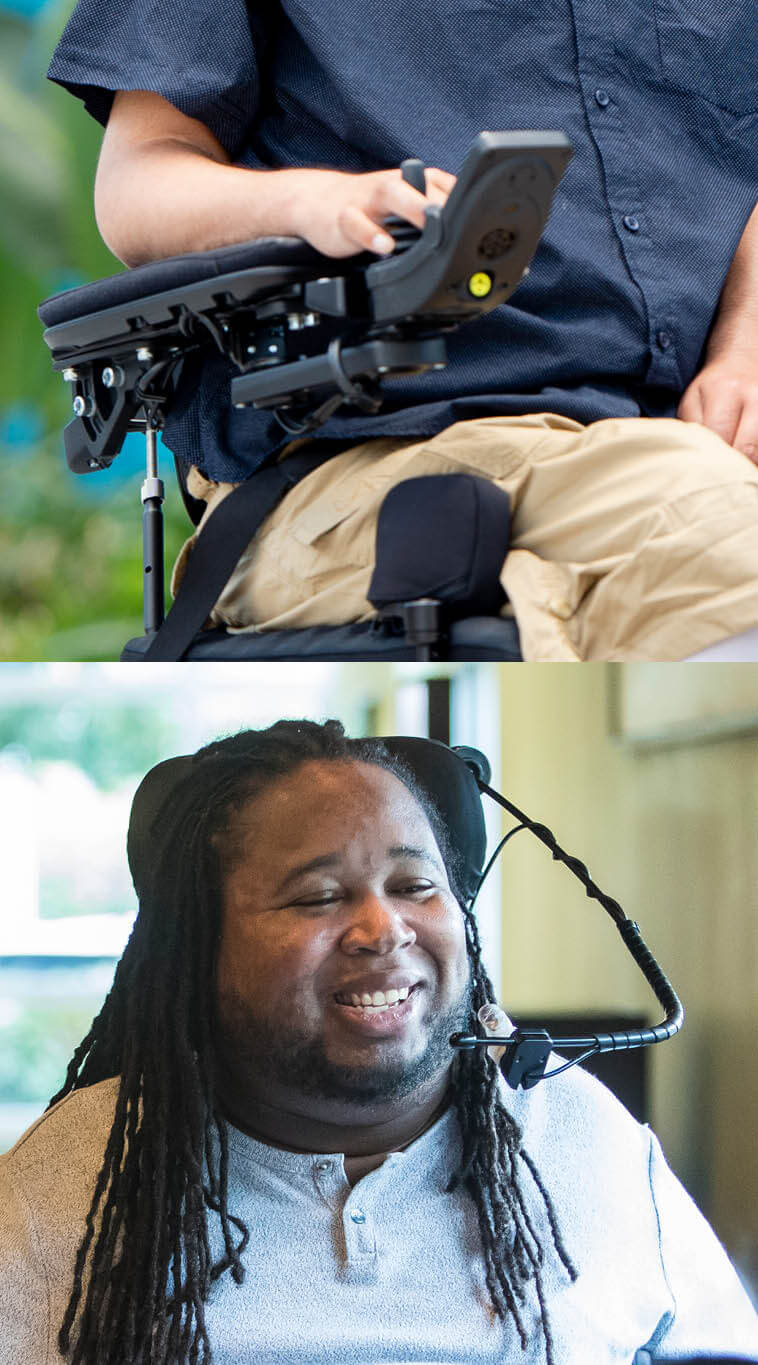 Based on your evaluation, your team will help you to determine the easiest and most efficient way for you to control your power wheelchair. This can vary from a joystick at your hand or foot, to a single button used with any active movement, and even eye gaze.
MyPermobil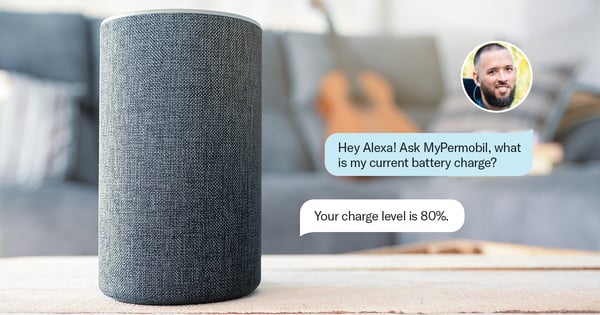 A dedicated app that lets your wheelchair communicate directly to your smartphone. The MyPermobil app empowers you to do more and go further by providing you with real-time information on battery range estimates, distance traveled, power seat function activity, and key systems information.
MyPermobil is available on M & F-series Corpus and Corpus VS models.
Once you provide consent, key wheelchair data is also sent automatically to your service provider's Fleet Management portal once you activate your wheelchair.
This connects you and your service provider like never before, making the remote diagnostic and service process easier with the goal of reducing your wheelchair downtime.
Helpful tip
As of June of 2021, MyPermobil is now compatible with your Amazon Alexa and Google Assistant device providing hands-free insights to end users who might be challenged navigating a smartphone thanks to the built-in Voice Assistant.
Accessories
Lights
We know that activities happen even after sunset (or before sunrise), so Permobil wheelchairs have an LED light option to help you in all kinds of scenarios.
Technology for safety and awareness
Add-on or integrated technology device accessories may improve safety for power wheelchair users by providing obstacle detection, collision avoidance, drop-off protection, and/or anti-tip protection. This enhancement may provide opportunities to consumers that may have been "ruled out" for power mobility for various safety concerns (ie. low vision, decreased reaction time, spasticity, and inability to navigate in tight spaces).
Programming
When you receive your wheelchair, you may want to customize the settings, just as you would with other devices (like a smartphone). Customizing the programming to your unique needs gives you the ability to use your chair safely and easily. The team helping with your wheelchair delivery should know how to make these adjustments to meet your individual needs. Make sure to tell them what works best for you!
Bluetooth®
Infrared (IR)
Drive adjustments
Independent repositioning
Memory seating
Helpful tip
Make sure your abilities, needs, and wants are discussed so that your custom piece of equipment is programmed to meet your unique needs.
Power wheelchairs for kids
It is critical for children to experience "on-time" independent mobility. Being able to move through and explore various environments has been shown to assist with reaching their developmental milestones. Power mobility devices provide an effective and efficient tool for a child to use during critical periods of development in a child's life. The Permobil Explorer Mini is approved for use with children as young as 12 months.
Mike, Sylvia's Dad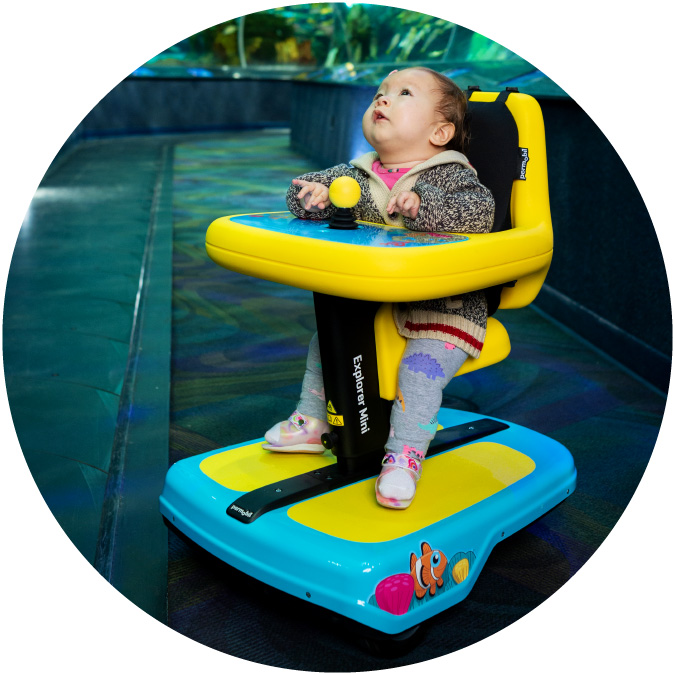 "I've never seen Sylvia in that good of a sitting position ever! She was upright, forward, and engaged. She was reaching for stuff, and it was just so cool to see her that way."
Click here to learn more about the Explorer Mini
Click here to learn more about the resource A Parent's Guide to the Explorer Mini
Chapter 4
Manual wheelchairs and power assist solutions
Manual wheelchairs are often characterized based on where the rear wheel is placed and how adjustable that rear wheel position is. For example, a fully customizable chair will have a rear wheel or axle that is adjustable forward, backward, up, down and at an angle for camber. A wheelchair with an adjustable rear wheel is necessary, regardless of the way you move yourself. This means if you push a wheelchair with both hands, feet, or other combination. The primary goal is to get the large wheel underneath your body to ease the force you need to move the chair and the number of times you must push.
Configurations
Folding

(TiLite Aero X)
These have a cross-brace or "X" design where the frame folds in half by bringing the sides of the wheelchair together.

Click here to learn more about folding manual wheelchairs

Rigid

(TiLite Aero Z)
A rigid frame by design does not fold in half. but the backrest can fold down for ease of transportation. TiLite offers mono and dual.

Click here to learn more about rigid manual wheelchairs
Ergonomic seating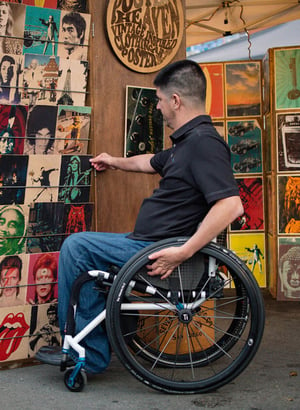 Ergonomic (ergo) seating uses the wheelchair frame to help give you the support you would expect from a seating and positioning product. Permobil knows positioning matters, and that it impacts your position and comfort in your chair. TiLite provides an ergonomic seating option on all our rigid wheelchair frames to fit your wheelchair to you with customized measurements.
Helpful tip
If you think the ergo seat might work for you, try sitting in a demo chair to get the seat well measurement that meets your body size.
Materials
Manual wheelchairs can be made out of a wide variety of materials. Aluminum is the most common material you will see for rigid and folding chairs that can be customized. We are going to highlight two special materials here that you may not already know about or may not be traditionally offered to you right away.
Titanium
This has the highest strength-to-weight ratio of all manual wheelchair frame metals, meaning less material is required to build the wheelchair frame. It holds its shape over time and is not easily damaged, and resists corrosion that can occur when wheelchair frames are exposed to salt, water, urine, and humidity.
Click here to learn more about titanium
Carbon fiber
Carbon fiber is a composite material that can be used for a variety of applications on a manual wheelchair. You can find it being used on the side guards, back support or other frame components. 
Click here to learn more carbon fiber.
Seth on titanium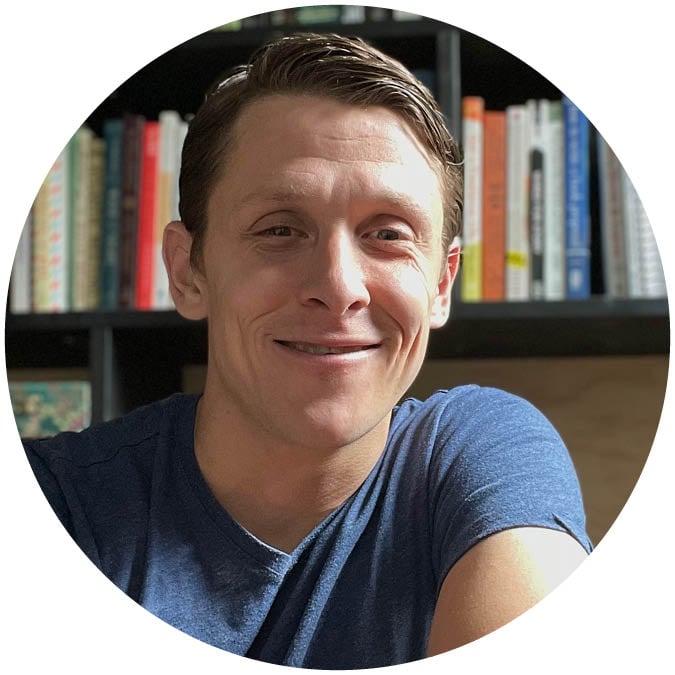 "I know with the titanium chair, if I get the right frame and the right fit, then it will last long enough. In a few years I might have to replace a couple components and things like that, but I won't have to replace the whole frame."
Click here to read about Seth's thoughts on titanium
Frame Characteristics
Wheelchair shape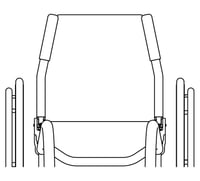 The wheelchair can be made to fit your unique body shape, so it is not too tight or with extra room in the seat, back, or foot support area.
Clients with wider hips and a narrow trunk can get tapered back canes to keep their arms from hitting the back canes. Wheelchair seats can also be tapered for users with lower limb amputations or very narrow lower legs, while keeping the seat wide enough for your hips.
V-front and/or Taper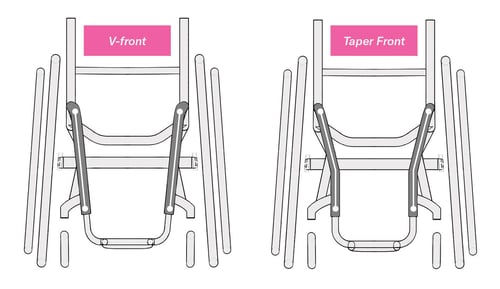 The front profile of the chair is adaptable to your unique shape and size and provides support for your lower legs and feet. Customizing this profile will provide you with the best width, angle, and position for your body.
A tapered front-end will narrow in 2" width increments, while V-front ends have ½" width customization options. The V-front is a more gradual design compared to the frame taper. Keep in mind how you need your feet placed during transfers, and if you utilize the footplate for additional purposes like sitting on when transferring between the wheelchair seat and the floor.
Helpful tip
Pressure on the lower legs may be managed more effectively with a V-front frame configuration.
Made-to-measure frames
Manual wheelchair frames are either modular, prefabricated, or made-to-measure. Made-to-measure wheelchairs are custom built to your body's measurements. All TiLite rigid chairs offer this made-to-measure solution.
Depending on the position of your lower body, the front frame angle of the chair can be 82° instead of the standard 85° bend so that the frame is built exactly to fit you.
Helpful tip
Once you know exactly how you like your chair set up to maximize function, you may want to look into what TiLite calls the "Ultimate Ride" in the TiLite TR or TiLite ZR, where you have non-adjustable caster housings and less moving and bolted-on components.
Pediatric manual wheelchairs
Chair set up is just as important in our youngest riders. When selecting a manual wheelchair for a younger person, there needs to be some growth that can be accommodated. Rapid growth primarily occurs in length and not width in children, which is reflected in the design of the TiLite Pilot. The width is growable with parts, but the length of the seat and side frames are adjustable in a single visit so that the chair grows with the child. In addition, the rear wheel placement is just as important in this population as children have a wide variety of push techniques and activities that they have to adapt to throughout their day.
Wyatt, race car enthusiast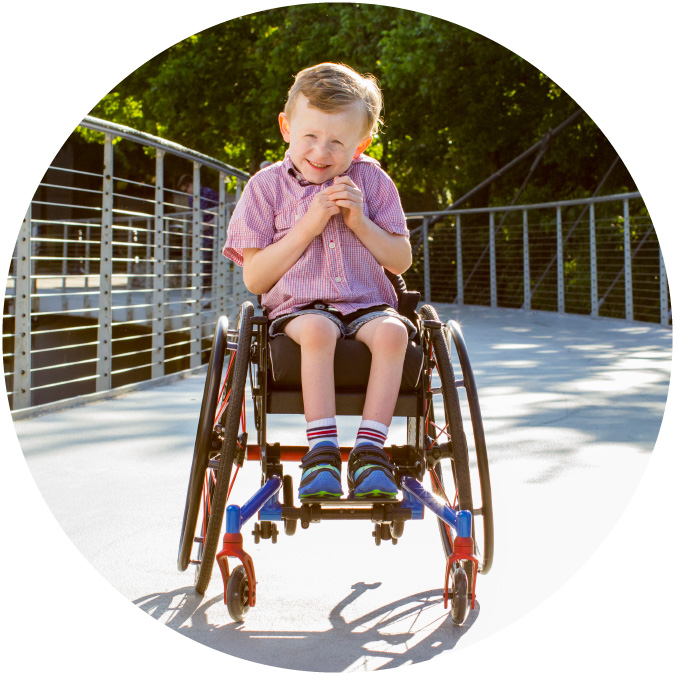 "My chair is so fast my friends have to run to keep up."
Click here to learn more about the TiLite Pilot
Components & Accessories
Handrims
Pneumatic tires
Performance wheels
Side guards
Luggage carrier
Medical necessities bag
Seat pouch
Impact guards
Fold-down push handles
Frame color, anodized packages, tattoos
Power assist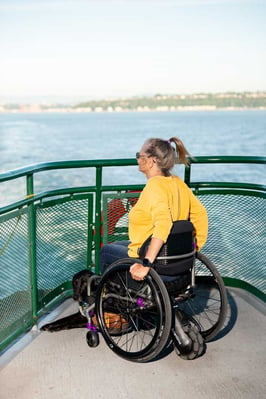 The power assist solution, Permobil SmartDrive, is controlled through fully programmable SwitchControl buttons and/or a wearable PushTracker. A manual wheelchair user pushes 2,000-3,000 times each day. The goal of a power assist device is to reduce the number of times you must push your chair and the amount of force needed to push. Power assist devices are an aid to your mobility and can be added on to almost any manual wheelchair. It lets the battery-powered motor propel you while you only need to manage the steering, turns, and stopping. This helps you to be proactive about your health and energy, before injuries or pain set in. Other potential benefits of a power assist device include reducing strain with propulsion, increasing your functional mobility, and enhancing your participation in desired activities.
Click here to learn more about the SmartDrive experience
Wondering if you could benefit from a power assist device? Click here
Click here to learn more about justifying a power assist device
Did you know?
Based on SmartDrive Smart Evaluation data, SmartDrive has shown to reduce the amount of pushes by 80%, which allows people who push manual wheelchairs to do more over longer periods of time.
Aaron, Father, Athlete, Entrepreneur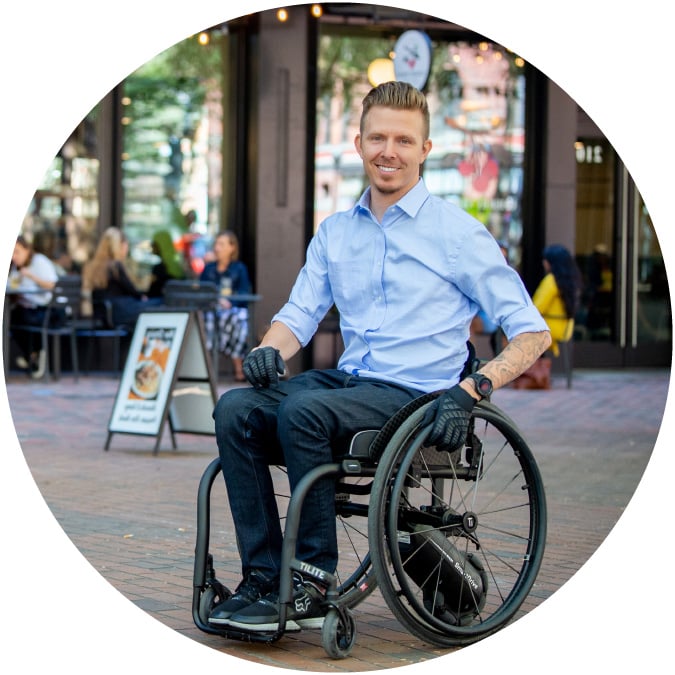 "I want to do more. I want to conserve my energy for the things that I love most. I don't want to be tired just getting there. SmartDrive is my ticket to an adventurous life."
Click here to learn more about Aaron's experience with SmartDrive
Chapter 5
Seating and positioning components
You will know that you require a cushion or back support, or other seating component when your body is doing something it shouldn't be doing. With prolonged sitting, your body can shift into what is known as abnormal postures, in order to seek stability and/or alleviate pain and pressure. Often your condition itself causes your body to shift into these altered postures and positions.
Seating and positioning products include wheelchair cushions, back supports, and accessories. Your seating system should provide you with skin protection, stability, and comfort, while promoting function. These components are made from different materials and come in many shapes and sizes to meet your individual needs. If an off-the-shelf option does not work for you, there are also custom options to explore.
Cushions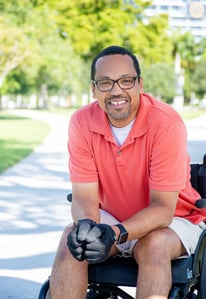 A cushion is more than what you sit on. It is a wheelchair seating solution designed to deliver you with protection, positioning, stability, and even more importantly, peace of mind. Cushions range from basic to custom and can be made from a variety of mediums: flowing air, foam, non-flowing air, and hybrids. Wheelchair cushions are also designed to adapt and adjust to your needs throughout each day and over time. Work with your therapist to determine the best cushion for you.
Click here to learn more about choosing a wheelchair cushion
Helpful tip
Try out different functional tasks to see which cushion works best for the activities that you do regularly (e.g. transfers, reaching into the fridge, holding a baby, carrying a plate to the table, work/school activities).
Covers
Removable covers protect the underlying material of your cushion and back support. Be sure to choose a cover that meets your overall needs for comfort, moisture control, air circulation management, and cleaning.

Helpful tip
An extra cushion cover is essential. When sitting on the same cover day in and day out, it gets dirty and needs routine laundering. The answer to having a clean cover on your cushion every day is to get an extra cushion cover! This way you have a clean cushion cover to sit on while the other cover is being washed.
A solid seat insert for the wheelchair is a removable, firm component that goes underneath your cushion, inside of the cover.
Back supports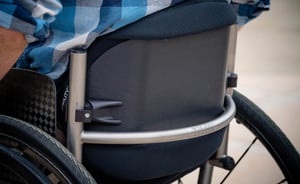 For manual or power wheelchair users, your back support is an important part of your seating system. Look for the material and style that works best for your activities and condition, and that fits you well, to give you the support you need.
Back support hardware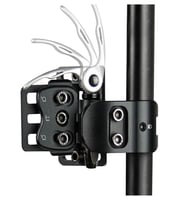 Back supports have different styles of hardware that allow your back shell to be attached to the wheelchair frame. The hardware has different types of adjustments to ensure that the back support fits your body and shape, allowing for optimal alignment, stability, and function.
Julie, Outdoor Adventurer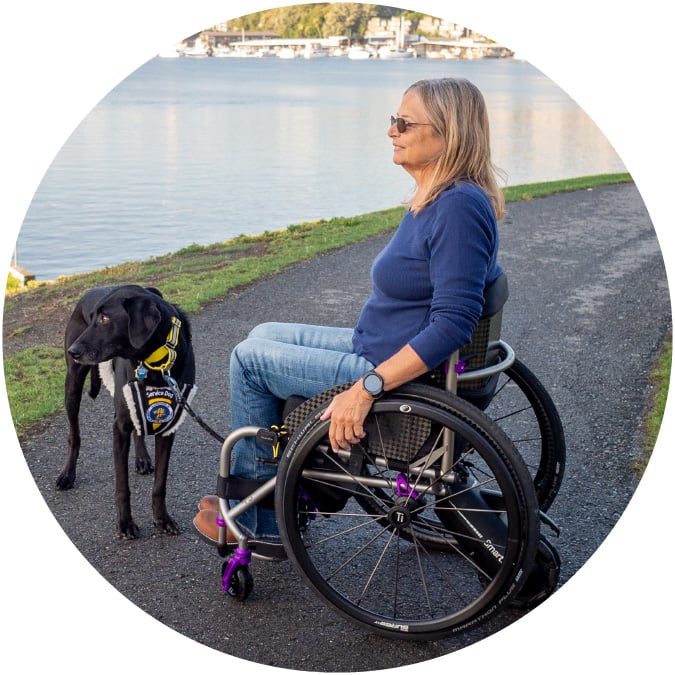 "My AGILITY Active Carbon back is sleek and light and seamlessly attaches to my chair so I feel supported with every push."
Custom cushion/back supports
Everybody is unique, so your custom back and cushion can be too. By using different cell height combinations and multiple or single valve options for air flow control, this customization allows you to design the right fit for your body shape and posture support needs.
Did you know?
Some "off-the-shelf" products have customizable features? You can customize cell heights on ROHO® cushions or use the ISOFLO® Memory Control on the Select Series cushions to help manage postural deformities, provide stability, and adapt with you over time. The Comfort Acta-Relief back support utilizes the BOA® Fit System with adjustable dials to provide individualized positioning that can correct and/or accommodate postural needs.
Positioning Components
Positioning components, also know as seating accessories and secondary supports, work together with your cushion and back support to help optimize your positioning, comfort, and safety.
These can include:
Head support

Trunk support

Thigh support

Knee support
Arm support

Amputee support
Foot support/box

Knee blocks

Chest support
Pelvic support

Foot straps, ankle huggers
With all these types of supports, it is important to look at the material used, the buckles and attachments needed to secure/undo the device, how it will be mounted, and how you can put it on and take it off on your own (or how a caregiver can manage if they are helping you). There are many different versions and styles, and again it is important to make sure that you are positioned well, comfortable, your skin is protected, and adjustment is manageable.
Did you know?
You can get GlideWear™ as a cover option on BodiLink® Head Support and Trunk support pads? It helps reduce friction and protects your skin.
Trays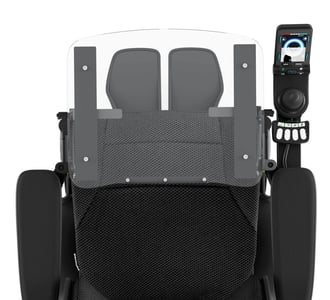 A tray that attaches to your wheelchair is helpful for eating meals, to do your work off, or for grooming. It also provides postural support and positioning by supporting your arms in the appropriate position. There are several models of trays, so find the right style and mount that works best for you.
Trays are mostly removable and some stay on the wheelchair but can flip out of the way for transfers.
Trays can be a helpful option if you can't access tables or sinks for activities, as it gives you the ability to do the activity right where you are!
Make sure to consider the material that the tray is made of, how it is put on and taken off the wheelchair, and if you need to do this on your own or with assistance.
Solutions for alternative surfaces
There are many products that assist you in other chairs and surfaces that you may utilize throughout your day, for example, shower chairs, toilet seats, lift chairs, your vehicle, an airplane seat, or when sitting on the floor.
Bed support surfaces
For the other half of your day when you are not sitting in your wheelchair, you want to ensure that your bed has the appropriate surface for your optimal comfort and safety.
Selecting a bed support surface is similar to selecting a wheelchair cushion.
Consider your level of inactivity and immobility, the need to influence temperature, moisture and shear, your size and weight lying on the surface, the risk of pressure injuries, and the history of pressure injury.
Bed surfaces can be powered or non-powered and have various features. It is important that you are assessed, and your individual needs determined match the features of surfaces – optimizing durability, longevity of use, and flexibility of the surface if your needs change over time.
It is important to ensure that your skin and tissues are protected, and that you are stable and safe when not sitting in your wheelchair.
Did you know?
ROHO® makes bed support surfaces. The same air cells that protect you in your wheelchair cushion are available as a mattress overlay.
Chapter 6
Funding Considerations
The information in this document is for educational purposes only and is not intended to be billing or legal advice. The information provided does not guarantee funding from any source. For coverage information, verify the policy of the appropriate provider.
United States funding
What is the funding process?
The funding process is a team approach and typically involves physicians, physical and/or occupational therapists, complex rehab technology (CRT) providers/assistive technology professionals (ATP), and most importantly you.
You will have a visit with your physician where your mobility and seating/positioning needs will be evaluated and a prescription for the equipment to meet your needs will be written. You will also have a visit with a physical or occupational therapist where you will be evaluated further and have an opportunity to trial different types of equipment. The therapist will provide clinical justification for all the mobility and seating/positioning equipment necessary to meet your needs. The CRT provider/ATP are the actual equipment providers and will be involved throughout the process. They will obtain prior authorization, when applicable, provide and deliver your equipment, bill your insurance, and assist you with any ongoing equipment needs.
Canadian funding
In Canada, government funding is organized on a provincial level. That means that every province does things a bit differently from one another. Some provinces have available funding for everyone for various products, and other provinces have little government funding opportunities. In some areas, funding assistance is based on your income, in others, it is not. Your best bet is to talk to your clinician, dealer, and any other professional that is assisting you with rehab and mobility equipment and they can direct you to the available agencies and funding sources.
Aside from government assistance, there is always the possibility of accessing funds through private insurance, Workplace Safety and Insurance Board, or other worker compensations organizations, as well as alternative funding sources, such as charities and service groups.
Click here to learn more about Canadian funding options
The most powerful voice for making policy-specific changes has always been the voice of those who are directly impacted by poor or restrictive policies. Your awareness of, and participation in, state and national efforts to improve funding for research, equipment coverage, and social support options is essential to ensure funding for such improves and is not reduced.
The following associations are listed as possible resources for additional information on specific diagnoses, equipment considerations, and ongoing advocacy topics to be aware of for your future participation.
Protecting access to medical equipment that can be customized and fit to meet your needs requires the participation of not only your medical and supplier team member, but also yourself and your care team.
Maintain your ride
Power and manual wheelchair care
It is helpful to remember that insurance providers will cover the cost of repairs to your wheelchair and components IF they purchased that wheelchair. Depending on the insurance you have (Medicare, Medicaid, or private insurance), you may have a co-pay for repairs needed. In Canada, check with your dealer to find out about the best process for getting repairs done and potentially funded.
The importance of knowing how to maintain your wheelchair has several benefits:
Helps your wheelchair operate more efficiently/effectively to provide the reliability needed for everyday use.
Reduces your risk of being stranded somewhere due to sudden loosening/loss of critical nuts/bolts.
Insurance providers expect users/caregivers to take care of the equipment so that it lasts longer.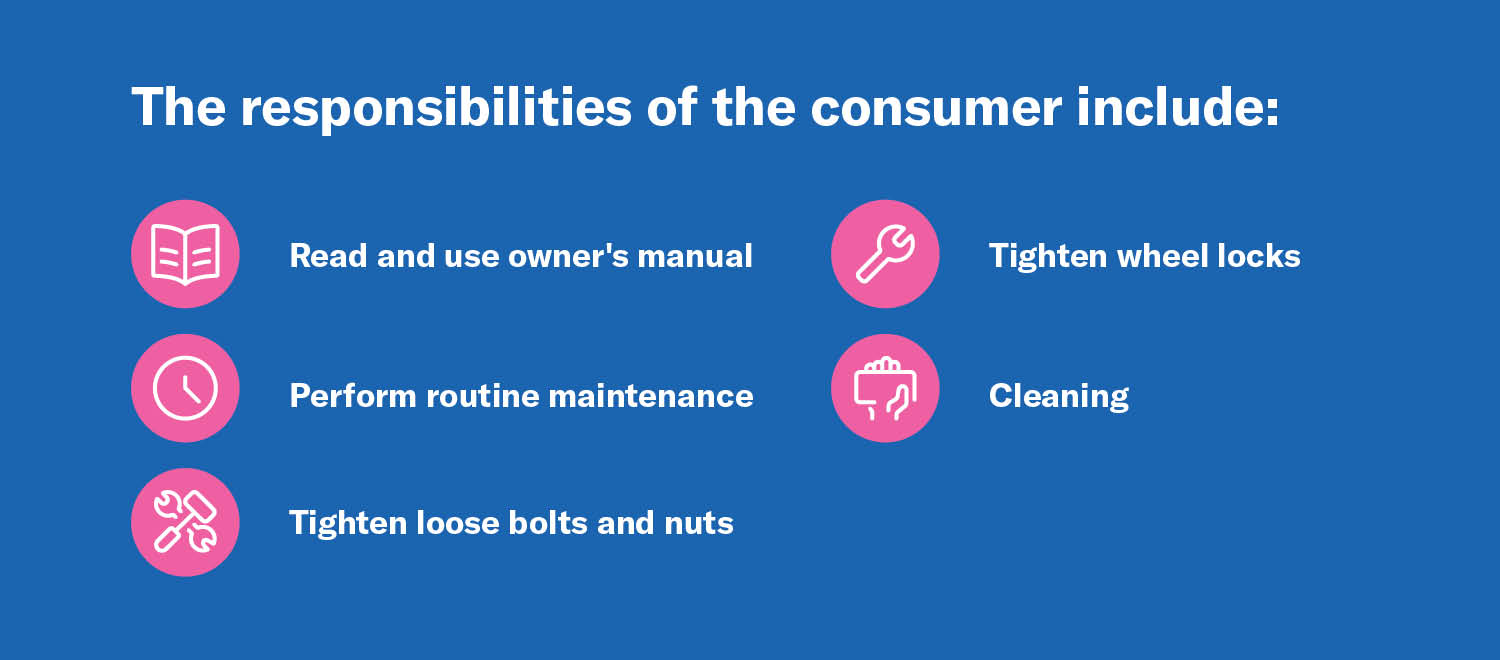 When your wheelchair needs service or repair, contact the equipment supplier who provided the wheelchair. A technician will be scheduled to assess the chair for repair needs, then submit a quote to your insurance company. If the wheelchair is less than five years old, regardless of how many repairs are needed, insurance will pay for repairs. If the chair is over five years old, and the repairs are extensive, your insurance company will most likely choose to pay for a full replacement wheelchair. They may be able to provide you with a usable loaner wheelchair if your chair needs to stay at their repair location while awaiting parts. In Canada, funding for service or repairs varies by province. Check with your dealer.
Click here to learn more about power wheelchair maintenance
Click here to learn more about manual wheelchair maintenance
Below are excellent resources to consult regarding how to perform basic manual or power wheelchair maintenance:
University of Pittsburgh Wheelchair Maintenance Training Program
"My Wheelchair Guide" from United Spinal Association, iOS and Android available
National Center on Health, Physical Activity and Disability "Wheelchair Maintenance Guide"
Did you know?
All equipment requires maintenance. Ask about the durability of the equipment suggested for you during the selection process. For example, an ultralightweight chair made from high strength lightweight material such as titanium will last longer and costs less to operate compared to a standard manual wheelchair.
Seat Cushions, Back Supports, Accessories Care
Seating and positioning components and accessories also require care to help them last longer and function at their best. Especially as insurance is increasingly limiting the frequency of replacement.
All cushions, back supports & accessories require maintenance and inspection. For example, it is critical to have your ROHO® Dry Floatation cushion properly inflated.
It is helpful to take pictures of your wheelchair and seating system on the day of delivery and fitting, so that you can track what pieces are part of your system. It is also helpful to have someone take photos of you IN your wheelchair, from all sides, so that you and your therapy team know how you were positioned when you were first provided the equipment.
Most back supports and seat cushions have removable covers that can be laundered for cleaning and disinfection. Following the manufacturer's directions is important to reduce the risk for material damage. A foam seat cushion or back support can be wiped clean using a cloth and mild spray detergent. But foam cannot be immersed in water or disinfected due to its porous nature.
Several ROHO seat cushions can be both clean and disinfected, with care taken to make sure the air valve is closed throughout the process. These are great considerations if you have concerns about management of bodily fluids and the need for frequent disinfection.
Click here to learn more about cushion and back support maintenance
Helpful tip
ROHO Smart Check is used to set up and monitor an individual's inflation range. With it, you can be more confident with this instant feedback on your inflation level and check it at any time.
Wheelchair skills
Even though a chair can be prescribed to optimally match your body shape and functional needs, if you do not have proper instruction on how to use your chair, disappointment, frustration, and equipment abandonment may result.
Wheelchair skills training is an important part of receiving and using the right equipment to maximize your participation and attain your goals. The best chair cannot work unless you know how to use it.
Ask your clinician to schedule follow-up appointments to check your propulsion technique (if manual wheelchair is in use); navigation strategies in different environments (push/pull doors, ramps, curb cuts, crossing streets with and without signals, curbs, uneven surfaces, thresholds); plus emergency procedures if you have a fall or dead battery; safe transfer skills; and use of transportation vehicles (public or private).
"The Wheelchair Skills Program is a set of free online resources (e.g., a Manual, Forms and videos) that may be helpful in the assessment and training of the wheelchair skills of wheelchair users and their caregivers." - Dr. R. Lee Kirby, Professor, Division of Physical Medicine & Rehabilitation, Department of Medicine, Dalhousie University
Ongoing assessment
You now have your new chair, it is dialed in, comfortable, and you can focus on other things in life. Great! But what if something changes? If you have a change in your medical condition, or posture, or comfort, or ability to use your wheelchair as it is set up today.
Click here to learn more
Helpful tip
When your Permobil Connect-ready power wheelchair is activated, valuable wheelchair data and analytics is sent automatically via Fleet Management to your local service provider. They will get a notification if there is something wrong before you even notice it! Unlike other systems, it does not require use of your Wi-Fi or data to transmit the information to your provider's portal.
Chapter 9
Conclusion and references
Amy, Team USA Para Athlete, Para Badminton, Permobil Foundation Board Member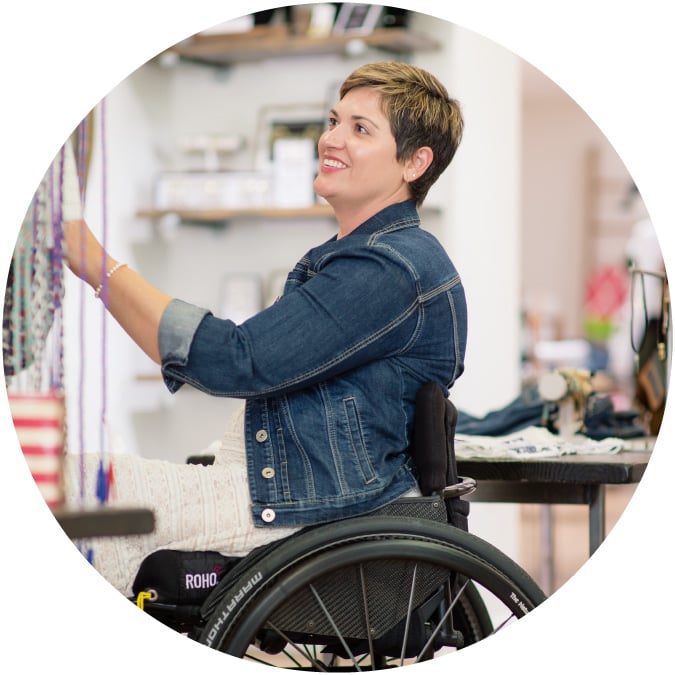 "I really like how the guide explains that we, the consumer, are in charge. I remind people of this all the time. It's a hard concept to grasp and keeping in mind that they are working as part of a team to get a product that will be perfect."

---
"Every person has the right to have his or her disability compensated as far as possible by aids with the same technical standard as those we all use in our everyday lives." - Per Uddén, Permobil Founder
For more information click here to contact your local representative
The following are trademarks and registered trademarks of Permobil: ActiveHeight™, ActiveReach™, BodiLink®, ISOFLO®, and ROHO®.
Bluetooth® is a registered trademark of SIG.
BOA® is a registered trademark of BOA.
GlideWear™ is a trademark of MIPS.
All contents © copyright 2022 Permobil. All rights reserved.