On April 13th 2016 the National Pressure Ulcer Advisory Panel (NPUAP) announced a change in terminology from pressure ulcer to pressure injury. This actually makes a lot of sense as it describes injury to ulcerated AND intact skin. "Ulcer" by definition implies open skin. This led to confusion since a stage 1 and deep tissue injury are both injuries to intact skin. The term "pressure injury" represents both unbroken and open skin, and will reduce confusion when staging wounds.
Below is the new definition for pressure injury by the NPUAP.
---

PRESSURE INJURY
A pressure injury is localized damage to the skin and/or underlying soft tissue usually over a bony prominence or related to a medical or other device. The injury can present as intact skin or an open ulcer and may be painful. The injury occurs as a result of intense and/or prolonged pressure or pressure in combination with shear. The tolerance of soft tissue for pressure and shear may also be affected by microclimate, nutrition, perfusion, comorbidities and condition of the soft tissue.


---

The highlighted areas above are the most recent changes to the definition of a pressure injury. Note the clear acknowledgement of ALL the factors that contribute to the development of pressure injury:


pressure, shear, microclimate, and medical or other device
nutrition, perfusion, comorbidities, and condition of soft tissue.

With these recent changes by the leaders in the study of pressure injury, it's critical to acknowledge that it's not just about pressure! The choices we make in seating and positioning equipment need to address pressure, but also the various other factors that can be contributing as well.


---

STAGING & CATEGORIES
The Staging descriptions have not necessarily changed, but have become more descriptive. This was done in response to questions received by the NPUAP from clinicians in the field who needed clarification when staging wounds. The two actual title changes include:
Changing the numbering from roman numerals to arabic numerals.
"Suspected" was removed from Deep Tissue Pressure Injury.




---

Below is a brief summary of the stage descriptions. For the full detailed descriptions, please click the link below.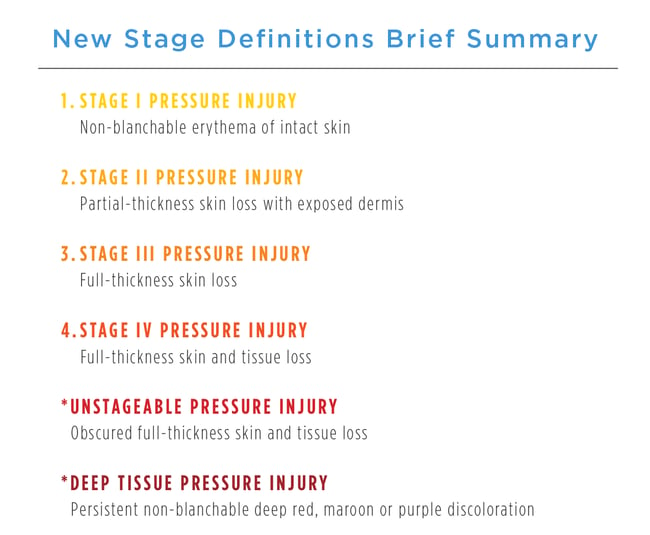 Read more about pressure injury prevention
---
---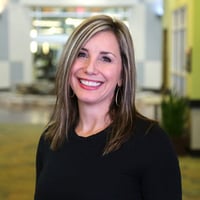 Stacey Mullis, OTR/ATP
Director of Clinical Marketing
Stacey is Director of Clinical Marketing. She graduated from Western University in London, Ontario, Canada with a BA Linguistics and BSc Occupational Therapy and has practiced as an OTR for over 20 years. With experience in pediatrics, inpatient/outpatient rehabilitation, long term care, and home health, Stacey has faced the challenges first hand of providing appropriate seating in various clinical settings. This led her to pursue an apprenticeship at Care Partners Seating Clinic in Asheville, NC to advance her skills, and she obtained her ATP certification in 2012. Mullis is a member of the NCOTA, CTF, NRRTs, RESNA, and AOTA.