This is part 1 of a series focusing on pressure mapping and pressure mapping systems. See part 1, part 2, part 3, part 4, and part 5.
---
As therapists, we use tools to assist us during the initial evaluation and subsequent treatment sessions. For example, if you are a sensory integration therapist, you might have playdough, brushes, and swings in your toolbox. Wheelchair seating and positioning is no different. One tool, that is very helpful when performing wheeled seating interventions is a pressure mapping system.
A pressure mapper, I feel, is very underutilized in our facilities, especially the nursing home setting and among home health agencies, for a lot of reasons:
First and foremost, the upfront cost of a pressure mapping system. (Many don't realize how affordable they can be these days!)

Secondly, therapists are often fearful to use them because this is not something that we are trained to use in most of our PT and OT programs

Thirdly, pressure mapping results can be misinterpreted


Let me focus for a moment on the cost issue: currently, there are affordable pressure mapping systems on the market. Once the scope of applications and multiple benefits are understood, it would be an easily justifiable one-time expense to request for your facility. It is an investment that can pay off tremendously when all applications are understood, and we can see all its value!
A pressure mapping system can do SO much more than detect where a peak pressure may be! It can be used to help the therapist:
In seat and back support product selection

To choose the appropriate functions on a chair (tilt, recline, standing) for best pressure redistribution

To configure a wheelchair optimally to reduce the risk of falls and pressure injuries

To teach clients, caregivers, and staff pressure-relieving techniques

With sitting balance retraining


In the following blogs, I will discuss nontraditional ways to use a pressure mapping system, to show its value as a tool for use when prescribing the most appropriate support surfaces, wheelchair base and configuration!
---
---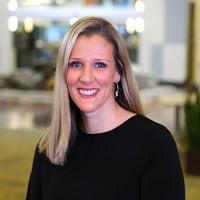 Ana Endsjo, MOTR/L, CLT
National Education Manager - Long Term Care Division
Ana Endsjo has worked as an occupational therapist since 2001 in a variety of treatment settings. She has mainly worked with the geriatric population, dedicated to the betterment of the treatment of the elderly in long term care centers. Her focus has been on seating and positioning and contracture management of the nursing home resident. With this experience, her hope is to guide other therapists, rehab directors, nurses, and administrators through educational guides, blogs, webinars, and live courses in her role as National Education Manager - Long Term