As Complex Rehab Technology (CRT) providers, one question that is often asked is: how we can attempt to provide optimal mobility outcomes and diminish equipment abandonment? One position paper about assistive technology devices states, "Studies and reports show in general that there is a high level of dissatisfaction and nonuse or discard of technology by consumers."1 Looking more specifically at abandonment rate of mobility assistive technology, "Research suggests that the majority of existing studies report an abandonment rate of 30%."2 We can all agree that we need to strive for better!
To help define the idea of a person-centered wheelchair evaluation, clinicians and healthcare providers may utilize the International Classification of Functioning, Disability and Health (ICF) Model and Client-Centered Model for Equipment Prescription as a framework for CRT or wheelchair assessment. The ICF Model emphasizes a wholistic approach to ensure that all aspects of the individual are taken into consideration not just a diagnosis when applying this framework to wheelchair recommendations. The Client-Centered Model for Equipment Prescription guides the use and efficacy of equipment that therapists prescribe for individuals with physical dysfunction. "In order to achieve an effective equipment prescription process, the therapists respect and acknowledge the opinions and values of the clients and their family. Then the therapists need to understand the clients' goal and lifestyle on which performance area could be improved, identify the strengths, and consider compensatory methods that could lead to improved performance."3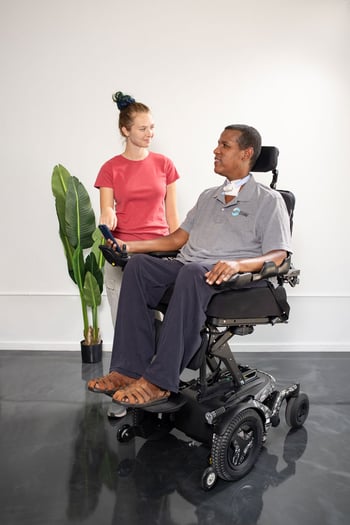 So, to answer the question of how to best match the wheelchair to the individual for optimal outcomes and diminish the risk of equipment abandonment, clinicians may combine the framework as explored by the models above with best practice guidelines. As outlined by the RESNA Wheelchair Service Provision Guide, wheeled mobility that is "customizable, durable and configured for the individual is paramount to and the only acceptable option."4 Locating a wheelchair clinic or team of professionals that specialize in CRT may provide increased knowledge and experience for a good wheelchair match.
To gain a greater, more intimate understanding of the impact a person-centered wheelchair assessment can make on the consumer, I interviewed a colleague, friend and long-time wheelchair user for his unique perspective and insight. Join us next week as Paul explains in his own words, what client-centered means to him for optimal wheeled mobility CRT solutions.
Want to learn more about the provision of wheelchair seating & positioning for healthcare professionals? Check out our digital Wheelchair Seating & Positioning Guide.
---
---
1. Roger O. Smith, Marcia J. Scherer, Rory Cooper, Diane Bell, David A. Hobbs, Cecilia Pettersson, Nicky Seymour, Johan Borg, Michelle J. Johnson, Joseph P. Lane, S. Sujatha, PVM Rao, Qussai M. Obiedat, Malcolm MacLachlan & Stephen Bauer (2018) Assistive technology products: a position paper from the first global research, innovation, and education on assistive technology (GREAT) summit, Disability and Rehabilitation: Assistive Technology, 13:5, 473-485, DOI: 10.1080/17483107.2018.1473895
2. Jiménez-Arberas E, Ordóñez-Fernández FF. Discontinuation or abandonment of mobility assistive technology among people with neurological conditions. Revista de Neurologia. 2021 Jun;72(12):426-432. DOI: 10.33588/rn.7212.2020655. PMID: 34109998.
3. Smith R. A Client-Centered Model for Equipment Prescription (Client's Values and Roles, Effective Use of Adaptive Equipment). Occup Ther Health Care. 1995;9(4):39-52.
4. Arledge, S., Armstrong, W., Babinec, M., Dicianno, B. E., Digiovine, C., Dyson-Hudson, T., ... & Stogner, J. (2011). RESNA Wheelchair Service Provision Guide. RESNA (NJ1).
---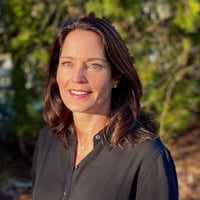 Heather Cianciolo, OTR/L, ATP/SMS
Regional Clinical Education Manager
Heather has been a practicing Occupational Therapist for 29 years specializing in the treatment of SCI, neuro, and orthopedic populations primarily in the acute and outpatient settings. Her specialization in seating and mobility began at the Kessler Institute for Rehabilitation in NJ managing the Inpatient Wheelchair Clinic. After settling in RI, she established the Wheelchair Seating and Mobility Clinic at Southern New England Rehabilitation Center (SNERC) in Providence which has now been servicing adult inpatients and outpatients for over 25 years. Heather has served as an Adjunct Professor at the New England Institute of Technology in RI fabricating and teaching a course on Wheelchair Seating and Mobility. Heather has been a speaker and guest lecturer on seating and mobility technology including presentations at Providence College, Johnson and Wales University, TechACCESS of Rhode island, and SNERC. Heather joined the Permobil education team in 2020.