---
Part 7, the last in our series looking at pediatric independent mobility. See Part 1, Part 2, Part 3, Part 4, Part 5, and Part 6.
---
When justifying an appropriate mobility device a therapist must demonstrate that she has tried the lower cost, simpler options and needs to explain why these options will not work for the individual child. This is why we began our blog series discussing simpler manual wheelchair mobility options and have been working our way to the more complex power wheelchair mobility options. But not all power mobility options are complex! Before discussing traditional power wheelchairs for children, I'm going to introduce a simpler option that is made using off the shelf toys. This option can allow very young children with physical limitations to have important mobility experiences that will promote their development.
---
The Importance of Play

In this blog series we've established the importance of mobility and exploration in childhood development. It promotes psycho-social development, minimizes dependency, and optimizes independence, function, and participation in activities (Rosen, L et al 2017). Another aspect of mobility that we've only begun to explore is its relationship to play. Play is how babies/toddlers interact with their environment and is a vital activity in all aspects of development (Rosen, L et al 2017). Children with cognitive and/or physical limitations respond to play as well, and when provided with the ability to move, can even initiate play with others. Imagine the joy a child feels when she can initiate a game with her parents, siblings, or friends! Early power mobility can provide a child the opportunity to play and interact rather than simply being an observer.
Who can benefit from power mobility in the pediatric population?
Children who will never walk.
Children with inefficient manual mobility.
Children who lose the ability to walk or to walk efficiently.
Children who need mobility assistance in early childhood. (Rosen, L et al 2017)
How young can a child be to trial power mobility?
Just like babies/toddlers need to learn the skills of rolling over, crawling, and walking, young children need to learn the skills for power mobility. Children as young as 14-17 months old have shown the ability to learn power mobility skills when provided with frequent opportunities to practice (Casey, et al 2013). Remember they may struggle and fail just like toddlers fall frequently when learning to walk. But by providing encouragement and repeated opportunities to learn, a young child can learn to use power mobility to play and explore his environment.
---
What are the options?
When we say the words "power mobility" our minds typically jump to giant power wheelchairs and this isn't necessarily the case when it comes to pediatric options. In this section I want to show you that there are different options depending on the age of your child, and the needs of your child.
Modified Toy Cars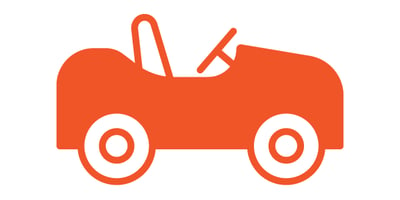 Typical children aged 0-3 years are constantly exploring their environment. This is the time period when they learn to roll over, sit up, crawl, walk, and run. A professor at the University of Delaware, Cole Galloway, studied the importance of early mobility and exploration for childhood development and recognized that many children with physical and cognitive disabilities were missing this critical experience (UD GoBabyGo 2018). As most power wheelchairs are designed for age 3 years and up, he came up with an alternative. By using toy cars that he purchased at Toys R Us, Galloway created a new affordable mobility option for infants/toddlers. GoBabyGo is now an organization that creates modified toy cars for children and trains interested parents, therapists, volunteers to build them using every day materials. These modified toy cars are created for each individual child and can provide early mobility experiences for those children with physical limitations.
Benefits
Independent exploration of environment
Independent experiences of cause and effect
Offers independent opportunities for socialization
Considerations
Toy cars have limited seating and positioning capabilities and should not be the only mobility device for a child
Limited switch access options to power the toy car
Need to allow for sufficient training for success
These toy cars are not paid for by insurance
Power Wheelchairs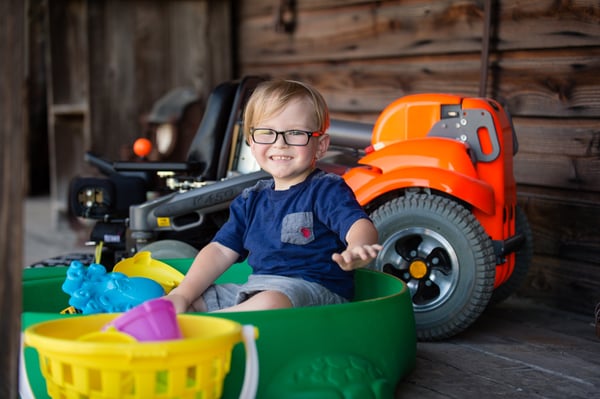 Power wheelchairs have evolved significantly over the years in both structure and technology. Similar to older manual chairs, power wheelchair manufacturers often used the adult base and added pediatric seating to accommodate a child, resulting in a chair with a large footprint. Now there are options for children that have a scaled base to the size of the pediatric seating that is on it. And notably, some power wheelchairs offer multiple methods to access the wheelchair that don't involve the use of one's hands. Did you know that a child could drive a wheelchair through a slight head movement, an eye movement, or a foot? The mobility specialists can determine which movement is most effective for an individual child and program that wheelchair accordingly. This is the beauty of a power wheelchair for a child: by thinking outside the box, a child can have independence in mobility and more importantly, a changed life!
Benefits
Most power wheelchairs have a smaller footprint and turning radius than a manual wheelchair that make them practical for getting through tight spaces
Multiple seating and positioning options can promote postural stability and minimize the development or progression of abnormal postures or pressure injuries
Certain power wheelchair options allow for a child to rest and be toileted in their chair without the need to be transferred to the bed
There are multiple ways to access and control a power wheelchair
Power wheelchairs can be paid for by insurance if a child meets the requirements. This can vary greatly in different parts of the country and your supplier can help you navigate the process.
Considerations
If a child is going to ride in the wheelchair in a vehicle, there needs to be access, tie downs, and compliance to safety regulations
If a child will ride in a car seat, most power wheelchairs will require a lift to transport the wheelchair
---
We hope you have benefitted from our series on early effective mobility options. Please continue to follow along with Permobil blog posts as we continue to offer information on seating and wheeled mobility. For more information on early effective power mobility options, please contact your regional Clinical Sales representative.
---
---
References:
Casey, J., Paleg, G., & Livingstone, R. (2013). Facilitating child participation through power mobility. British Journal Of Occupational Therapy, 76(3), 158-160.
Rosen, L., Plummer, T., Sabet, A., Lange, M., & Livingstone, R. (2017). RESNA Position on the Application of Power Mobility Devices for Pediatric Users-Update 201. Rehabilitation Engineering And Assistive Technology Society Of North America
UD GoBabyGo!. (2018). Retrieved from https://sites.udel.edu/gobabygo/
Icons made by Freepik from www.flaticon.com
---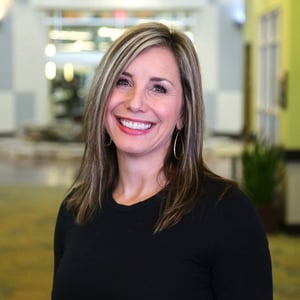 Stacey Mullis, OTR/ATP
Director of Clinical Marketing
Stacey is Director of Clinical Marketing. She graduated from Western University in London, Ontario, Canada with a BA Linguistics and BSc Occupational Therapy and has practiced as an OTR for over 20 years. With experience in pediatrics, inpatient/outpatient rehabilitation, long term care, and home health, Stacey has faced the challenges first hand of providing appropriate seating in various clinical settings. This led her to pursue an apprenticeship at Care Partners Seating Clinic in Asheville, NC to advance her skills, and she obtained her ATP certification in 2012. Mullis is a member of the NCOTA, CTF, NRRTs, RESNA, and AOTA.