---
Part 4 in our series looking at pediatric independent manual mobility. See Part 1, Part 2, and Part 3.
---
Our discussion thus far has focused on the importance of effective early mobility on child development. We can now see how a child with the appropriate skills could benefit from independent manual mobility to explore her environment, play, and socialize just like all kids do.
One of the concerns that we identified was the fact that all kids grow. With ambulatory kids, we buy them new shoes when their feet grow so that they can play and interact without being limited. I see a wheelchair as a non-ambulatory child's pair of shoes. He needs his wheelchair to fit properly to effectively play, learn, and interact with his environment.
Unlike needing to buy new shoes, a wheelchair can be grown through its components. This is the beauty of current independent manual wheelchair options for kids: they are designed to incorporate this growth. Typically, a child grows approximately 2 ½" per year from the age of 2 years and on, so 3" is a good estimate as to how much growth to incorporate in the wheelchair. When girls hit 8-13 years and boys 10-15 years, larger growth spurts are expected (1). But each child will vary in their growth based on diagnosis, genetics, and various other factors. Seating specialists (therapists and rehab technology suppliers) understand this and will configure wheelchairs and seating components according to the needs of the individual child.
---
What specific parts of a wheelchair grow?
Let's break this down a little. Manual wheelchairs are made up of several components. You have the frame, which includes a rigidizer bar and camber tube, the push wheels, the casters, the footplates, the seat surface, and back support.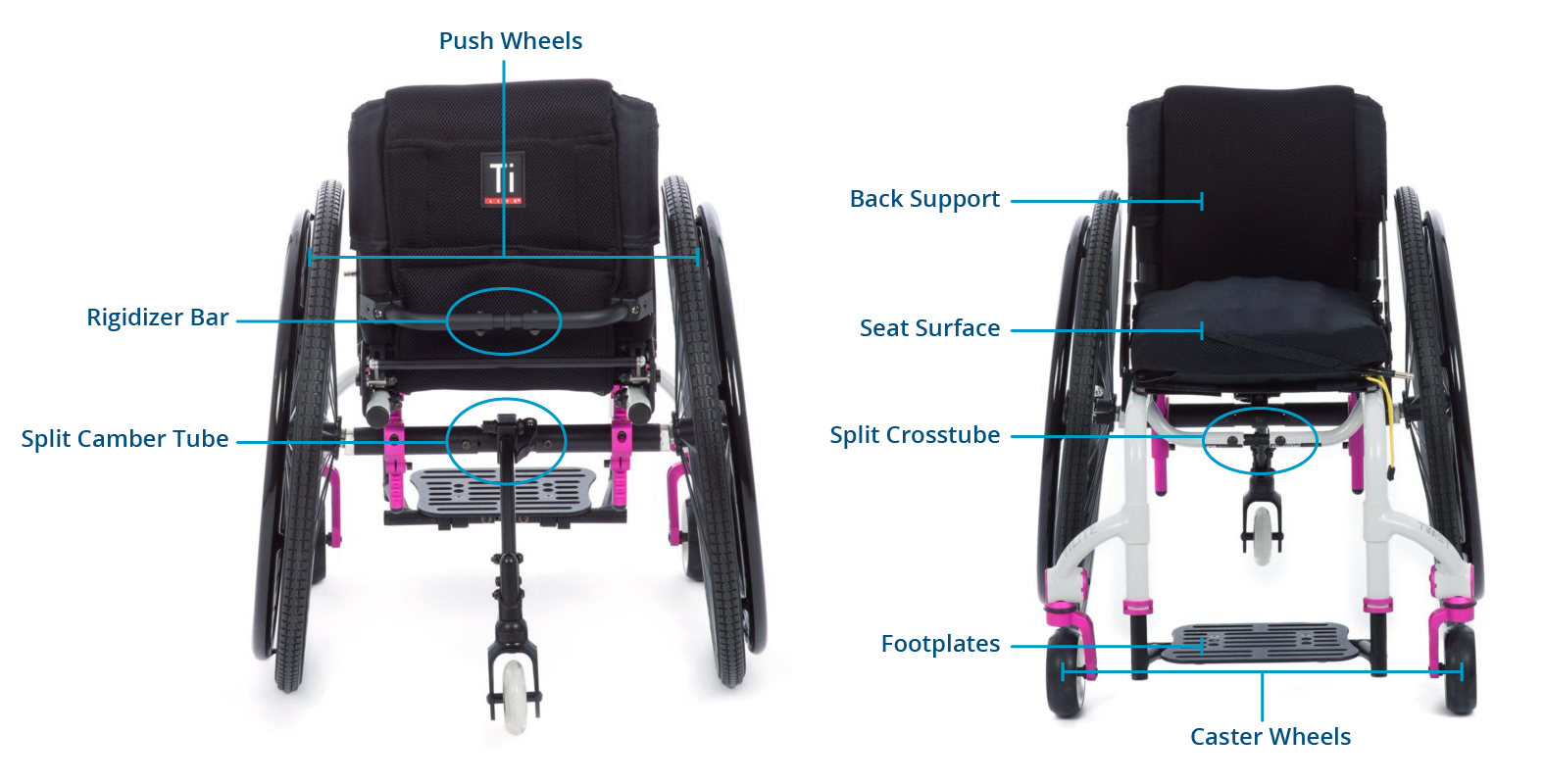 Wheelchair growth usually happens at the seat to make it deeper or wider. Then the other components are adapted to match the needs of the child. It's important to note that there are two different ways that a wheelchair can be grown. In the traditional method the seat grows backwards, whereas a newer method grows the seat forward. Let's take a look at each wheelchair component and how it would grow using each method.
Seat Depth
This is required when a child grows taller. The goal is to make sure their upper legs are well supported for stability and even pressure distribution. As a child grows, their upper legs grow and make less and less contact with the seat surface. This is when it is time to grow the seat depth! This is the most common growth adjustment and a child benefits from more frequent adjustments to this dimension.
Backward
With most wheelchairs, the seat surface will grow by extending the seat backwards. This means a few nuts and bolts and possibly a growth plate that attaches to the rear of the seat to make it longer. Some seats are tension-adjustable with Velcro straps, and the upholstery can be pulled back to increase seat depth. The backrest is then moved back as well through the mounting hardware. This changes the center of gravity, which is important as it determines the stability of the wheelchair. Clinicians will fine-tune wheel position and components to ensure the wheelchair is stable. The leg rests/footplates may need to be adjusted, and if a pelvic belt is used, it will need to be re-installed based on the new seat position.
Forward
When growing the seat forward, it is moving in the same direction as the upper leg growth.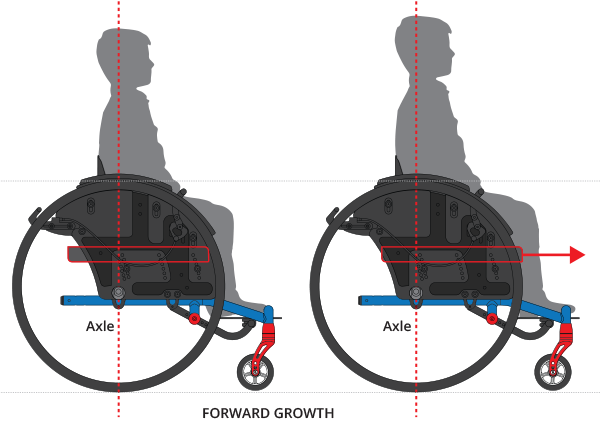 With this method, the seat slides forward with minimal bolt adjustments and the backrest can stay where it is, resulting in minimal change of the wheelchair configuration.
Seat Width
In some cases a child will grow in width as well as length. Most pediatric manual wheelchairs can accommodate this growth by widening the seat up to 2". Usually new seat and back upholstery is required or a wider after-market back support.
Back Height
In most cases a backrest can be moved up on the back canes to raise the height. If the length of the backrest is too short, some models have growth plates that can be added to add length, or a new back rest may need to be ordered.
Growing the Seat Cushion
When the seat surface grows then the cushion needs to grow as well. There are two options: buy a new cushion or use a cushion with growth notches that can grow with the seat surface.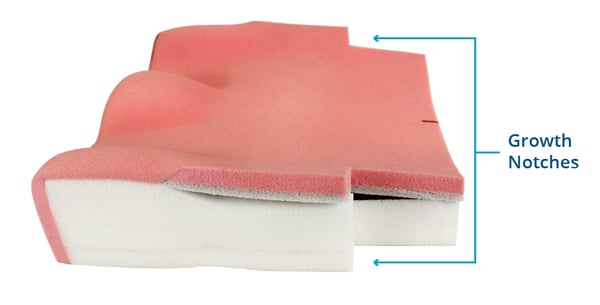 It is critical to make sure that the cushion matches the seat depth, as you want to make sure the legs are well supported for stability and pressure distribution. The goal is to maximize upper leg contact with the seat surface to minimize the risk of high-pressure areas. This contact also promotes stability for propulsion and daily tasks. The footplates may then be adjusted, if needed, for the feet to make good contact. Well-supported feet promote good pressure distribution for the upper legs.
---
How does growing the chair impact my child's ability to propel the wheelchair?
This is a great question to consider and it is best answered by looking at the two methods separately.
Backward
With this style of manual wheelchair, it is originally configured to allow for rearward growth. This means that the child will be sitting more forward in relation to the push wheels.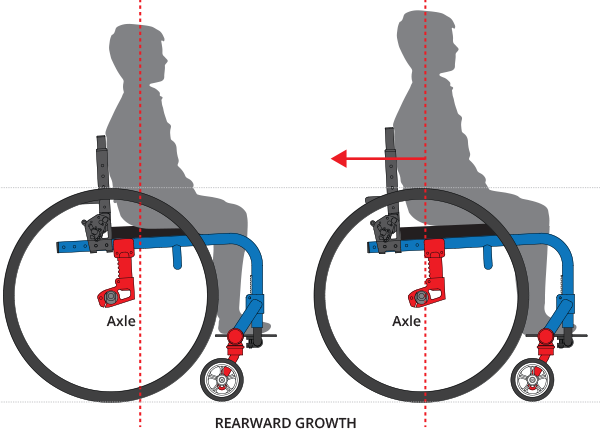 The optimal position for propulsion is when the shoulder lines up with the axle. This allows for a child to use both flexion and extension to push the wheel and get a more efficient outcome. This is important as children have a much shorter effective push stroke than adults. If the child is set in front of the axle to allow for anticipated growth, that child is using a less efficient push pattern. However, over time, when the wheelchair is grown for them, they will eventually sit back and be more centered to the axle. However, this can sometimes cause a child to have to re-learn how to push and maneuver the wheelchair due to the change in configuration. Just like breaking in a new pair of shoes, this can take a little time.
Forward
With forward growth, there is minimal re-configuration required. Upon fitting, the child can be positioned with shoulders lined up to the axle for optimal push efficiency.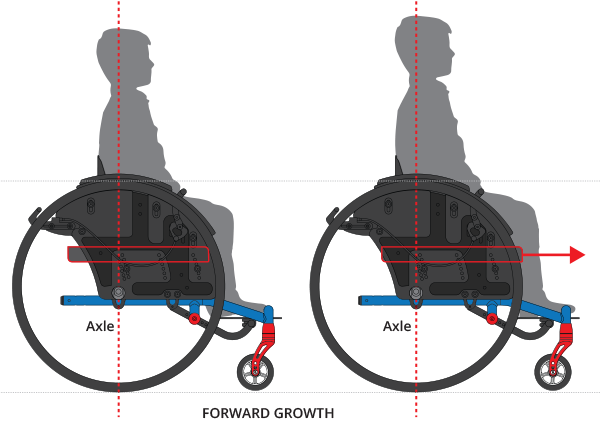 When the wheelchair is grown, the child maintains this position as the seat is extended forward and there is no change in the position of the seat and no need to adjust pelvic belt position or backrest depth. The leg and foot position will be checked to see if minor adjustments are needed. A huge benefit to the child is that he can then carry on with daily activities without interruption. The wheelchair will "feel" the same as he pushes and maneuvers his environment. No need to break in those new shoes!
---
Knowledge is Power
Now that you have a general understanding of how a manual wheelchair can grow, you are armed with information that can help you choose a manual wheelchair that will work best for your child and family!
Join us next week when we will address another method of effective early mobility: manual power assist.
---
---
Glossary of Terms
Self-Awareness: An awareness of one's own personality or individuality
Spatial Orientation: An awareness of one's position in space
Emotional Attachment: Feeling connected to others
Visual/Vestibular Integration: The connection between vision and balance for navigating one's environment
Initiation: The act of initiating or beginning something
Trunk Stability: The ability to maintain a position of the upper body
Range of Motion: The range that a joint is able to move
Dependent Manual Wheelchair: A wheelchair that can not be moved without assistance
Independent Manual Wheelchair: A wheelchair that can be moved independently
Visual Motor Skills: The ability to synchronize visual information with physical movement, driving a car or playing a video game of skill
Depth Perception: The visual ability to judge depth or distance
Position in Space: Knowing where your body is in space relative to surrounding objects
Socialization: The ability to interact with others
Mobility: The ability to move
Ultralight Manual Wheelchair: Made of ultra lightweight materials such as aluminum, titanium, or carbon. Usually can be configured to fit the individual user
Dictionary. (2018). Retrieved from https://www.merriam-webster.com/dictionary/self-awareness?src=search-dict-box
References:
1. Dowshen, S. (2017). Your Child's Growth. Retrieved from https://kidshealth.org/en/parents/childs-growth.html
---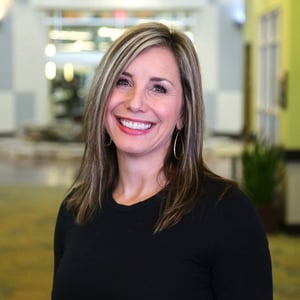 Stacey Mullis, OTR/ATP
Director of Clinical Marketing
Stacey is Director of Clinical Marketing. She graduated from Western University in London, Ontario, Canada with a BA Linguistics and BSc Occupational Therapy and has practiced as an OTR for over 20 years. With experience in pediatrics, inpatient/outpatient rehabilitation, long term care, and home health, Stacey has faced the challenges first hand of providing appropriate seating in various clinical settings. This led her to pursue an apprenticeship at Care Partners Seating Clinic in Asheville, NC to advance her skills, and she obtained her ATP certification in 2012. Mullis is a member of the NCOTA, CTF, NRRTs, RESNA, and AOTA.