Part 3 in our series about Power Assist Devices. See Part 1 and Part 2.
---
Now that we have a better understanding of the potential applications of power assist outside of the traditional "shoulder pain" or "long distance" needs – we can move into specific population considerations.
We discussed in week 1 of this blog series the need to move from a reactive approach to a more proactive approach when it comes to recommending power assist devices. Part of that proactive approach includes thinking about different client populations that would benefit from this technology. Let's consider a few case scenarios when thinking about individual's outside of the typical "picture" of who would benefit from power assist.
---
Hemi-Propellers and Foot Propellers
The hemi-propulsion pattern (or unilateral upper and lower extremity propulsion) that many individuals use post-stroke is an inherently difficult propulsion style. A study done by Kirby et al in 2005 showed that whether an individual had a neurologic impairment or not, for skills that had higher rolling resistance or a high balance demand the hemi propulsion style was difficult - suggesting an inherent difficult in the propulsion technique itself. Given that hemi-propulsion is inherently difficult, what can we do as clinicians and ATPs to make it easier? Trial a power assist device to see if it increases efficiency and independence.
Case Example
A client named Amy provides a good case example. She has cerebral palsy (CP) and also had a dislocated left hip due to her CP. She was hemi-propelling with her right upper and lower extremity, but with the amount of energy and full body demands of the hemi-propulsion style, she would experience significant pain in her left hip when attempting independent propulsion. Initially a power wheelchair evaluation was completed within her home, but due to some of the tight spaces, even a mid wheel drive power chair base wasn't as maneuverable (given the overall length of the power wheelchair base) as what she needed.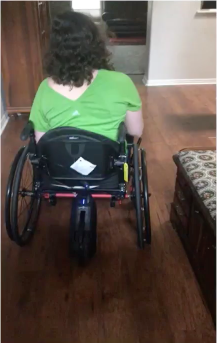 The solution was a manual wheelchair with a SmartDrive power assist device with a switch control. This set up worked very well for her. Due to her CP, Amy experienced some impaired coordination which made gesturing difficult. With switch control, she could get the assist she needed to be much more independent and functional with her mobility within the home environment. Using her right upper extremity to activate the power assist and her right lower extremity to steer, she no longer had to provide the "power" – just the steering.
We should also consider the possibility of repetitive strain injury for individuals who are using their lower extremities for propulsion. Hamstring strain can occur when using the lower extremities to aid in propulsion, amongst other joint strain. We know individuals using the foot propulsion technique are already at a disadvantage. How can we make it easier and more functional for this group of wheelchair users so that they can do everything they want to do throughout their day? A power assist device may be the answer!
---
Pediatrics
Another client population that can benefit from a power assist device, and one we can sometimes forget about is the pediatric population. Individuals using wheeled mobility from an early age have many years of propulsion in their future. It's crucial to think about preservation from the beginning and about maximizing their ability to get out into different environments for exploration and play. Exploring different environments can be difficult for children if they are dependent upon only a manual wheelchair for their mobility – power assist may help!
Safety is often a concern and question about using SmartDrive with children. When it comes to issues like the speed of a power assist device, the SmartDrive can be programmed to decrease maximum speed. And the key to safety, like anything else, is training and practice. With proper training and practice, SmartDrive can be a safe solution for the pediatric population.
---
Caregivers
You may be surprised to consider that caregivers can also benefit from a power assist device. Whether it's a manual tilt-in-space chair, an upright folding chair, or even rigid wheelchair, if the caregiver is responsible for assisting with the majority of propulsion, they may benefit from a power assist device. Especially if the caregiver is smaller, has any medical impairments themselves, or if the client is heavier. SmartDrive can provide some power and help with uneven terrain, up hills, and other strenuous situations. Utilizing the simple switch control to power a SmartDrive could make propulsion easier and safer for the caregiver.
Ultimately, we want to encourage thinking outside the box when it comes to mobility solutions. As our founder Per Uden said we believe that "every person has the right to have his or her disability compensated as far as possible by aids with the same technical standard as those we all use in our everyday lives." SmartDrive is one of those technical aids that can help with a variety of client populations.
---
Join us next week for a discussion on funding for SmartDrive!
---
---
References:
Kirby, R. L., Adams, C. D., MacPhee, A. H., Coolen, A. L., Harrison, E. R., Eskes, G. A., ... & Dupuis, D. J. (2005). Wheelchair-skill performance: controlled comparison between people with hemiplegia and able-bodied people simulating hemiplegia. Archives of Physical Medicine and Rehabilitation, 86(3), 387-393.
---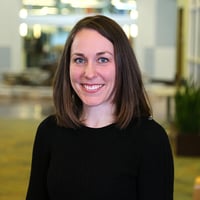 Angela Regier, OTD, OTR/L, ATP/SMS
Clinical Education Manager ‑ Western Region
Angela Regier, OTD, OTR/L, ATP received her doctorate of occupational therapy from Creighton University in 2007 and is a RESNA-certified assistive technology professional. Regier joined Permobil in 2017 as a Clinical Education Manager for the western region. Prior to joining Permobil, Regier was at Craig Hospital in Englewood, Colorado where her career focused on inpatient and outpatient spinal cord injury rehabilitation. Prior to leaving Craig Hospital, she was supervisor of the Wheelchair Seating and Mobility Clinic where she provided comprehensive seating and mobility interventions for individuals with acquired brain and spinal cord injury. Regier has published and speaks on the topic of seating and mobility for acquired brain injury and spinal cord injury. She has also served as an adjunct faculty for the Creighton University Entry-Level Distance OTD Program (Regis) in Denver, Colorado.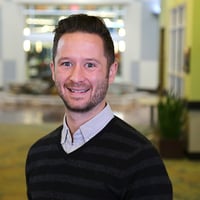 Curtis A. Merring, ORT, MOT
Director of Market Development, Manual Products
Curtis A. Merring, OTR, MOT received both his undergraduate psychology degree and masters in occupational therapy at the University of Pittsburgh. While at university he was involved in research on multiple studies dealing with psychosocial disorders, wheelchair seating, and neurological recovery of the upper extremity for stroke patients. As an occupational therapist and researcher for the past 9 years he was responsible for treating and investigating spinal cord injury and stroke. This included being awarded multiple small grants and coordinating research projects between the clinic and local universities. Curtis has also worked as a Director of Therapy Services in the geriatric setting including opening and managing rehabilitation departments at multiple locations. During his time as a director he developed a program called "Seating System Management in Skilled Nursing Facilities and Long Term Care", that was a continuing education course he taught to facilities in both Texas and California. The goal of the course was to improve the seating systems of a very underserved population. Curtis is currently the Director of Market Development, Manual Products.