Choose To Do More
Julie & Aaron decided on a power assist in different ways and for different reasons. Scroll through here to learn more about their personal experiences.

Many ways and many reasons, to choose to do more
Everyday mobility considerations
I want to be able to
Travel across Europe
Go up ramps and hills without help
Do more activities within a single day
Go on more business trips
Live in the city of my choice
See more of my kid's games and events
Carry objects around with more control
Move my chair better with my feet
Shoulder pain: what we know
Non-wheelchair users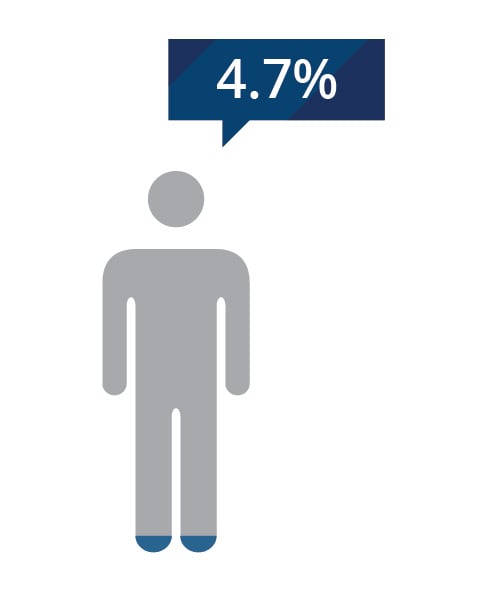 Wheelchair users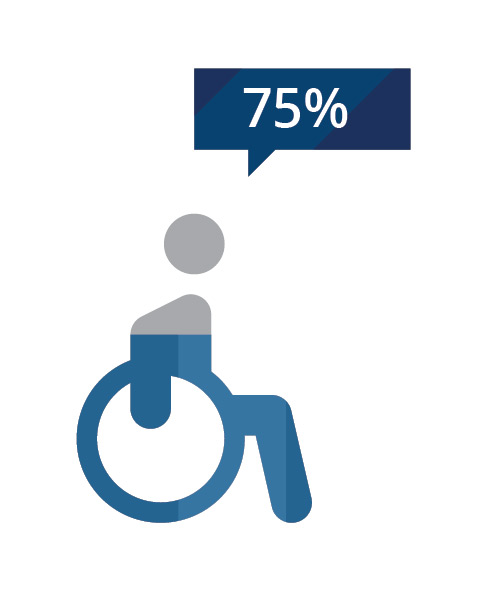 Repetitive motions: what we know
2000-3000
Manual Wheelchair users push 2000-3000 times a day
>1500
Number of pushes per day ISO considers to be harmful
Want to track your pushes?
SmartDrive advances daily mobility for the manual wheelchair user. The PushTracker app produces and delivers activity statistics designed to promote optimal health for the manual wheelchair user. Track distance, pushes and coast time to help you decrease the demand on your upper body.
Chapter 1
Meet Julie & Aaron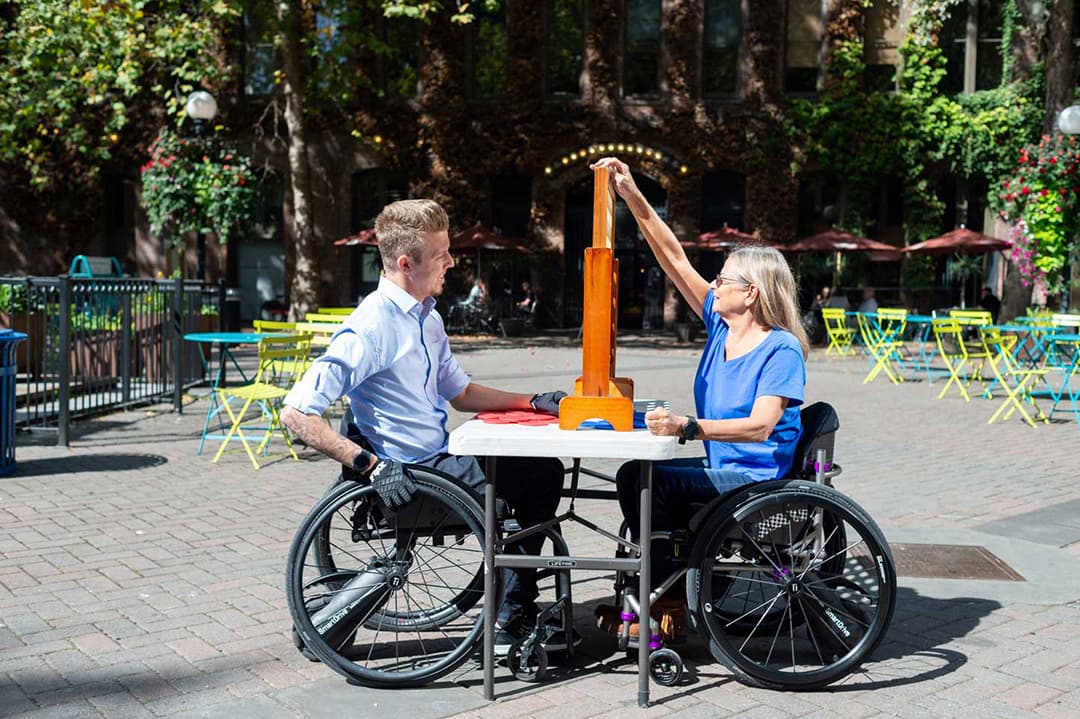 Meet Julie & Aaron
Meet Julie
Julie is an active woman who works part-time, volunteers in her community, and enjoys the outdoors.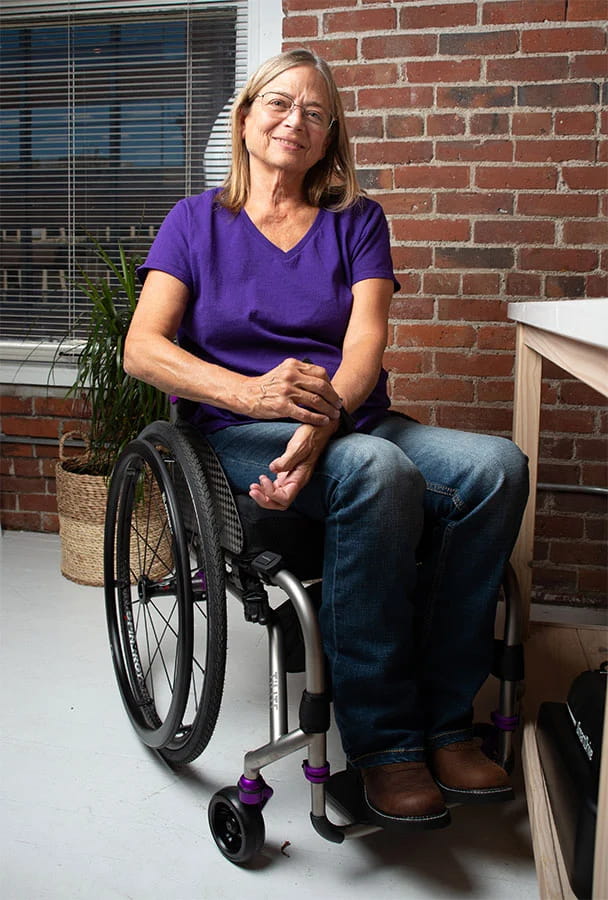 Meet Aaron
Aaron is an adventure athlete who speaks and writes, and is an ambassador for spinal cord injury.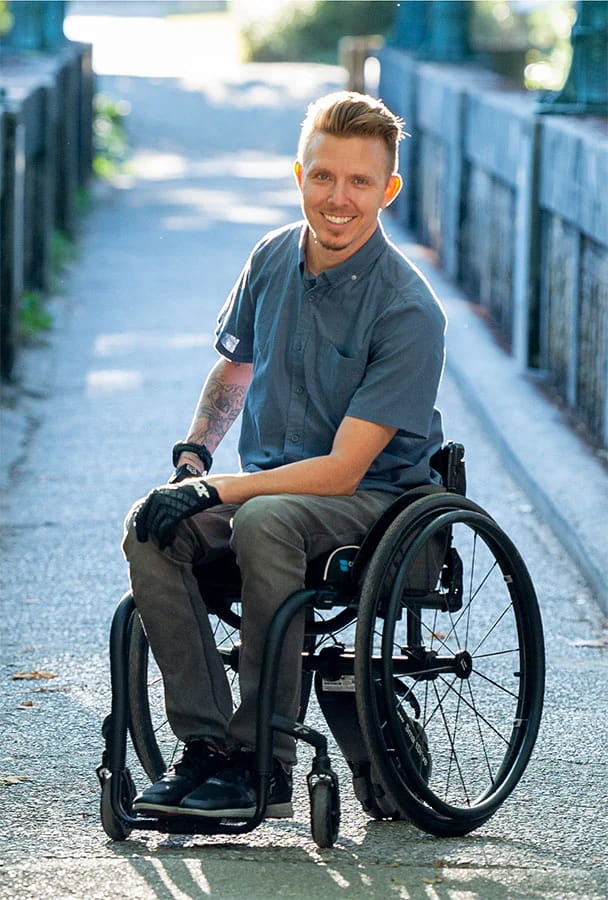 Injury details
Julie sustained a SCI in a motorcycle accident in 1978 resulting in an incomplete paraplegia. In 1999, she had multiple strokes resulting in hemiparesis & cognitive processing difficulties.
Aaron was injured in a professional motocross accident. He fractured vertebrae C4-6 resulting in incomplete quadriplegia.
Julie's work & hobbies
• Works part-time at a YMCA and does private bookkeeping
• Camping
• Alpine Sit Skiing
• Paddle boarding
• Community advocate for people with disabilities
• Volunteer for local SCI foundation and abilities advocacy camp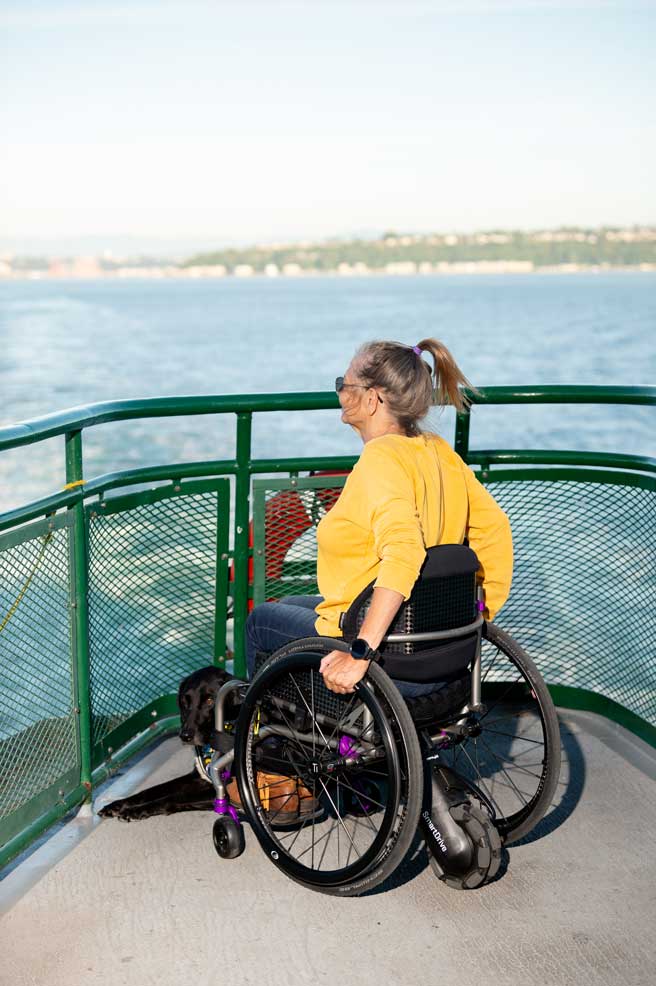 Aaron's work & hobbies
• Adventure athlete, author, orator, entrepreneur and ambassador for spinal cord injury
• Member of Board of Directors USA for Wings For Life Foundation
• Chairman of the Ambassador Council
• Member of Board of Directors for Los Angeles based non-profit, Artists For Trauma
• Spinal Cord Injury Lifestyle Specialist for Shield Healthcare
• Co-Founder of C.O.R.E. Centers LLC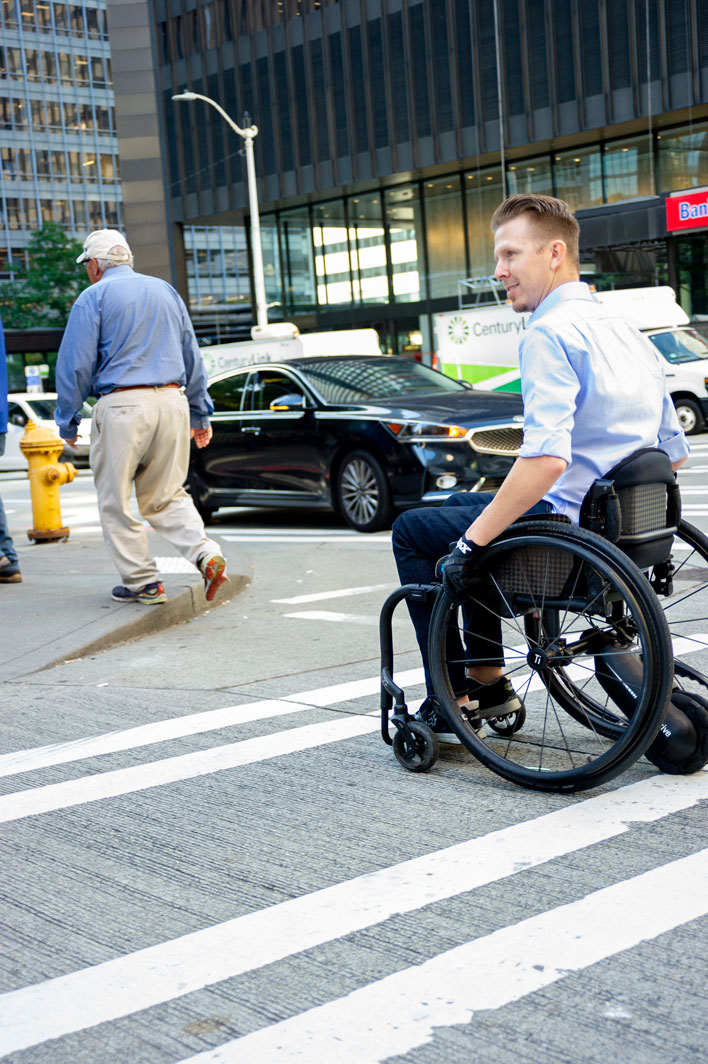 Why did you choose SmartDrive?
"I would get home at the end of my day and be so tired and sore that I couldn't even transfer out of my wheelchair. I was needing to pay someone to help with basic chores like cooking and cleaning because I just didn't have the endurance. With SmartDrive all that has changed."- Julie M
"My friend had one and showed me how to use it. I tried it and knew I had to have it. SmartDrive is my ticket to an adventurous life."-Aaron B
Chapter 2
How Julie & Aaron came to consider a power assist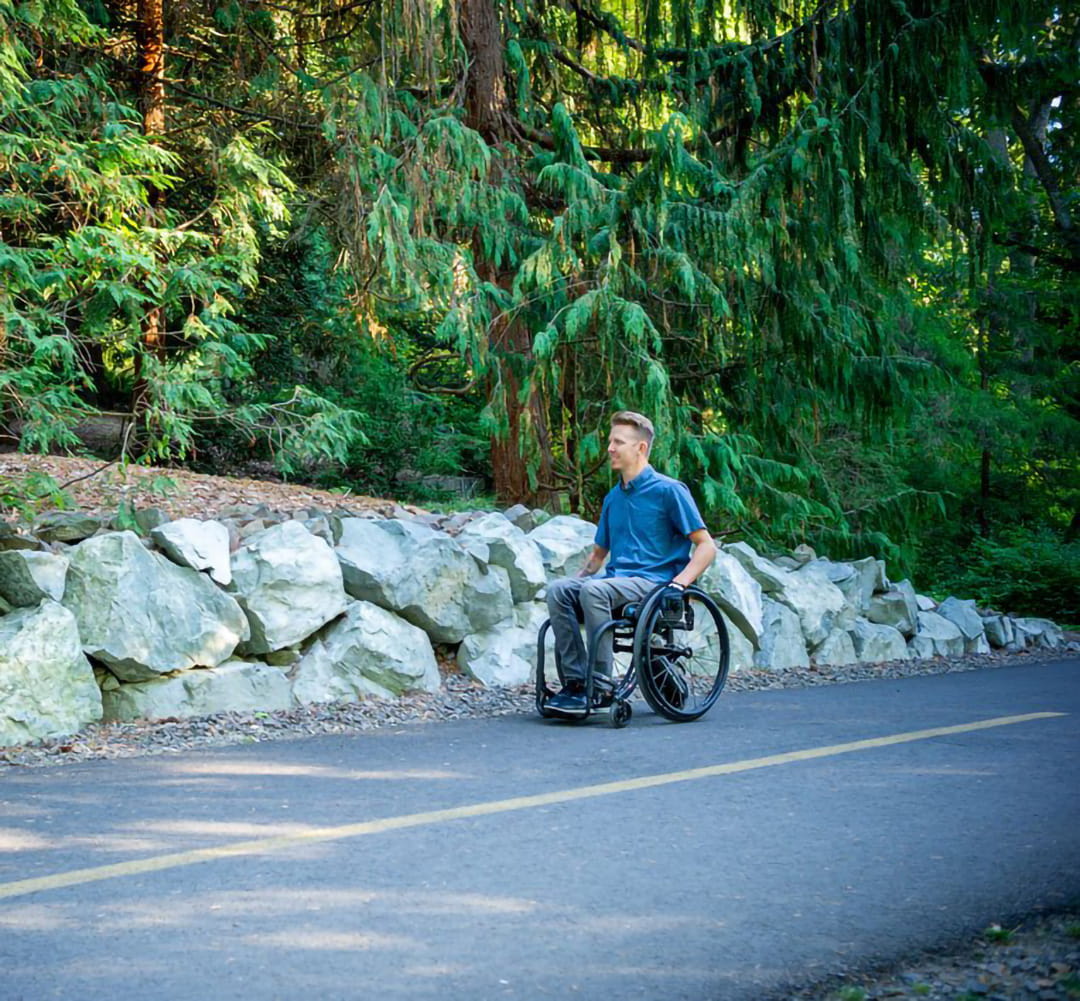 SmartDrive is the "sweet spot" between power and manual, and it's a game changer for me.
Aaron Baker
Chapter 2
How Julie & Aaron came to consider a power assist
Whether you are new to wheeled mobility or have been in a manual wheelchair for years, considering a power wheelchair is a big deal.
Why?
A power wheelchair may mean changing my environment to accommodate a new chair footprint
A power wheelchair changes how I travel: need an accessible van or lift
A power wheelchair is bigger and more noticeable

Not sure which mobility base is right for you? Learn more here
Reasons to use SmartDrive
Shoulder pain or injury with propulsion
SmartDrive does the work for you and decreases the daily strain of propulsion on the shoulders.
Hemi-foot propeller post CVA
SmartDrive can minimize hamstring strain from foot propulsion.
A dependent wheelchair user
SmartDrive alleviates the caregiver strain of pushing up ramps, over rough terrain, or carpet
An active wheelchair user who chooses to do more
Consider how many more things you could do in a day if how many times you propelled was reduced. SmartDrive allows you to choose to do more.
Different client populations can benefit from a power assist device including pediatric clients and foot propellers. Learn more about how SmartDrive can work for you.
How did Aaron and Julie know that SmartDrive was right for them?
Julie lives alone and works to support herself. For years Julie suffered from shoulder pain and lack of endurance when propelling her wheelchair. She would get home from work and be too tired and sore to transfer out of her wheelchair or do basic ADL's like cooking. Julie got her SmartDrive in 2016 and it has completely changed her life. She does the things she loves and no longer needs a caregiver for daily chores
Aaron is married and is always pushing his limits and trying new things. Aaron admits that before SmartDrive there were opportunities that he had to say no to since he knew his physical limitations. Since he's chose to include SmartDrive as a part of his manual mobility he can say yes to more and his world is open to even more opportunities..
Is SmartDrive right for you? Take this quiz to find out
Chapter 3
It's there when I need it
How SmartDrive works
"SmartDrive seamlessly integrates into my life. I don't have to change my environment, or my mode of transportation. It allows me to do all the things I chose not to do because they were too hard or required too much. SmartDrive is my ticket to an adventurous life!" - Aaron Baker
Chapter 3
It's there when I need it
Power assist in general is the use of technology to assist with the "push" phase of independent manual wheelchair propulsion. SmartDrive is a power assist method that uses a single motor add-on component that weighs approximately 12.5lbs and is detachable.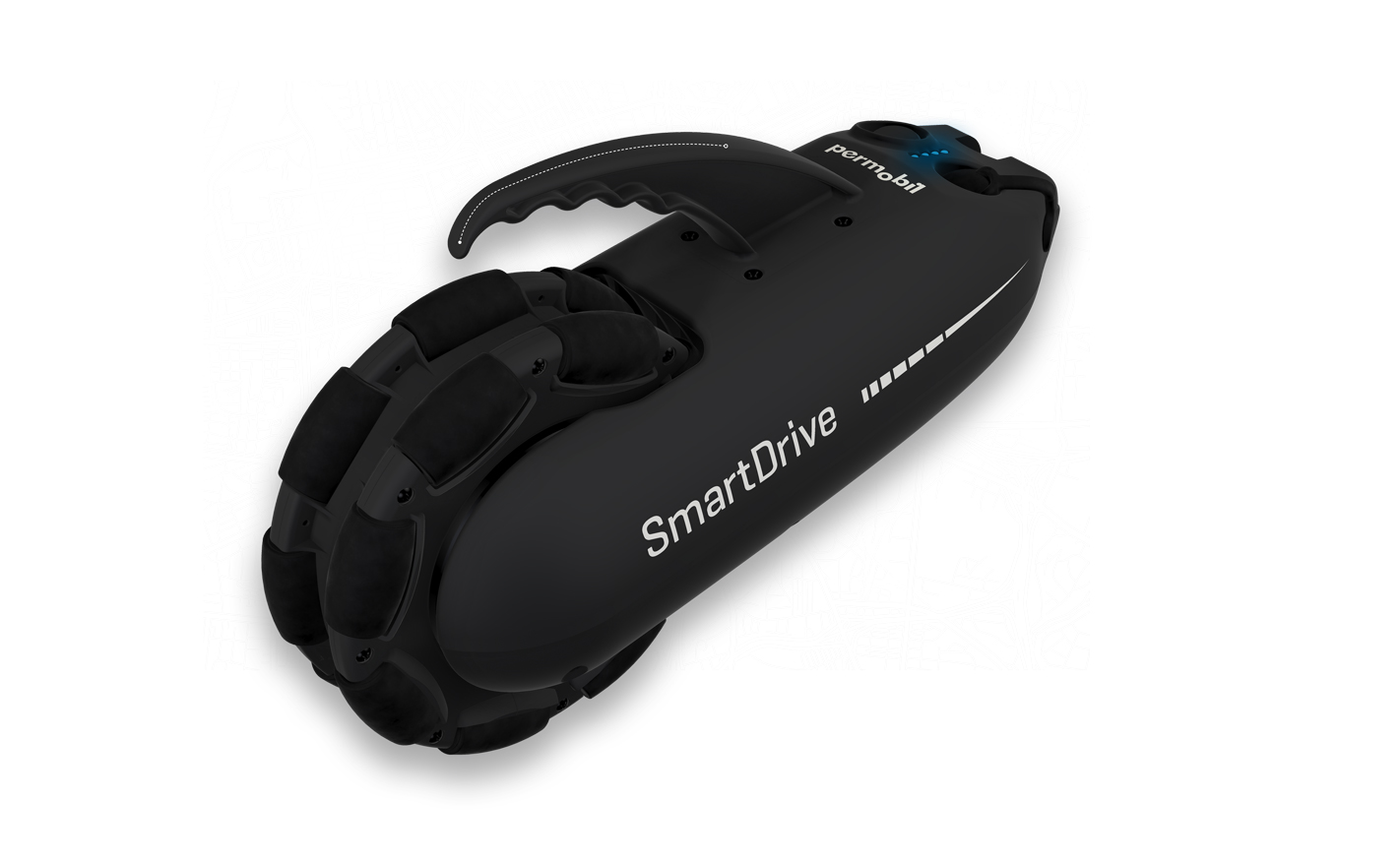 There are two options for controlling the device, offering access to people with varying levels of ability. The device can be used only when needed throughout the day, without having to be removed when not in use.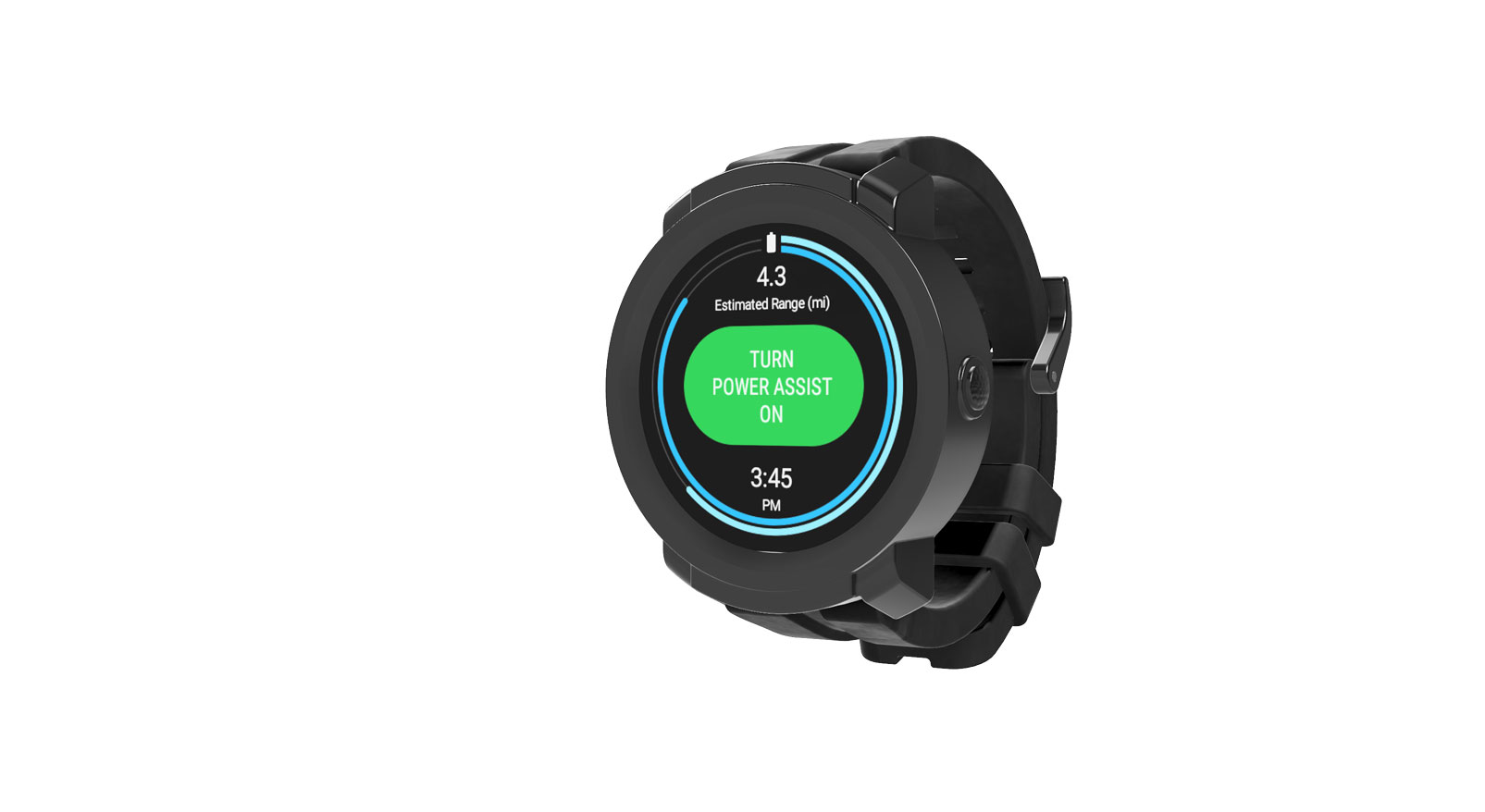 The Pushtracker E2 is a wearable Smart band that allows you to turn the device on/off, easily change profile modes, and review system usage.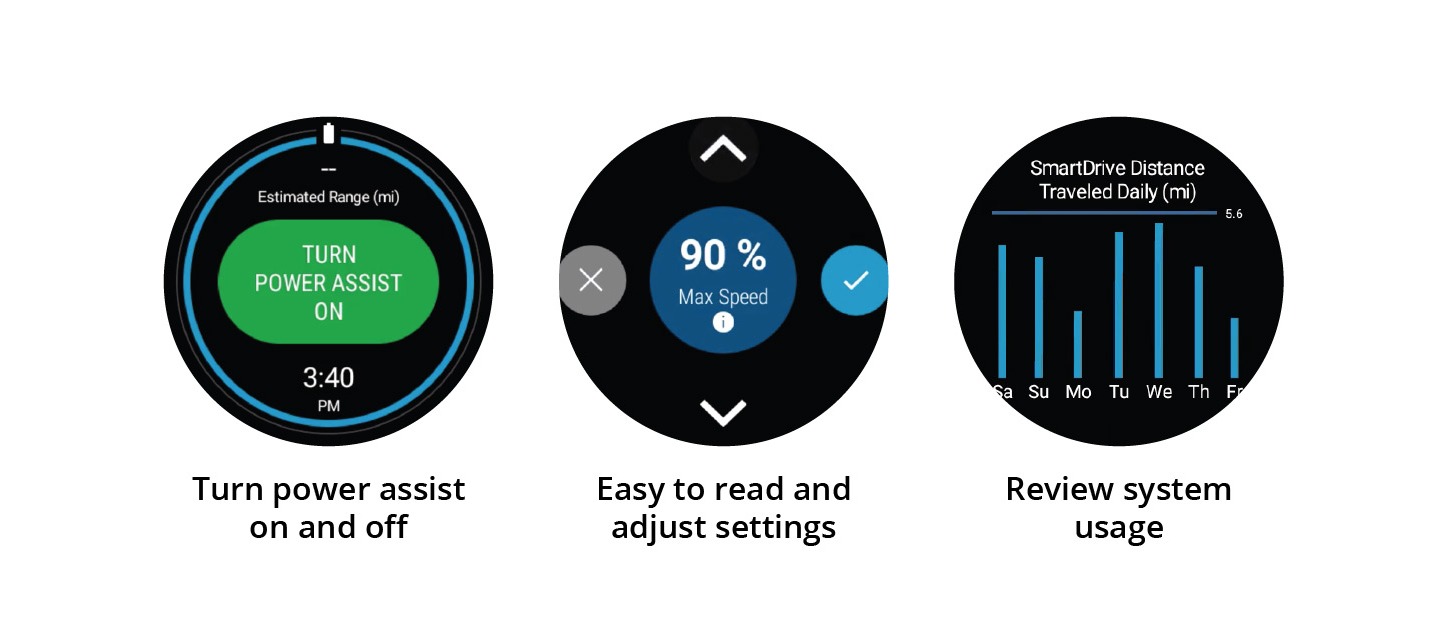 When using the Pushtracker E2, tap gestures to the drive wheel are recognized, and they signal the motor via Bluetooth. A double tap activates the motor. It then begins to accelerate at a rate programmed by the end user or therapist. A single tap locks in the speed, at which point all the user needs to do is steer the chair. When the user wants to stop, another double tap disengages the motor, at which point the user will coast and brake with their hands. Want to see it in Action?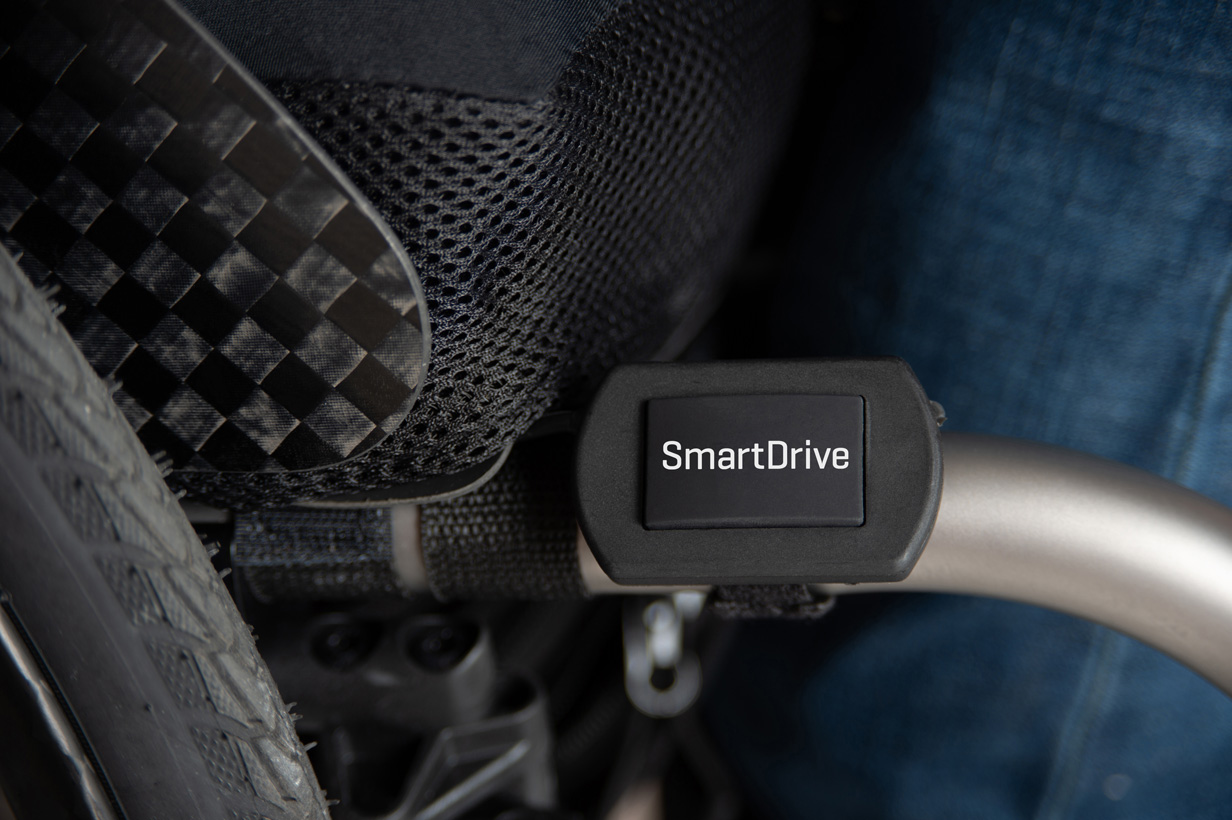 With the push of a button you can get a momentary burst of power or you can activate the SmartDrive in latched mode for consistent power over time.
Chapter 4
Seamless integration for any lifestyle
What activities SmartDrive makes better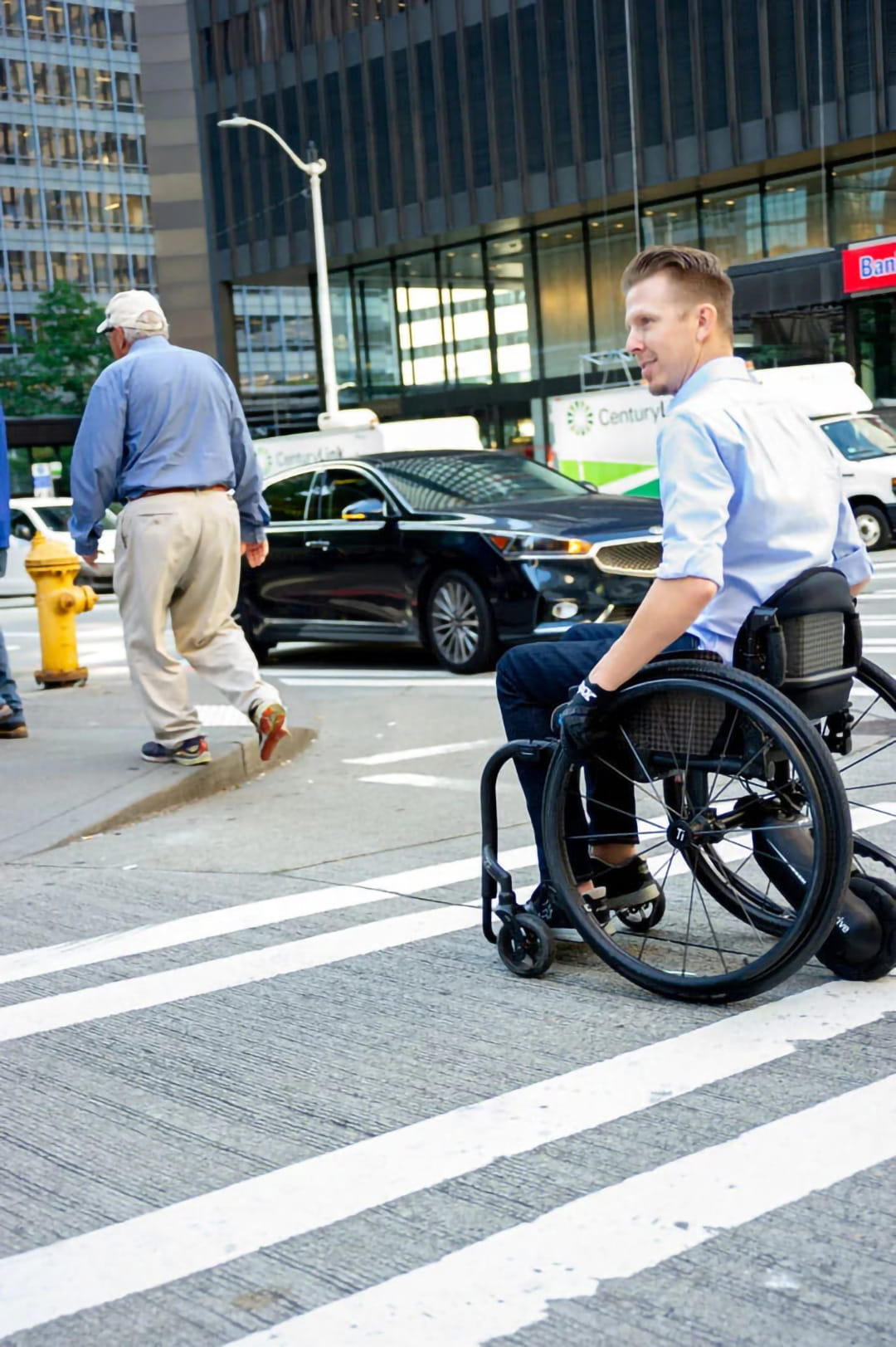 Chapter 4
Seamless integration for any lifestyle
For someone who uses a wheelchair, something as simple as being invited by friends for dinner can cause anxiety or require significant planning. Aaron shares that a nice offer from his friends would cause him fear and anxiety, and he would often decline. Some of his concerns included:
Will I be able to transfer in/out of the Uber?
Will my chair fit in the car?
Is there a bathroom, where is it, is it accessible?
How is the restaurant set up, will I be able to get to the bathroom quickly?
Is the restaurant up a hill, will there be grass or gravel to go over?
Will there be someone to help me?
See how Aaron travels with SmartDrive on Catalina Island
Wondering if SmartDrive works with your lifestyle? Learn how to customize your SmartDrive experience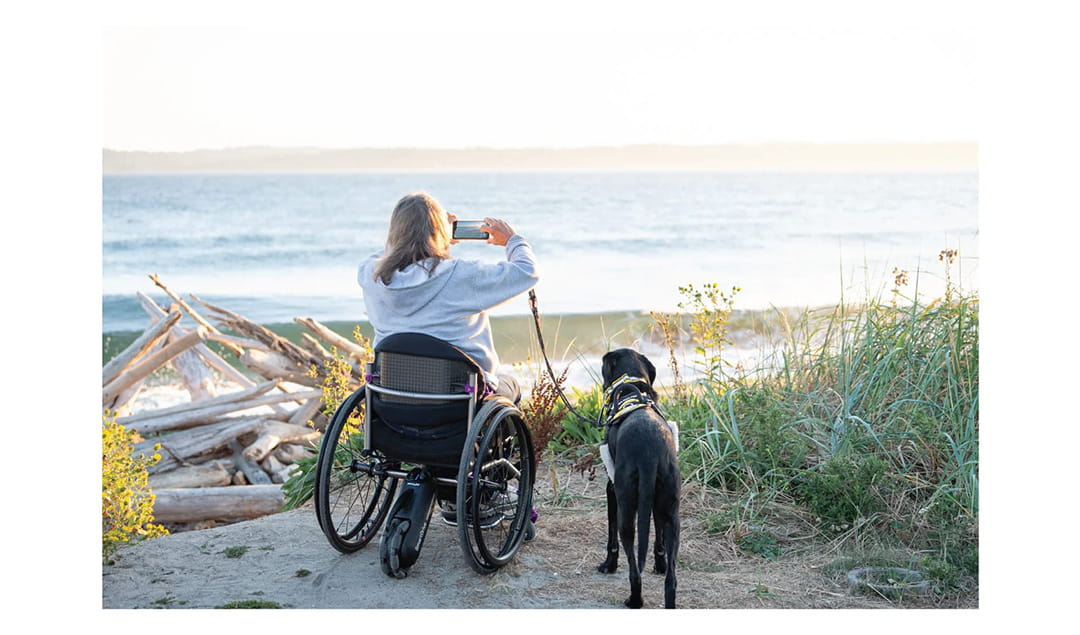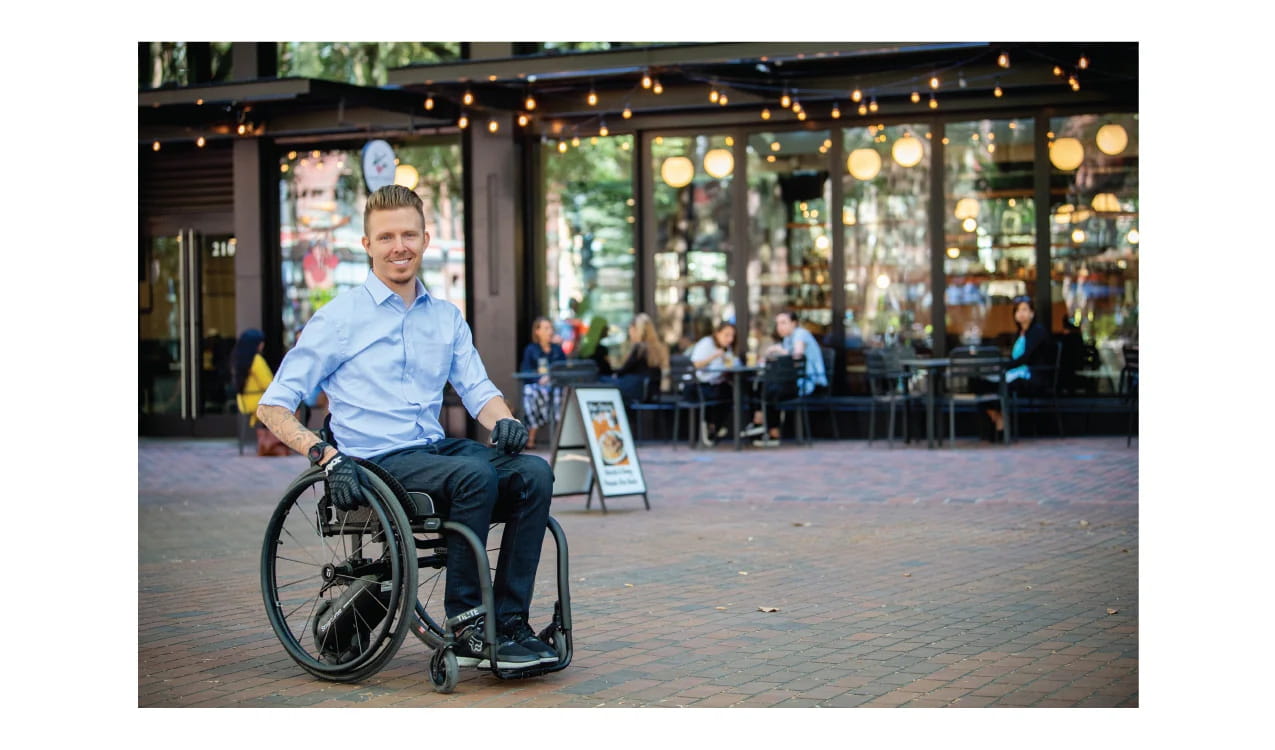 Chapter 5
An extension of how I choose to do more
Medical & functional benefits of SmartDrive
Chapter 5
An extension of how I choose to do more
Shoulder pain is a real issue for manual wheelchair users. The average manual wheelchair user pushes 2000-3000x's per day to accomplish daily tasks. Add to this the stress of multiple daily transfers and overhead reaching on the shoulders.
Could you benefit from a power assist device? Check out our blog
Julie's physical & functional benefits
Julie experienced this pain for years as well as lack of endurance for even basic ADL's (activities of daily living). With SmartDrive Julie has experienced the following benefits:
Physical Benefits
Functional Benefits
Chronic shoulder pain significantly reduced and not constantly present
Julie can maintain her job as a paddle board and kayak instructor
Wrist pain reduced significantly
Improved focus enables her to work and participate in social activities
Improved mental focus due to reduced fatigue from propelling the wheelchair
Increased endurance at the end of the day
Improved endurance for multiple transfers during the day
Increased energy to perform daily activities and home management, no longer needs to pay a caregiver
Decreased risk of overuse injuries to the upper extremities which could lead to surgery, hospitalization, and decreased independence
Increased energy to do what she enjoys-explore the farmers market, go to festivals, enjoy the outdoors
Aaron's physical & functional benefits
Since Aaron's injury resulted in quadriplegia, all his limbs have been affected. Although he struggled with propulsion of his manual wheelchair and would frequently need assistance, he wasn't ready to transition to a power wheelchair. Aaron's life completely changed when he tried SmartDrive in 2015.
Physical Benefits
Functional Benefits
Immediate reduction of pain in hands, wrists, and elbows
Independent in his wheelchair over all terrain
Decreased pain in right shoulder
Can keep up with family and friends
Improved posture when in the wheelchair during propulsion
Travels independently frequently across the US and around the world
Increased endurance
Improved confidence and life satisfaction that he can do whatever he wants independently
Increased overall strength since able to train and focus on postural exercised now that he has the endurance
Able to do more of what matters most for him and prioritize his efforts
Chapter 6
Funding
Tips on how to get SmartDrive funded
SmartDrive may be funded by Medicare or private insurance if the individual meets certain criteria:
The individual has a significant mobility impairment that impairs their ability to participate in their mobility related activities of daily living that cannot be resolved with a cane or walker, and they have insufficient upper extremity function to self-propel and optimally configured manual wheelchair.
The individual has to have been propelling a manual wheelchair for at least one year.
For Medicare, justification is needed for why SmartDrive is needed in the home

An evaluation must be done by a licensed certified medical professional (OT/PT) and include a supplier that employs an ATP. A power assist device is a capped rental under Medicare, which means that for 13 months the device is rented, and the supplier is reimbursed on a monthly basis. After those 13 months, the beneficiary then owns the device.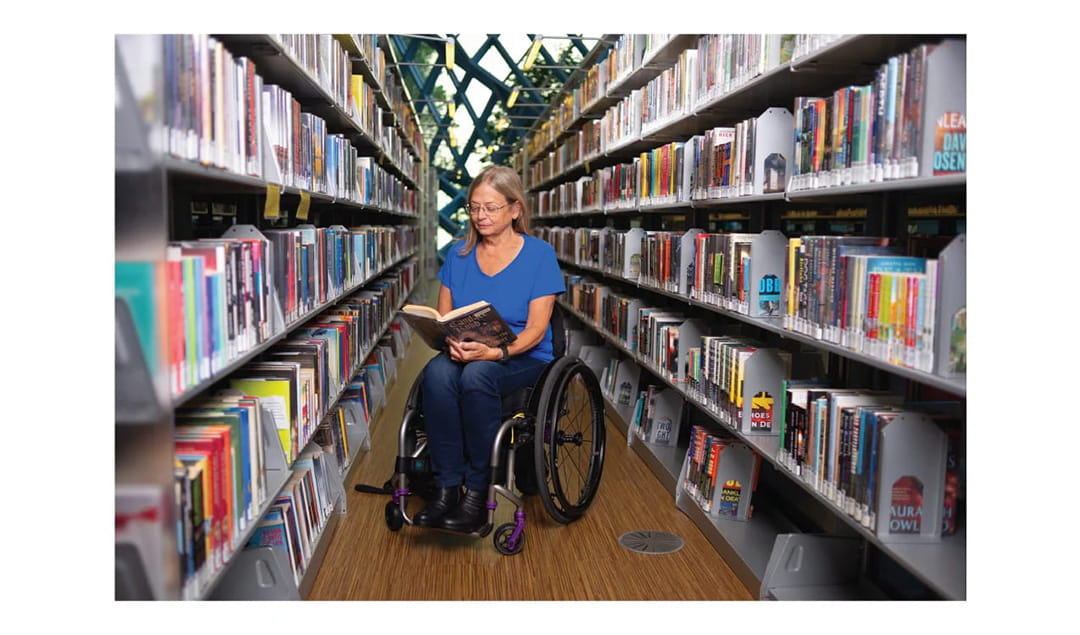 Julie's justification for SmartDrive
The OT had to justify why SmartDrive was required for Julie in her home. In her case, limitations in upper extremity function lead to decreased endurance, pain, and difficulty with propulsion. They key was to explain how this affected her independence with activities of daily living in the home.
Labrum tear and a strained bicep tendon
Chronic pain in right shoulder
Limited left upper extremity function due to CVA
Carpal tunnel syndrome, chronic pain in right wrist
Lack of endurance and strength to perform activities of daily living such as cooking and cleaning independently
Fatigue and pain in shoulders resulting in difficulty with transfers at the end of the day


Need funding help? Connect with our experts for advice

---
"Every person has the right to have his or her disability compensated as far as possible by aids with the same technical standard as those we all use in our everyday lives." - Per Uddén, Permobil Founder
For more information click here to contact your local representative
All contents © copyright 2019 Permobil. All rights reserved.
Performance measurements will vary based on user and chair characteristics, driving and battery conditions.
The SmartDrive has been tested and conforms to all applicable requirements of ANSI/RESNA Standards for Wheelchairs - Volume 1 and Volume 2 and EN 12184.
NOTE: A wheelchair's specifications provided by its manufacturer may be slightly affected by the addition of the SmartDrive
Wheelchair icon made by Freepik from www.flaticon.com