Part 9 in our series on Dementia. Check out Part 1, Part 2, Part 3, Part 4, Part 5, Part 6, Part 7, and Part 8.
---
In order to increase the quality of life of our residents with dementia, we need to tackle a very serious problem: controlling pain that often times goes unexpressed! We need to learn to recognize non-verbal signs of pain in our residents with dementia. Once we realize pain is present, we can change environmental factors–such as their seating system–to decrease the pain source, agitation, and risk of falls and/or wounds at wheelchair level.
Residents with dementia often times express their pain in one or more of the following ways:
Grimacing, scowling, wrinkling up of the nose and eyebrow

Tightly closing their eyes or rapid blinking

Stiff posture, limited movement, excessive squirming or fidgeting

Touching or grabbing areas repeatedly

Decreased meal intake or fluid intake

Change in sleep patterns

Unexplained change in their routine

Excessive crying or yelling

Moaning, sighing, grunting

Excessive use of foul language

Changes in breathing patterns

Constantly calling out for help

Increased anxiety, depression, paranoia, irritability, distress, or confusion

Since a resident with dementia rarely verbally expresses pain accurately or in some cases not at all, it is our job as therapists to recognize the above signs. Changes to the wheelchair system need to be made to see if we can alleviate postures that may be the culprit of the resident's pain.
BE MORE SUCCESSFUL IN PAIN REDUCTION BY CREATING A CHAIR THAT FITS THE INDIVIDUAL INSTEAD OF TRYING TO CHANGE THE INDIVIDUAL TO FIT THE CHAIR!
Choose:
Wheelchairs with built in adjustability to fit the resident's dimensions

Cushions with contour for proper pelvis and LE alignment and increased pelvic stability

Cushions that immerse and/or offloading the pelvis and bony prominences to prevent wounds

Cushions with built in properties to control microclimate to help regulate temperature changes

Cushions with GlideWear to help prevent shearing during transfers, reaching, and repositioning

Back supports that can be molded to immerse, envelope, and capture the resident's shape for increased stability and to prevent wound development

Head supports with adjustability that provide support posteriorly and at an angle to allow for better neck and head stability and alignment

---
Educate nursing staff and CNAs to recognize these signs of pain. Convince them that through the use of properly sized wheelchairs, cushions, back supports, headrests, and accessories you will provide the stability required to prevent unwanted, painful shifts into abnormal postures and prevent pressure, shear, and microclimate that lead to painful wounds. You can be the "voice" your resident with dementia has lost, help to relieve pain without the use of pharmaceuticals, and allow them to sit up in their wheelchair pain-free. Wouldn't that be a nice change?
---
---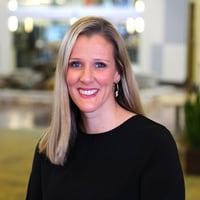 Ana Endsjo, MOTR/L, CLT
Clinical Education Manager LTC Division
Ana Endsjo has worked as an occupational therapist since 2001 in a variety of treatment settings. She has mainly worked with the geriatric population, dedicated to the betterment of the treatment of the elderly in LTC centers. Her focus has been on seating and positioning and contracture management of the nursing home resident. With this experience, her hope is to guide other therapists, rehab directors, nurses, and administrators through educational guides, blogs, webinars, and live courses in her role as Clinical Education Manager for the long term care division.