Part 6 in our series on Dementia. Check out Part 1, Part 2, Part 3, Part 4, and Part 5.
---
Motor loss is the most obvious loss of function (after memory) when discussing residents with dementia. This is especially true in Alzheimer's dementia, Lewy Body dementia, and dementia related to Parkinson's.
Motor loss can present as:
Loss of processing speed of motor and sensory stimulus

Decreased motor planning

Poor coordination

Decreased balance

Abnormal eye movements

Tremors

Abnormal muscle tone

Slowed movements

Muscle fatigue

Involuntary muscle contractions that cause slow, repetitive movements that may be painful or cause abnormal postures
When treating a resident with dementia presenting with any degree of motor loss, three words pop into my head when considering the seating system:
Stabilize
Accessorize
Adjustability
---



Stabilize
Thirty-five percent of falls in the nursing home occur among residents that are non-ambulatory. When our residents present with muscle fatigue, poor coordination, decreased balance, abnormal tone, and involuntary muscle contractions–customarily seen in residents with dementia–they normally lose pelvic and trunk stability. They begin to lean, slouch, slide, and are at high risk to fall from the chair.
As therapists, we need to look for cushions and back supports with the goal of stabilization! We need to look for positioning cushions that are highly contoured and will prevent the movements that place residents at risk to fall. Look to add stability by locking in the LEs, pelvis, and trunk:
Lateral adductors align the LEs and prevent abduction and external rotation, which assist to stabilize the pelvis.

Medial abductors align the LEs and prevent adduction and internal rotation, which assist to stabilize the pelvis.

Built in anti-thrust shelves help to prevent forward migration of the pelvis.

Higher quality back supports envelop the resident's spine allowing for more surface contact with the back support. This will in turn will increase stability and alignment and prevent unwanted leaning and forward slouching.
---
Accessorize
When I mention the word accessorize, I'm not talking about looking for the scarf that matches the handbag. I mean look for the appropriate wheelchair accessories that will provide the extra stability and alignment a resident with dementia may lack. I do not promote the overuse of accessories, but they all have their time and place. This is one of them.
When we fight tone, tremors, involuntary muscle contractions, fatigue, and poor coordination seen with dementia, the extremities start to produce unwanted movement that place a resident at risk for:
Increased instability of the pelvis and spine

Injury to the extremity

Elicitation of primitive reflexes

Nerve impingements or nerve damage

Formation of contractures
We must add LE, UE, and lateral supports to complete the seating system to provide the alignment and stability the resident can no longer maintain on his own.
Lower extremity supports decrease excessive joint movement to:
HELP STABILIZE THE PELVIS

Decrease the risk of contracture or progression of an existing contracture

Protect the limb from injury

Minimize spasticity and prevent unwanted reflexes

Decrease tone
Upper extremity supports:
Add postural stability

Decrease the risk of contracture or progression of an existing contracture

Decrease dependent edema

Stabilize the shoulder to prevent nerve impingement and damage

Help place the UE in a more functional posture
Look for an UE support that can be moved multi-directionally to elevate and articulate and position the arm in any plane. This will help you to customize it to meet any resident's individual need.
Lateral Supports:
Stabilize the trunk

Prevent leaning

Help to regulate tone

Prevent abnormal curvature or progression of an existing abnormal curvature
When considering what type of lateral to use, I suggest mounted lateral supports to regulate tone or stop heavy leaning. Foam laterals won't withstand the force, collapse too easily, and are unable to provide the stabilization needed.
---
Adjustability
Lastly, look for wheelchairs that provide the ability to stabilize the resident as best as you can. Even the best of therapists is fighting a losing battle if the resident is placed in the wrong model chair. The wrong chair does not allow the therapist to position the pelvis, trunk, and extremities according to the resident's individualized body dimensions. Look for a chair that can be adjusted in these areas:
STFH (Seat to Floor Height) beyond just the hemi height setting

Arm rest height

Seat to back angle

Back height

Can create a fixed tilt, "dump" in the seat
By appropriately matching the chair size and seat to back angle to the resident, we increase the ability to get the resident's hips all the way back in the chair, maximize bodily contact with the seat and back surface and increase the stability and alignment to decrease the risk of fall!
See you next week to discuss autonomic system dysfunction and changes to the sleep cycle. Happy treating!
---
---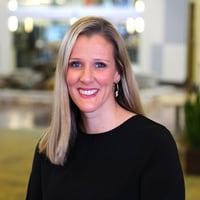 Ana Endsjo, MOTR/L, CLT
Clinical Education Manager LTC Division
Ana Endsjo has worked as an occupational therapist since 2001 in a variety of treatment settings. She has mainly worked with the geriatric population, dedicated to the betterment of the treatment of the elderly in LTC centers. Her focus has been on seating and positioning and contracture management of the nursing home resident. With this experience, her hope is to guide other therapists, rehab directors, nurses, and administrators through educational guides, blogs, webinars, and live courses in her role as Clinical Education Manager for the long term care division.