Getting the appropriate wheelchair when patients are discharged so early is a common challenge these days with rehab stays getting shorter and shorter. The average inpatient rehab stays are now 7-10 days, with patients going home to receive Home Health services. Considering that an ultra-lightweight manual wheelchair can take weeks or months to get due to the process that is required, how can you ensure that your patients get the appropriate wheelchair?
First, when you do your initial evaluation be thinking about whether your client may need a wheelchair when going home. If the answer is yes, treat your evaluation as if they are going to need a K0005 wheelchair, even if they initially go home in a lower end manual wheelchair for a short period of time. K0005 documentation should be more than sufficient to cover a lower coded chair so there is no real duplication of process.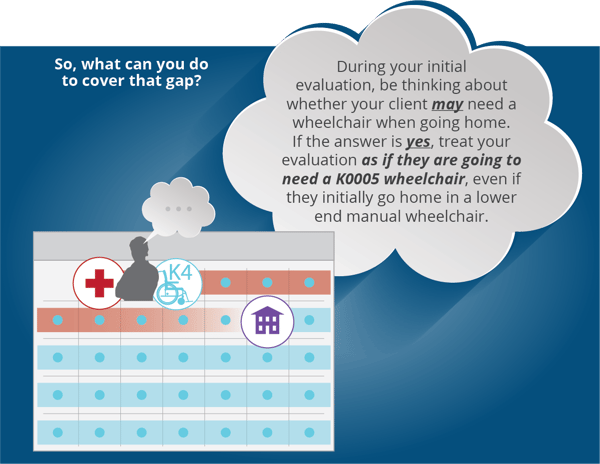 Important Facts
5 Year rule: Putting a patient in a lower end chair that isn't going to meet their long-term needs is not the most beneficial option to the patient, even if it is the path of least resistance for the clinician and provider. With the useful lifetime rules, a patient must remain in the same wheelchair for 5 years (longer with some funding sources), unless they have a change in medical condition that warrants another new chair.


Criteria: Qualification for a K0005 is functionally based, not diagnosis based. For K0005 MWCs, rigid or folding, individual must require the MWC full time for all MRADLs, OR require individualized fitting, adjustment and configuration not available on a lesser MWC.


Process: Medicare requires evaluation from PT or OT for a K0005, and it must be provided by a RESNA Certified ATP.
---
So, What do I do?
Plan of Care: If the client will be discharged from a facility prior to receiving the ultra-lightweight MWC, the clinician must include in the Plan of Care that the client is planned to follow up after discharge to obtain the ultra-lightweight MWC that is recommended with the next clinician in the continuum and/or the supplier.


Talk to your client: Empower him by explaining that he is going home in a rental wheelchair that will turn into a purchase in 12 months. Encourage him to talk to the next therapist in the continuum about getting a better ultra-lightweight wheelchair (K0005)


Document!!

Rule out a K0001-K0004: Documentation must show why the "least costly" alternative is not effective. Include a description of the client's routine activities and whether they are fully independent in the use of the wheelchair:

Use objective tests and measures such as the Wheelchair Propulsion Test: Optimally configured ultralightweight w/c vs. lower-end chair; time propulsion over a fixed distance; count push strokes; differentiate quality of propulsion, pain, pulse-oximetery
Consider safety, efficiency, and ability to independently complete all mobility related activities of daily living (MRADLs) all day, every day, with a lesser MWC

Consider the need to configure an ultra-lightweight chair for better posture and mobility



Unique features of a K0005:


Adjustable axle plate required for center of gravity adjustment, additional seat size options, individual frame length and configurations, front and rear seat-to-floor heights, seat slope, camber, and back angle

The unique and critical components must be justified

A chair that's not individually configured is NOT equally effective!
---
Sample Documentation
X demonstrates the ability to transfer from current K0005 MWC with modified independence. When evaluated in a K0004 MWC, she requires Min A for swing-away legrest and lower extremity management. For Ms. X a K0004 MWC is not appropriate as it results in a decline in independent function.

X is unable to enter a wheelie position in a K0004 wheelchair with a non-adjustable rear axle and unable to negotiate 2" thresholds. Performing this wheelchair skill is imperative to her daily activity as she has a 2" threshold into her kitchen, as well as negotiating over thick carpeting, transitioning from carpet to wood in the hallway and the entrance and exit of her home.
---
What the Supplier Needs to Know: Capped Rental vs Purchase
It is important for the supplier to understand the difference in providing a rental low-end manual chair vs a purchased K0005:
Capped Rental: Lower end manual wheelchairs are all capped rental for 12 mos, so they can be billed temporarily until the K0005 is ready to be delivered. It is important that the paperwork for picking up the lower end chair is included with the K0005 paperwork to avoid same/similar denials.
Purchase: From a provider perspective, lower end chairs are capped rental, which means the provider is responsible for its upkeep for a full 13 months with no additional reimbursement. A K0005 is a purchased product and any repairs are billable from day one.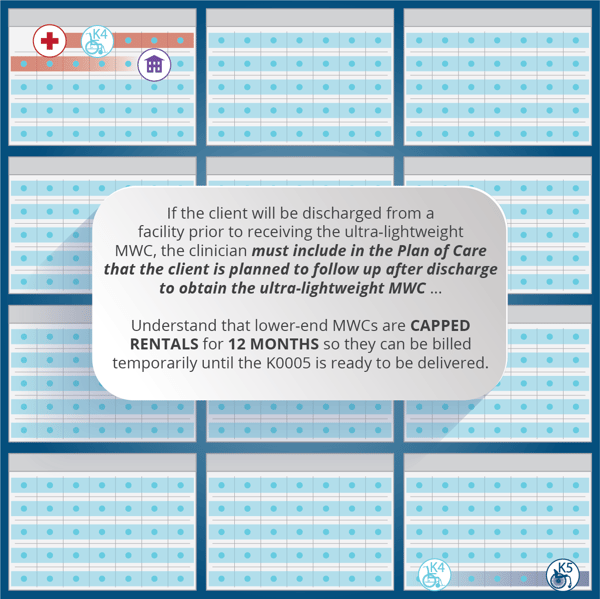 ---

Although shorter rehab stays make it challenging to provide our clients with the most appropriate wheelchairs, it is possible when we learn the process and communicate across the continuum of care and empower our clients!

---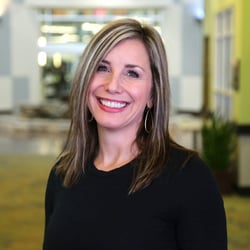 Stacey Mullis, OTR/ATP
Director of Clinical Marketing
Stacey is Director of Clinical Marketing. She graduated from Western University in London, Ontario, Canada with a BA Linguistics and BSc Occupational Therapy and has practiced as an OTR for over 20 years. With experience in pediatrics, inpatient/outpatient rehabilitation, long term care, and home health, Stacey has faced the challenges first hand of providing appropriate seating in various clinical settings. This led her to pursue an apprenticeship at Care Partners Seating Clinic in Asheville, NC to advance her skills, and she obtained her ATP certification in 2012. Mullis is a member of the NCOTA, CTF, NRRTs, RESNA, and AOTA.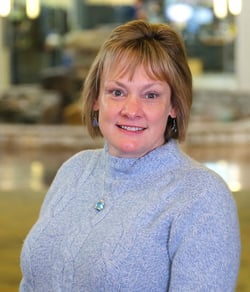 Ginger Walls, PT, MS, NCS, ATP/SMS
Director of Clinical Marketing
Ginger has 25 years of experience as a physical therapist in the area of neuro rehab and wheelchair seating/mobility. She directed the Outpatient therapy clinics and the Seating/Mobility Program at Medstar National Rehabilitation Hospital in Washington, D.C. Additionally, Ginger has provided a variety of continuing education courses and lectures in the area of seating/mobility for many years. She has presented at major industry conferences including ISS, RESNA, and the PVA Summit. Ginger took on the role of Clinical Education Specialist for Permobil in 2015.