To continue our discussion on misconceptions of wheelchair positioning in the LTC setting, I want to focus on a common positioning myth. It goes hand in hand with last week's discussion on choosing the appropriate wheelchair. To recap that post, please consider the wheelchair and its limitations when purchasing a chair for your resident. Remember to consider one with maximum adjustability to accommodate an elderly body.
---
One thing we were taught in school I MUST disagree with:
Strive for a 90-90-90 position with every resident.
In the past, therapists were taught the optimum seating position is 90-90-90. Unfortunately, some educational institutions continue to teach this as the goal when it comes to what position to strive for when positioning a patient. And some more seasoned therapists not up to date with modern principles still have that "old school" mindset. However, we, as healthy, younger adults, can't sustain a 90-90-90 for probably more than five to ten minutes.
I challenge you to put a timer on for ten minutes, sit in 90-90-90, and count how many times you squirm to relieve pain or stiffness in your back, hips, and knees or to stop some part of your body from falling asleep or to relieve pressure. You will be shocked!
Our elderly residents–due to lifetimes of stress–have:
tighter muscles

less flexible skeletons, often with flexion or extension contractures of the hips, knees and ankles

abnormal curvature of the cervical, thoracic, and lumbar spine

painful joints

thin skin

compromised sensation

decreased mobility
Why should we ask our elderly residents to sit in the most upright, uncomfortable position ALL day when we can't do it for more than ten minutes? By forcing their bodies into unnatural positions, we set them up for unwanted pressure and pain, leading to contractures or wounds.
---
So what do you do? Remember those K0004 chairs that I spoke about in last week's blog? Purchase your resident that style of chair, which will allow you to:
Open or close the seat angle to accommodate for your resident's degree of hip ROM

Change out a sling back and use a back support that allows you to adjust tension and conform to a resident's curvature

Add a bit of back angle if necessary to optimally support the resident's curvature

Change arm rest height to allow the arm to be parallel to the floor for improved blood flow to the hand/wrist and decrease impingement or subluxation/dislocation of shoulders

Change the height or length of a leg rest to accommodate for contractures or tightened muscles

Ensure the seat to floor height (STFH) is adequate to allow them to self-propel without having to sacral sit

AND remember asymmetry is good when needed to accommodate a less than perfect posture
We need to break away from the idea that we have to FIX everything and make everyone sit in a perfect 90-90-90 posture. Study each individual's posture, try to fit them in a chair that mimics the curvature they are presenting. You will be amazed that the hunching, sliding out, wound development and complaints of pain have stopped!
Stayed tuned for next week's discussion as to why asymmetry is A-OK when it comes to seating and positioning.
---
---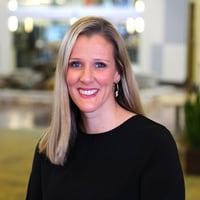 Ana Endsjo, MOTR/L, CLT
Clinical Education Manager LTC Division
Ana Endsjo has worked as an occupational therapist since 2001 in a variety of treatment settings. She has mainly worked with the geriatric population, dedicated to the betterment of the treatment of the elderly in LTC centers. Her focus has been on seating and positioning and contracture management of the nursing home resident. With this experience, her hope is to guide other therapists, rehab directors, nurses, and administrators through educational guides, blogs, webinars, and live courses in her role as Clinical Education Manager for the long term care division.