In last week's blog we acknowledged how exhausting working in LTC settings can be due to all the hats a LTC therapist must wear. We are expected to be specialists in multiple areas, which we know is unrealistic. It is hard to "perform miracles" without the knowledge base to do so. These blogs on the ten common misconceptions in wheelchair positioning clarify the myths around successful positioning. Rest assured, with these simple clarifications, you will be better equipped to choose the correct chair and equipment to position your residents.

We as LTC therapists should remind ourselves of the goals we should strive for when it comes to seating and positioning in the nursing home:
Maximize function from a wheelchair level

Protect the skin - stop the development of wounds or heal existing ones

Protect the skeleton - prevent/correct postural abnormalities or accommodate for existing ones
Now let's dive in and look at the first common misconception.
---
K0001 and K0002 chairs are the economical choice in LTC:
To me this is one of the greatest misconceptions of all. K0001 (standard height, sling seat and back) and K0002 (hemi height, sling seat and back) chairs are the most commonly purchased wheelchair for LTC residents since they are the most "inexpensive" chair on the market. BUT I ASSURE YOU, THE CHEAPEST DOES NOT MEAN THEY ARE THE BEST OPTION!


On the contrary, I firmly believe these models are the WORST choice for a LTC resident who sits hours on end in a wheelchair. Don't get me wrong, K0001 and K0002 chairs have their purpose, but it is not for the long-term sitter! Who are they for? They are ideal for a short-term rehab resident who is still mobile, can independently weight shift, and has good sensation to tell you when pressure is too great.


As a therapist it is really important to understand what kinds of chairs are on the market and the advantages and disadvantages of each chair. An ideal chair will have maximum adjustability to be able to be tweaked for multiple body types to prevent abnormal sitting postures in chair.


Achievable wheelchair adjustability:
STFH (Seat to Floor Height) beyond just the hemi height setting

Arm rest height

Seat to back angle

Back angle

Back height

Can create a fixed tilt, "dump" in the seat
All this adjustability makes your job easier, allowing accommodation for different postural abnormalities such as posterior or anterior pelvic tilt, pelvic obliquity, pelvic rotation, and windswept deformity.
A standard or hemi height chair lacks these abilities, and, in the end, you spend more time and money on expensive accessories while never truly achieving the positioning possible with a chair with more adjustability!

In my opinion, the best kept secret and a much better option is the K0004 high strength, lightweight chair. It is a much better choice for the long-term sitter in the nursing home.
---
Some features of a K0004 chair:
Height-adjustable arm rest

Angle-adjustable back canes for manipulation of back angle

Back-height adjustability

Lighter weight chair for increased ease with propulsion

STFH adjustability as low as 14.5"

Can create a fixed tilt or "dump" in the seat

Easy to accommodate any postural abnormality

By buying a chair that can be individualized to meet each resident's need, you will save money on multiple accessories that may or may not allow you to capture the curvature and support the body optimally. In the end, you will spend much more than the difference in purchase price of the K0001 and K0004!
As you can see, the K0004 is a better option financially when weighing adjustability and interchangeability from one resident to the next.
Keep these three points in mind when presenting the need for a better chair to your administrator:
The cheapest option is oftentimes NOT the best option.

Look for ONE chair with MAXIMUM ADJUSTABILITY that can be used over and over to fit multiple body types

Those inexpensive K0001 and K0002s will be more costly in the long run due to a lack of adjustability and inability to accommodate multiple residents. K4s are the best option!
Here is a quick comparison chart when considering which chair to purchase for your residents: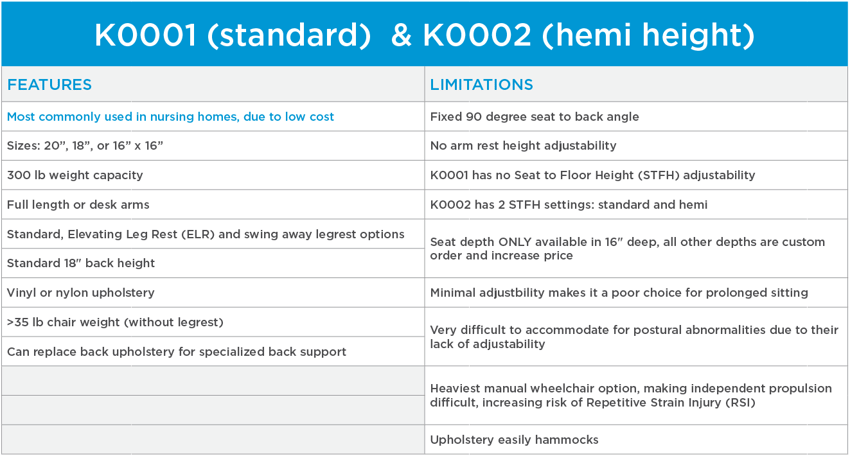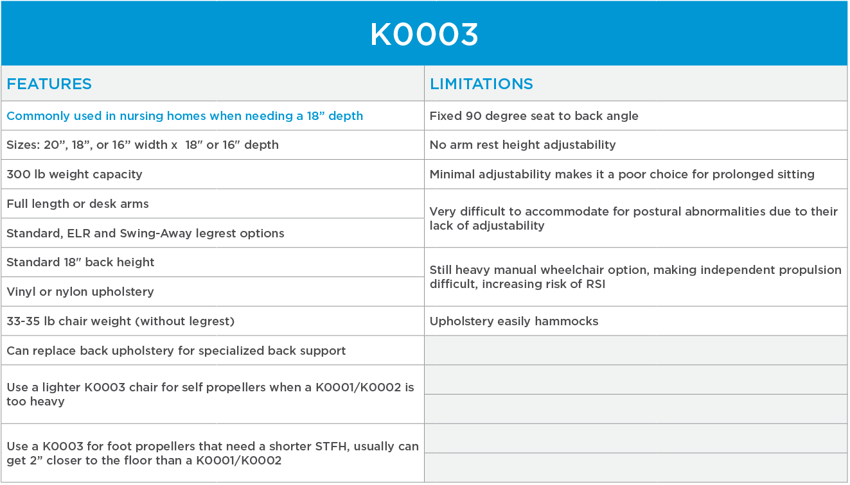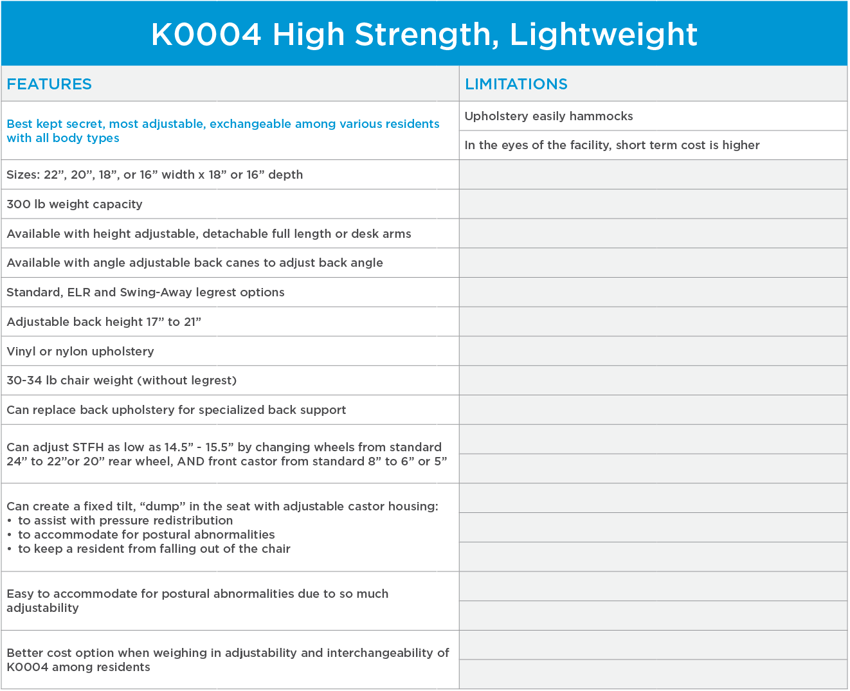 Please stay tuned next week when I clear up more common misconceptions when it comes to positioning in the LTC setting.
---
---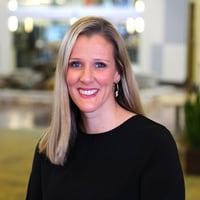 Ana Endsjo, MOTR/L, CLT
Clinical Education Manager LTC Division
Ana Endsjo has worked as an occupational therapist since 2001 in a variety of treatment settings. She has mainly worked with the geriatric population, dedicated to the betterment of the treatment of the elderly in LTC centers. Her focus has been on seating and positioning and contracture management of the nursing home resident. With this experience, her hope is to guide other therapists, rehab directors, nurses, and administrators through educational guides, blogs, webinars, and live courses in her role as Clinical Education Manager for the long term care division.