In the past couple of weeks we've gone over Vicair® technology and the Vicair® Active O2 cushion. Today, we are going to discuss the features, benefits and application of the Vicair® Adjuster O2 cushion.
It is coded Medicare Code E2622/23 – Adjustable Skin Protection. This is one of the most versatile premium adjustable skin protection air cushions due to the compartments and linear style.
It is an immersion and envelopment style cushion with 5 compartments.
2 larger compartments in the rear,
1 medial compartment that runs the width of the cushion
and 2 smaller compartments in the front.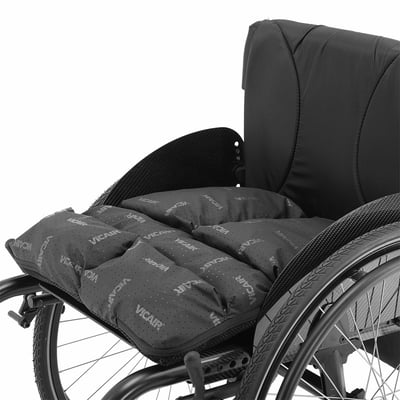 The Adjuster O2 is recommended for:
users with a history of, currently have, or are at risk for skin/soft tissue breakdown and/or any stage pressure injury
users with normal or impaired sensation
due to the linear shape, users of any body type (thin or small body types or those with excess residual tissue) can safely use this cushion
those with severe or multiple contractures who won't fit well in a pre-contoured cushion often fit better in the Adjuster O2 due to its linear shape
Features/benefits of the Adjuster O2 include:
the cushion is adjustable to shape, weight, and changes in an individual's position over time due to the SmartCells moving with every micro-movement of the user as discussed in the first blog of this series.
the cushion has a perforated liner, making it inherently breathable and may help with temperature and moisture control
the cushion is very lightweight, adding little weight to entire mobility system which could reduce repetitive strain injuries and increase independence with mobility
And my favorite, especially in today's health care world where infection control is so critical, is the fact that the ENTIRE cushion can be machine washed for easy cleaning and disinfection!
Built ready to use, straight out of the box with no set up required.
The Vicair® Adjuster O2 cushion is ideal for hospital and nursing home settings since the cushion can be machine washed in its entirety for full cleaning and disinfection. This allows an organization to use this cushion with multiple users.
Application and adjustability of the Adjuster O2
Two of the most commonly seen pelvic postural abnormalities are posterior pelvic tilt and a pelvic obliquity and both can easily be addressed with this cushion.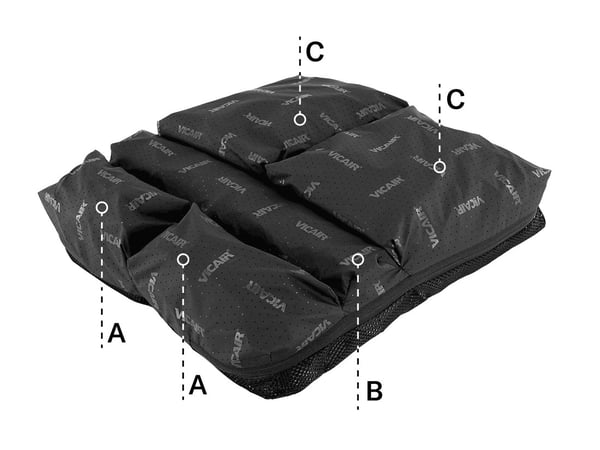 Front leg chambers can accommodate for seat-to-floor height, leg length discrepancy and an amputation.
Medial band can act as an anti-thrust to reduce forward migration of the pelvis.
Rear chambers allow for immersion of bony prominences to relieve peak pressures on the ITs, sacrum and coccyx. SmartCells can easily be added or removed from the rear compartments to accommodate or correct for a pelvic obliquity.
SmartCells can be added or subtracted from any of these compartments to correct or accommodate multiple postural asymmetries. Once set up by a therapist, there is no need for caregiver modifications to the cushion for further positioning needs, making staff training simple.
In the unlikely event, that one of the SmartCells goes flat, we recommend purchasing an extra bag of SmartCells to simply replace the flattened SmartCell. This is a cost savings, because there is never a need to replace or purchase a new Vicair cushion!
The Adjuster O2 comes in 2 profiles:
Standard profile which is 4 inches in height
Low profile which is 2 inches in height
The low profile might be a good option for individuals that are foot propellers that need to be closer to the ground. Without this lower seat-to-floor-height, the user may have a hard time getting a good heel strike without compromising pelvic positioning. Often times, if the seat-to floor-height is too high, the user slides into a posterior pelvic tilt or a pelvic obliquity to reach the floor better. And the low profile still has sufficient immersion to be coded as a skin protection product!
In summary, if you are looking for a product that can address pressure injury management, without the need for daily maintenance or rigorous staff training, the Vicair Adjuster O2 cushion may be a great option for your organization!
---
---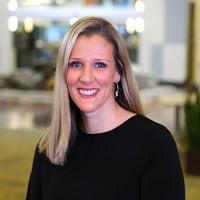 Ana Endsjo, MOTR/L, CLT
National Education Manager - Long Term Care Division
Ana Endsjo has worked as an occupational therapist since 2001 in a variety of treatment settings. She has mainly worked with the geriatric population, dedicated to the betterment of the treatment of the elderly in long term care centers. Her focus has been on seating and positioning and contracture management of the nursing home resident. With this experience, her hope is to guide other therapists, rehab directors, nurses, and administrators through educational guides, blogs, webinars, and live courses in her role as National Education Manager - Long Term