"All we have to do is get a new cushion when there are seating issues."
A lot of times when there is a positioning issue, it comes in as a referral for a new cushion.
"Mr. Smith has pain or has a wound or is sliding out of his chair." Therapy then gets a referral for a new cushion. It MUST be the cushion's fault, right?
Well, not exactly. I know I keep harping on this subject, but a lot of time the problem is the actual wheelchair, the person is in, the back support, or a combination of any or all of the above.


---
We seem to forget that often times a cushion is useless if not used in combination with the correct wheelchair and appropriate back support. Our pelvis does not work alone, and our overall alignment is impacted by the seating system from the head alignment all the way down to ankle and foot alignment. If we do not look at the seating system as a whole, then the best cushion on the market could be useless.
I talked extensively on the importance of choosing the correct wheelchair in an earlier blog in the series of "10 common seating and positioning misconceptions in LTC," titled Why K0001 and K0002 chairs are NOT the economical choice in LTC.
---
But we also have to change our way of thinking and that of our nursing staff to understand a back support is just as critical as the cushion in an ideal seating system. The back support and cushion go hand in hand to:
Stabilize the pelvis and spine for optimal alignment

Relieve pressure

Heal wounds

Decrease pain

Increase function
Remember, your pelvis won't move if your spine doesn't go with it and vice versa!
Back supports replace the existing sling back on K0001-Tilt in space chairs. These back supports assist in maximizing optimal posture as they:
Increase seat depth and envelop the spine

Capture the curvature whether normal or abnormal for better upright, midline posture

Decrease peak pressure on spinous process

Decrease pain

Replace the existing overstretched, hammocking sling back that has lost its shape and can no longer stabilize the trunk as needed
Just like cushions, back supports can be broken down into categories based on patient needs:
---
Here is a chart that looks at some of Comfort Company's excellent back supports and their applications.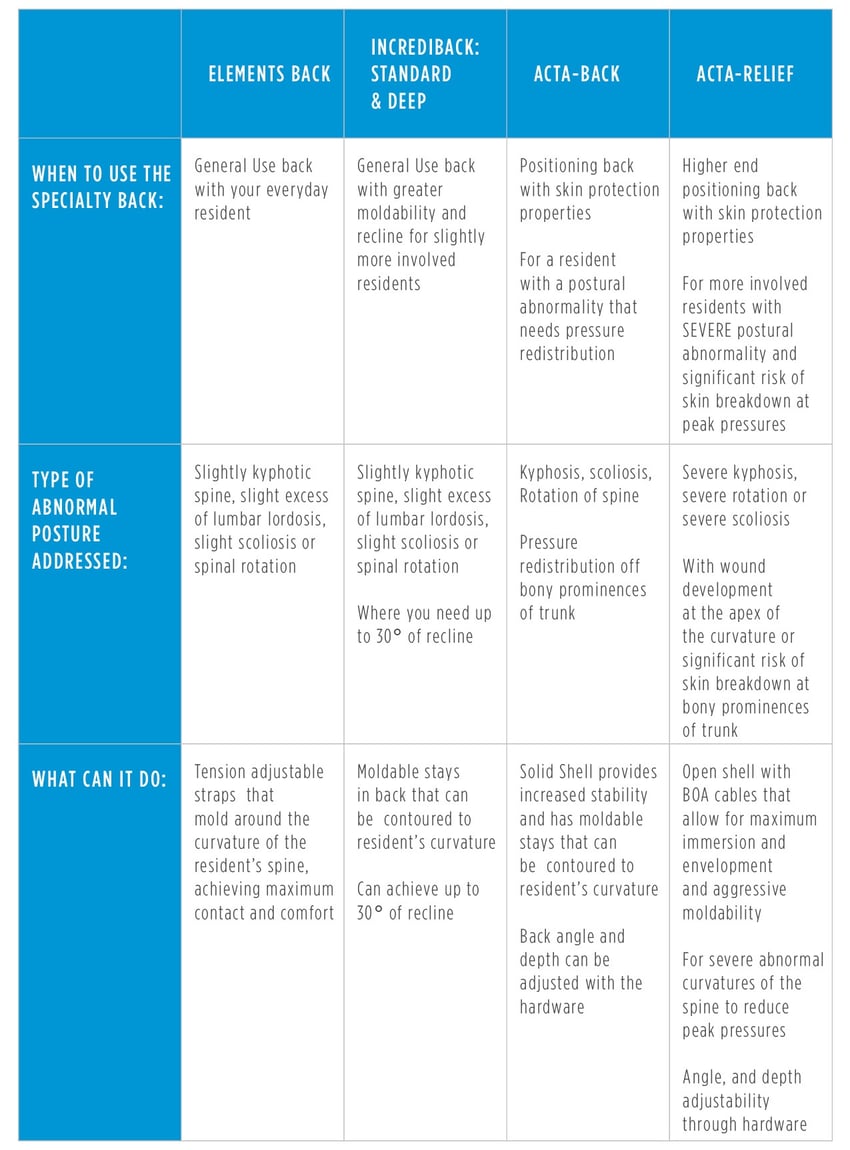 The next time you receive a referral for a cushion, please remember a cushion alone does not affect the posture a resident presents with while sitting in a chair. We NEED to consider the wheelchair they are in, the back support, and the cushion in order to provide maximum stability, pressure relief, and postural alignment.
---
See you next week when I discuss some oh-too common myths about elevating legrests!
---
---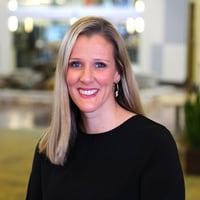 Ana Endsjo, MOTR/L, CLT
Clinical Education Manager LTC Division
Ana Endsjo has worked as an occupational therapist since 2001 in a variety of treatment settings. She has mainly worked with the geriatric population, dedicated to the betterment of the treatment of the elderly in LTC centers. Her focus has been on seating and positioning and contracture management of the nursing home resident. With this experience, her hope is to guide other therapists, rehab directors, nurses, and administrators through educational guides, blogs, webinars, and live courses in her role as Clinical Education Manager for the long term care division.