This blog is a part of our series on a consumer's guide to seating and mobility equipment. Click here to see our digital resource The Wheelchair Handbook: A consumer's guide to seating and mobility equipment.
---
There are two different configurations of manual wheelchairs: folding and rigid. The difference is fairly obvious with a folding frame being able to fold in half while a rigid frame folds differently. If you've never tried a rigid frame, don't be afraid of the style, it might just meet your needs.
Below are some of the potential health benefits, social engagement, and functional activity benefits associated with each style of manual wheelchair.
Rigid manual wheelchairs

Potential health benefits
Typically lighter in weight, with fewer moving parts, rigid chairs decrease the effort required to push, therefore potentially reducing the risk of developing a repetitive strain injury. Rigid chairs are built to your measurement which can provide support and improve your balance. When you have enhanced posture and balance you can sit more comfortably for longer periods of time, allowing you to do more.
Functional activities
A rigid frame manual wheelchair allows for the rear wheels to be easily removed, the backrest folded, and the wheelchair becomes very compact. Because the frame is lightweight, it is easier for you or your caregiver to load into a vehicle.
A rigid chair is built to match your shape which can create a smaller footprint. This allows your chair to be more maneuverable and makes it easier to get closer to and access your environment. For example, the bed, kitchen sink, under a desk, and in the restroom.
Social Engagement
When you have a chair that you feel confident and comfortable in, you are more likely to go and do more. If you are using less energy and feel safe, you will have the confidence to explore, participate and try new things.
Folding manual wheelchairs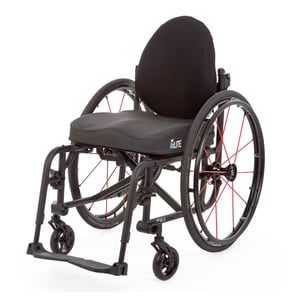 Potential health benefits
A rigid wheelchair may not be the solution for everyone. Folding frame wheelchairs are often needed if you require elevating legrests or have limited ability to bend your knees. It is often used if you require a seat width >20" or a higher weight capacity. It may be easier to grow and shrink the chair with changing weights and sizes.
Social engagement
A manual folding chair can be folded in half to be stored and/or transported in a vehicle so you can go to doctor appointment, social engagements, religious activities, and family get togethers.
Functional activities
The decision to use of a folding manual wheelchair often depends on how you propel your chair and transfer in and out of your chair. Swing-away legrests on folding frame manual wheelchairs are often thought to help individuals who push the wheelchair with their feet and/or put their feet on the ground for transfers. Although usually a standard available feature on folding frames, this feature is available on some rigid frame wheelchair as well.
---
Talk to your clinician/therapist about what style manual wheelchair will work best to meet your needs. There is clear evidence to support the recommendation of a fully configurable, ultra-lightweight , durable and individualized manual wheelchair for the consumer. Click here to check out the RESNA Position Paper: "The application of Ultralight Manual wheelchairs". This is a great summary of the current research.
When a wheelchair is built for you and dialed into your needs then you can maximize your independence, participate in the activities that you want to, and go where you want to go.
---

---
Permobil Clinical Education Team
This information comes from the Permobil Clinical Education team which consists of a group of Occupational and Physical Therapists. Click here to learn more about Permobil clinical education team.