See our blog about iOS 13 and the amazing new accessibility function here. Today we're talking with Lucy about using the built in Bluetooth on her Permobil F3 Corpus power wheelchair.
---
You have read our overview on some of the new options available on iOS 13, relating to the different adaptations that can be made for physical considerations on an iPhone or iPad. Now we want to tell you the story of "Lucy and her Amazing iPad" and how she has used improvements in technology to complete school work, play educational games, and of course, take selfies! Below is our interview with Lucy.
---
Permobil Interviewer: Is it true that you took your first ever independent selfie while using the mini joystick on your wheelchair to control your iPad? How old were you and do you or your mom remember the day you took this picture?
Lucy: Yes, it is true! It was so cool, and I loved it!! I was 9 years old and in 3rd grade. I remember this day so well. It was the day I got my new powerchair and it was so much bigger than my old, pink powerchair. Betsy, Ron, and Melissa were helping me all day. We were customizing my chair to fit me perfectly and getting all of my controls set up.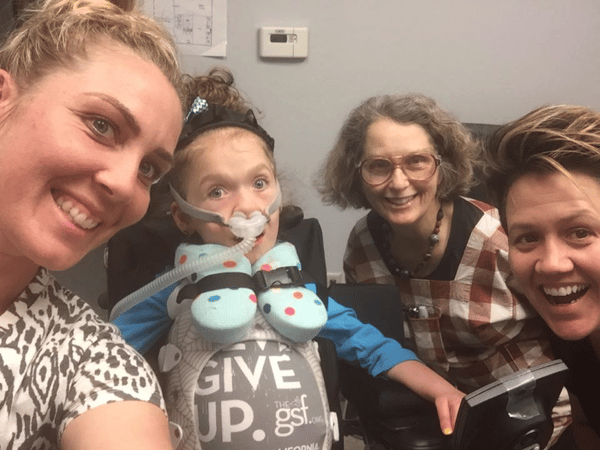 Lucy, taking her first ever selfie using her bluetooth iDevice, May 2017. Pictured from left to right: mom Cherisse, Lucy, Betsy from Numotion, and Melissa from Permobil.
What was it like the first time you realized you could use your wheelchair joystick to control your iPad?
Lucy: I was SO excited! I was thinking about all of the things I could do on my own, with my iPad. It is so easy to control my joystick and I was really excited about the new access I would have on the iPad.
What was the main way you completed school work, watched movies, or took silly pictures with your older brother and sister before your wheelchair joystick helped you?
Lucy: I usually lay in bed with my iPad standing next to my left side and I access it with a stylus that is taped to a suction tip so that I can reach the iPad. When I can't reach an area of the iPad or my arm gets tired, I ask my parents, siblings, or nurses to help me. I am not able to take selfies while I am laying down because the position of the iPad, when I am using my stylus, doesn't show my face.
I've also heard that you had some exciting interactions with the CEO of Apple. That's pretty big news! Could you please fill us in on the details?
Lucy: Well, I had been struggling using my iPad with my joystick and I heard that some of my friends were struggling too. I took matters into my own hands and created a powerpoint presentation telling Apple that the access for the iPad could be a lot better. I loved that I could use my joystick to access the iPad but it was not very user-friendly for me and my needs. I wanted it to be similar to how I used my joystick on my computer and my eye gaze, it was so much easier for me and much more universal. My mom sent my presentation to Tim Cook at Apple and he was so nice…he forwarded my mom's email to the accessibility department and they reached out to my mom to ask questions about my iPad and joystick.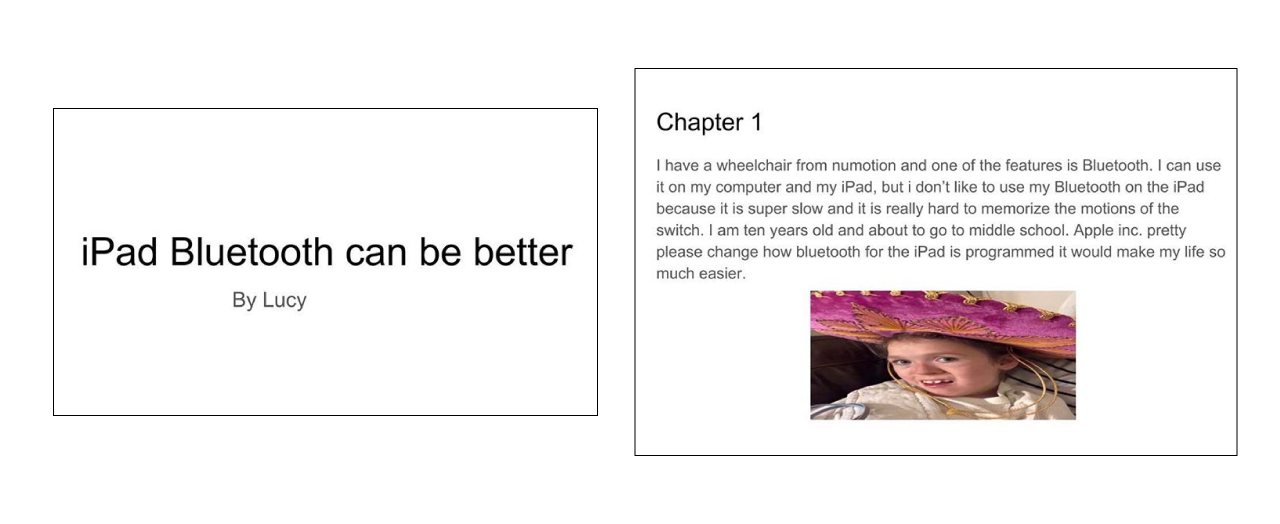 So since Apple listened to your request (and perhaps a few other people) and introduced the ability to use a mouse on your iPad, how has this changed the way you play games or take photos?
Lucy: It has changed how I do everything on the iPad! I love using the mouse emulation so much more than the switch options. When I used the switch options, it took so long for me to just get into an app and once I got in, there wasn't a lot to do and the time it took for me to do one action took so long, I would get frustrated and lose interest. I stopped trying to use my iPad with my joystick all together. Now, I can access all areas of my iPad and go to the exact spot that I want to select. I love that I can sit up and see the screen and take pictures of myself or others and I love that I can access most everything on the iPad. It's amazing!!!
Do you like switch control or mouse control better? Which would you recommend for another person using their joystick to control a computer, phone or tablet?
Lucy: This is an obvious answer for me. Hands down, I like the mouse better. It depends on each person's individual needs, but I recommend the mouse control because it is much more convenient for me, in every way. I also feel like I have more control over the device. I instead of waiting for the lines to scan across the screen or bumping my joystick to select the next options of apps, I can just use my joystick to drag my mouse cursor to wherever I need to go.
Anything else you would like to share?
Lucy: For anyone who is hesitant about using a Bluetooth mouse, I suggest that you at least try it because it is so convenient. It has made it possible for me to use my iPad with my joystick without frustration or using up all of my patience.
---
Check back next week when we interview Lucy's mom Cherisse and hear how she thinks this technology has helped Lucy. Learn more about the Bluetooth capabilities on Permobil power wheelchairs with OMNI2 and Permobil Joystick Module w/Bluetooth.
---
---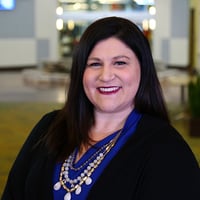 Jennith Bernstein, PT, DPT, ATP/SMS
Regional Clinical Education Manager
Jennith Bernstein received her masters in Physical Therapy at North Georgia College & State University and returned to complete her transitional DPT at University of Texas Medical Branch in 2014. While at Shepherd Center, Jennith, initiated a "Seating Champion" program to improve the inpatient and day program clinicians understanding of complex seating, pressure management and skin protection as well as research reviews, advanced programming and adjustments. She was also part of a center wide multidisciplinary focus group for reduction of hospital acquired skin breakdown. Jennith has served as a volunteer teacher at the Universidad Mariano Galvez in Guatemala, instructing spinal cord injury curriculum as well as seating and mobility. Jennith has presented at national conferences such as RESNA, ISS, and the APTA NEXT conference. Jennith has been a practicing PT for 12 years and spent the last 10 years at a model SCI center (Shepherd Center) in Atlanta, Georgia. Jennith joined Permobil as the Clinical Education Manager for the Central Region in 2016.