It is easy to look at the F5 Corpus VS and be in awe of its ability to transition someone from sitting to standing with smoothness and grace. While the flagship chair of the Permobil line is amazing in all capacities we cannot overlook the lessons we have learned in the last 43 years of manufacturing standing power wheelchairs. What you all know as the F5 Corpus VS was a lifelong journey of love, dedication, and the drive to give our end users the same technological advantages that we all use in our everyday lives
---
Lesson #1: End users need a full range of power seat functions
While the first Permobil standing power wheelchair in 1977 was innovative, we quickly discovered that compromising other power seat functions to achieve our goal was not ideal. From only utilizing recline and power leg movements, to limiting tilt to 25 degrees in the 1980's and 90's, we learned that asking our end users to give up key components of their seating system would not best meet their needs. In 2004, with the introduction of the Permobil Combi, we accomplished our goal of giving our power wheelchair end users full power seat functions and did away with the "either/or" option. Our standing wheelchair has continued to evolve into what we know today as the F5 Corpus VS.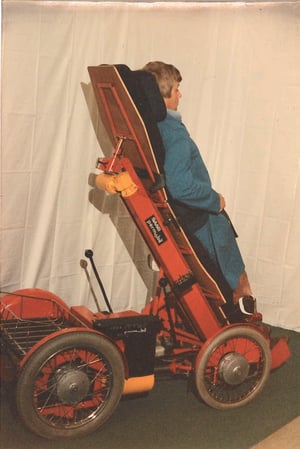 1977 Supine to stand
special adaptation on S & X models
Lesson #2: Stand sequences tailored to you
The ability to personalize stand sequences to each individual client is what sets the F5 Corpus VS apart in the market. However, our first attempts at standing power mobility did not offer this amazing feature. Innovative at its time, our simple standing sequences gave our end users an "all or nothing" approach when it came to standing in their wheelchairs. Supine-to-stand was the first and only option for many years, and slowly we included a limited sit-to-stand. In 2008, the introduction of the C500 VS with "smart actuators" was a pivotal moment in our standing history. It launched the first phase of programmable standing capabilities, with three predefined sequences. Since 2015, the F5 Corpus VS has allowed clinicians and their clients to customize stand sequences tailored to meet their needs, their environment, and their lifestyle.
Lesson #3: Ideal posture & function in all positions
Nothing is worse than achieving wonderful postural control and increased function while seated, only to lose it when coming to a standing position. This challenge of maintaining and/or accommodating postural needs in both a seated and standing position has driven Permobil for years. While we were able to accomplish different stand sequences, addressing the postural control and positioning of the end user took a lot longer than we had hoped. In 1993, we designed a mechanical linkage to open up the seat-to-back angle allowing the end user to come to a more comfortable standing position, and throughout the '90s and early 2000's we continued to improve upon this technology. But it was in 2015, with the introduction of a standing feature for the Corpus 3G seating system, that we were able to truly meet the seated and standing needs of our end users. Now they do not have to compromise one position for the other—they are able to maintain their postural control for functional activities regardless if they are seated or standing.
Lesson #4: Ability to change as user's needs change
One lesson we have carried through the last 43 years of manufacturing standing wheelchairs is that our wheelchair users and their needs keep changing. "Change is a process and not a one-time event," so our wheelchairs need to accommodate the end user's postural needs throughout each day, as well as accommodate changes in their diagnosis or condition over time. With a 300 lb. weight capacity, fully programmable stand sequences and legrest articulation, plus the ability to adjust seat and backrest angles while standing, Permobil's standing power wheelchairs can change as our end users require it.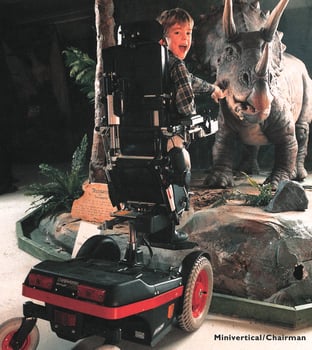 Lesson #5: A thing of beauty—seamless integration of the seating system on the chassis
Looking back on the timeline of Permobil's standing power wheelchairs, you'll see we have never been one for lots of cords, belts, or visible linkages. Things like this can get caught or bind up, making it difficult for the chair to operate fully and safely. What we have learned is that a seamless integration of the seating system on the chassis provides greater stability in all positions. The intentional design of the F5 Corpus VS is the culmination of years of manufacturing standing power wheelchairs.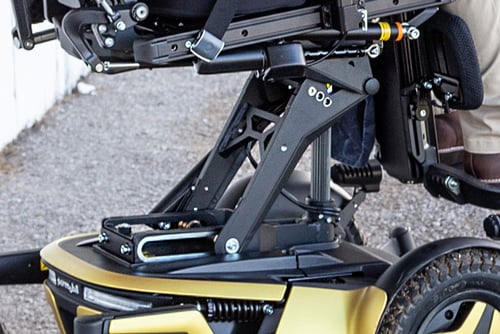 Lesson #6: Functional drive speeds with seat elevation and standing
Which leads us into our final lesson. Access to the vertical world requires both standing and full seat elevation for maximum functionality. Since 2015, the F5 Corpus VS has empowered end users with 14" of power adjustable seat height, and in 2019, drive speed while elevated was increased to 3.2mph. Yet it is our stand and drive technology that further opens up the world to our end users, and this feature has evolved over the last 25 years. We introduced the ability to drive while standing with our first standing power wheelchair, but like most new concepts, it was not as smooth and flawless as we know it today. The front anti-tip casters were small and difficult to move on many surfaces. Some models required additional casters on the footplates to increase stability, however, this limited navigation over smaller thresholds within the home. Advancements in our technology have enabled us to provide a better, more reliable stand and drive system with support wheels that automatically deploy as the user comes to a standing position. This upgrade sets the F5 Corpus VS apart by providing increased stability while upright and driving, plus the most functional stand and drive speed on the market.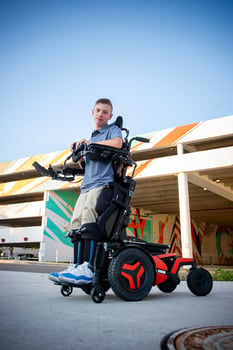 ---
As we've taken you on this standing journey, we wanted to take a moment to highlight another type of smart technology feature which comes standard on the F5 Corpus VS: Permobil Connect. Permobil Connect provides a remote platform that connects end users to their service provider and enables the use of the free MyPermobil app. MyPermobil communicates real-time status updates including battery range estimates, travel history, and seat position details directly to a client's smartphone to help them get even more out of their power wheelchair.
Permobil is excited to see how technology will continue to evolve, and like you, we can't wait to see what power wheelchairs will be like in the next 10 to 20 years.
---
---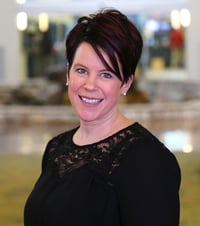 Ashley Detterbeck DPT, ATP, SMS
Clinical Education Manager
Ashley Detterbeck DPT, ATP, SMS received her Doctorate in Physical Therapy from the University of Minnesota in December 2006. She currently holds certification with RESNA as an Assistive Technology Provider and Seating and Mobility Provider. Detterbeck joined Permobil in 2017 as a Clinical Education Manager covering the Upper Midwest. Prior to joining Permobil, she spent 13 years with the Marshfield Clinic in Marshfield WI, where she ran the Seating and Mobility Clinic, participated in adult and pediatric gait based research, provided ongoing neurological care to both adults and pediatrics. With Permobil, Detterbeck is currently presenting educational programs to therapists and DME suppliers regarding seating, wheeled mobility, and pressure ulcer prevention.