You have the perfect wheelchair set up, but what if something changes?
A multitude of scenarios may lead to the need to return to your doctor and/or your therapist for another evaluation. During this time, it could be determined that adjustments to your chair may be needed, or a different type of chair/mobility device is necessary. These scenarios include, but are not limited to:
Development of wounds or pressure injury signs and symptoms

these can occur anywhere your body is in contact with a bed, chair, or other surface.

Posture changes. You can use a full-length mirror to assess your posture.

leaning to the side or forward
struggling to stay in a stable position in your wheelchair
arms or feet not staying in a safe position on the wheelchair
You are having challenges using your current wheelchair

Difficulty propelling

Difficulty using your power drive control method
Your wheelchair is no longer comfortable enough for you to sit up all day and participate in your daily activities.
You've experienced weight gain or loss and this is affecting how you fit into your wheelchair.
You have a change in your medical condition.
Your current chair limits your ability to participate in new activities and go where you want and need to go.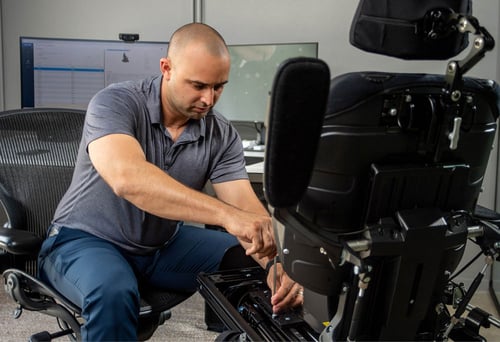 A wheelchair is like any other vehicle, it requires some regular preventative maintenance. There are lots of things that you and your caregivers can take care of easily to maintain your seating and mobility system. Check out some of our resources about wheelchair maintenance including our cleaning videos and the webinar Maintaining Your Ride: Cushion and Wheelchair Care and Maintenance.
There are also times when you will need to call your equipment supplier to address repair needs. Call as soon as you notice any unusual performance of your chair or signs that repairs are needed. These red flags, noted in the list below, are only a few of the common issues that can arise for a wheelchair user:
Your chair is making new noises when in use

Your wheelchair batteries are no longer holding adequate charge

The wheel locks no longer hold tightly

The tires no longer have adequate tread/traction

The front casters no longer swivel, or shake when the chair is rolling
You deserve to be comfortable and functional. If your chair isn't working for you, then take action!
---
---

Permobil Clinical Education Team
This information comes from the Permobil Clinical Education team which consists of a group of Occupational and Physical Therapists. Click here to learn more about Permobil clinical education team.