Discovering the right seat cushion for your body is no easy task. After many years of trial and error of several seat cushions, I finally landed on my perfect fit – a Custom Comfort Inception.
As a young woman living with a form of limb-girdle muscular dystrophy, my shoulder and hip muscles are progressively getting weaker, making the simple task of readjusting in my seat a challenge. I also have an ongoing battle with my balance due in a large part to scoliosis, leaving me feeling insecure if I am not seated in the correct position. The triple threat? Being fully confined to a power wheelchair.
Picture this: you rely on your power wheelchair to get your daily tasks done, but oh no… your tush starts to feel uncomfortable and you feel the need to readjust yourself – except, you physically can't. That cycle starts to repeat itself every day. How do you feel? Not very good!
Have no fear, I took the next logical step and spoke with my OT/rep about a different seat cushion. I tried each option with hope of a better outcome and dreamed of the day where buttocks pain wasn't something I had to worry about. Except every cushion seemed to be a bust for me. Even the highly anticipated ROHO cushion didn't work, as it totally impacted my balance and made me feel like I was falling.
---
Why go custom?
With such a wide variety of options available on the market today, I found myself asking the question that so many people seem to ask, "do I really need to do something that's custom designed to be comfortable?" But I quickly jumped to the realization that every single person's needs are different, mine included. What works for me isn't going to work for everyone and vice versa. The custom Inception cushion was the ideal solution.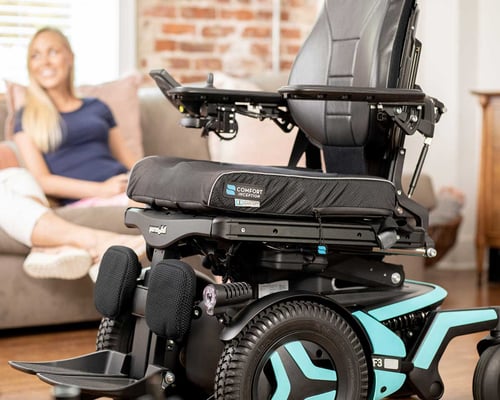 ---
Was the process difficult?
I wondered how difficult it would be to create a custom cushion. My curiosity was quickly answered after meeting with my Durable Medical Equipment Rep, an energetic Permobil Rep and a bag of foam pieces. To me, it felt like a game of Tetris trying to piece together foam in the perfect spot all around a rectangular seat cushion. The best part? I was included throughout the entire process.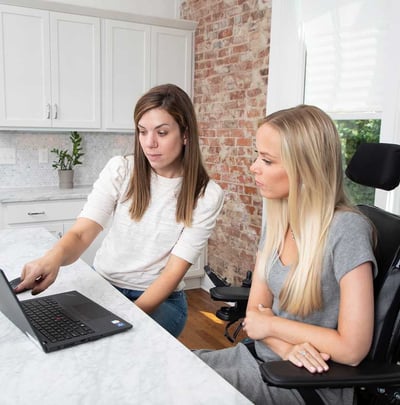 After a short amount of time, we had the winning combination. It was the first time that my bum wasn't experiencing any type of pressure points in a long time. I was sitting up straighter, which allowed me to breathe better, and my improved posture made me feel like I had lost weight. Who would have ever thought a seat cushion would give a little confidence boost? Not me! But after so many failed seat cushions, I was just happy to not be experiencing daily pain anymore.
---
---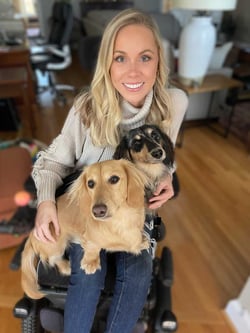 Caroline Pennell
Social Media Specialist/Graphic Designer, Sunshine Enthusiast
Caroline graduated from Liberty University with her Bachelor in Business Leadership and a minor in Psychology. She currently works remotely as a social media specialist/graphic designer for a medical practice marketing firm. Caroline was a MDA Goodwill Ambassador for 14+ years, spreading awareness and raising funds for muscular dystrophy in her community. Caroline was a guest on the Jerry Lewis MDA Telethon held in Las Vegas, NV, and shared her journey with muscular dystrophy on live TV. In 2009, Caroline was asked to help design "JT's Grommet Island Park and Playground for EveryBODY," the first-of-its-kind, 100-percent handicap-accessible oceanfront park and playground, situated along the Virginia Beach coastline. Caroline has met with local legislators in Washington D.C. representing Children's Hospital of Richmond at VCU, advocating for the need of children's hospitals to local legislators. In more recent times, Caroline has been both the guest speaker and emcee at Gala's benefiting Muscular Dystrophy. You will typically find her with her two miniature dachshunds, River and Buoy, on her lap. When she has free time, Caroline enjoys being on the water looking for shark teeth, reading, dogs, cooking and sunshine!