The Explorer Mini is a first-of-its-kind powered mobility solution for toddlers with mobility impairments.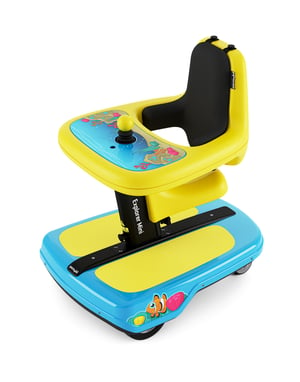 "We are honored for the Explorer Mini to be recognized by TIME as a 'Best Invention of 2021' and to be included alongside so many other ground-breaking innovations that are improving the lives of individuals around the world," says Bengt Thorsson, Permobil's president & CEO. "The inclusion of the Explorer Mini on this list helps to shine a light on the needs of thousands of very young children with mobility impairments. The Explorer Mini isn't just about getting these children mobile now, but it's about laying the foundations for life-long social and cognitive development."
Permobil recognized these needs and developed the first and only powered mobility device for toddlers aged 12-36 months that provides them with on-time mobility experiences, so they can explore and engage with their world in a way that helps them continue their best development. Permobil collaborated with leading experts to design the Explorer Mini and to create a solution for this critical period when mobility and cognitive abilities develop.
"Explorer Mini provides young children with mobility impairments the opportunity to gain self-initiated mobility experiences exploring their environment while also promoting postural control, visual-spatial development, and supporting social and emotional benefits," explains Ginger Walls, PT, MS, NCS, ATP/SMS and Director of Clinical and Technical Education for Permobil Americas.
Permobil's Explorer Mini is the only Class II prescription-only medical device that has achieved FDA regulatory clearance for this age group. Yet, it has a toy-like appearance appealing to young children and their families and weighs only 52 lb.

Thousands of children with mobility impairments from many different diagnoses are potential users who may benefit from this device. For example, 1 in every 345 children in the U.S. have Cerebral Palsy, and 2 in 700 babies born in the U.S. have Down Syndrome. Children with mobility impairments caused by Spinal Muscular Atrophy, Muscular Dystrophy, and Spina Bifida also benefit from 'on-time mobility' using the Explorer Mini.
"We are absolutely delighted with this accolade for our Explorer Mini – you don't get much more prestigious than TIME," says Chuck Witkowski, president of Permobil Americas. "This award is a testament to the hard work that goes on behind the scenes here at Permobil as part of our mission of innovating for individuals."
Each year, TIME seeks out the top 100 products, software, and services that solve some of society's greatest issues. Editors at TIME based their selections on originality, creativity, influence, ambition, and effectiveness, selecting inventions that change the way we live, work, play, and think about what's possible. You can see the full list here: https://time.com/collection/best-inventions-2021/
Learn more about the Explorer Mini here: https://hub.permobil.com/explorer-mini
Check out our new resource A Parent's Guide to the Explorer Mini here: https://hub.permobil.com/parents-guide-to-the-explorer-mini-download
---