Independence Through Exploration
The Importance of On-Time Mobility
A young child's ability to explore their environment ushers in a cascading array of cognitive, social, emotional and spatial skills that concurrently provide tremendous opportunities for growth. If the typical developmental sequence is altered, the ability for a young child to change their environment, control the objects they want, and forage into spaces is halted. At Permobil we want to help change that with the Explorer Mini.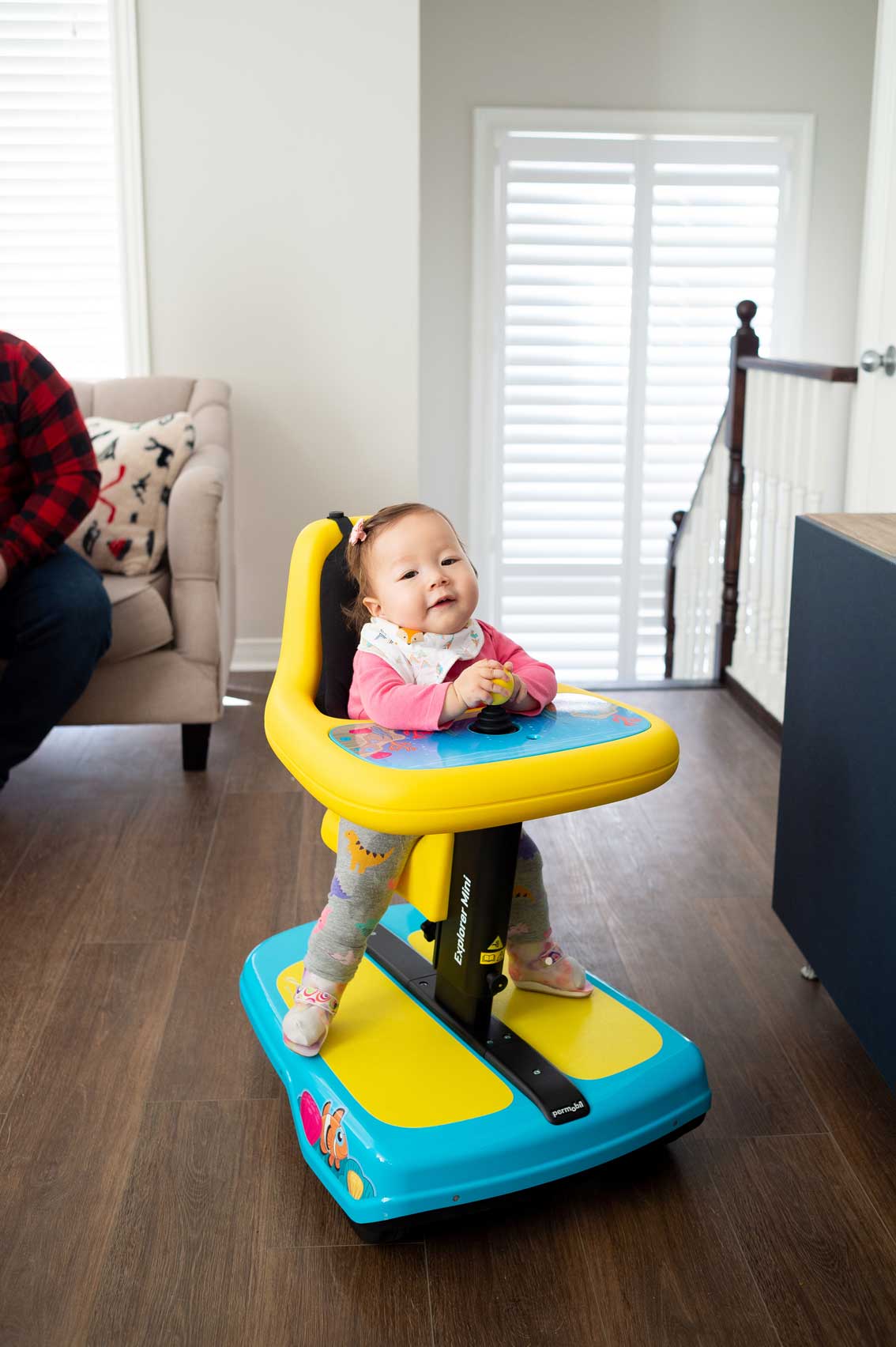 What are Early Developmental Milestones I need to know for my child?
The illustration below shows milestones for typically developing children. When a child is struggling to meet these milestones there are therapies that children can go through to promote this development (1,2). Achieving each milestone doesn't happen in a vacuum, they are all tied together, and a key to achieving many of these milestones is self-initiated mobility (1,2). This is a challenge for very young children who may not have the physical capacity to do so, and there is the temptation to think "they just can't do it." The Explorer Mini was specifically designed for these very young children to be placed in postures that will promote development and allow for self-initiated mobility.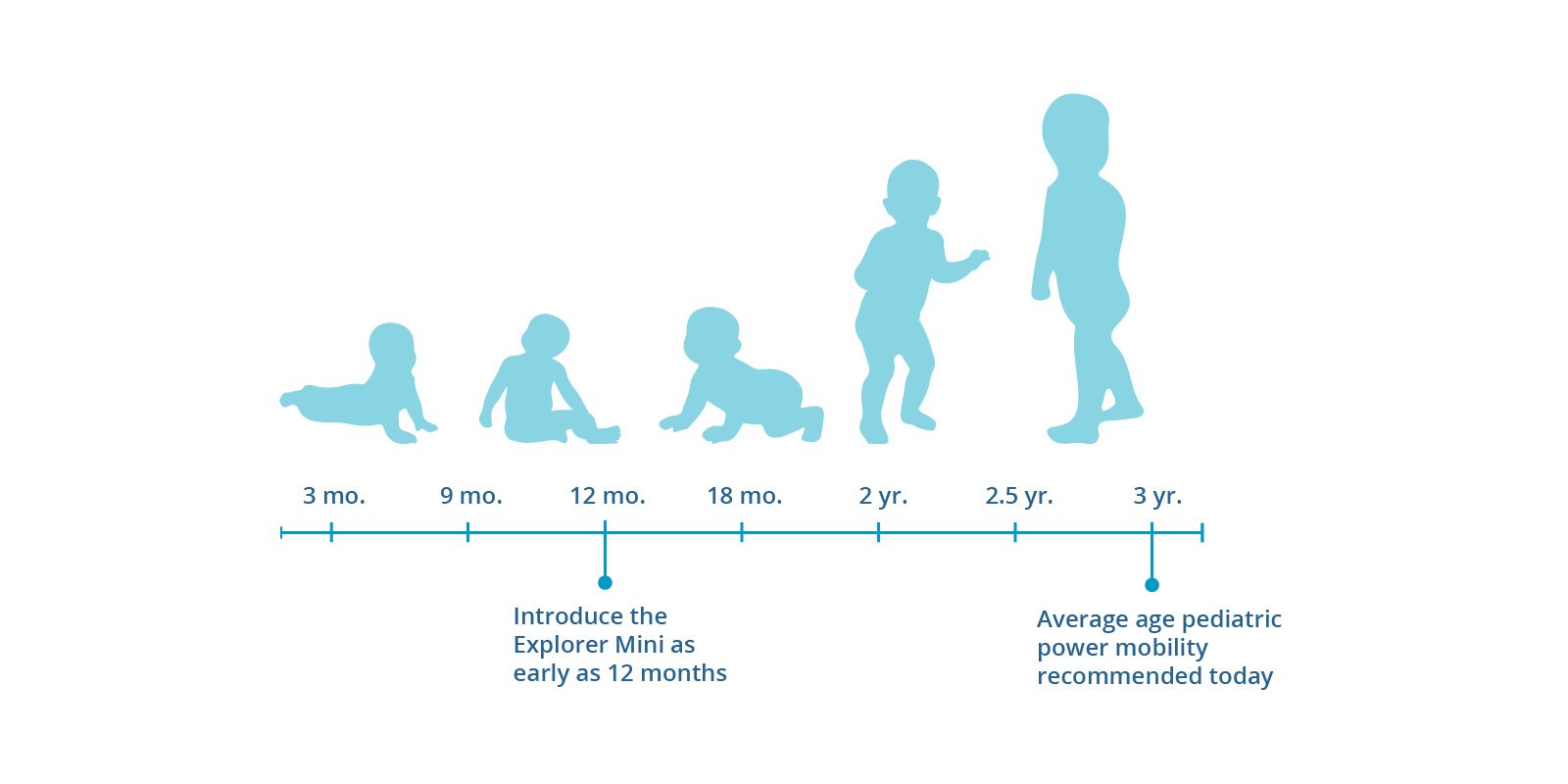 How does the Explorer Mini promote developmental milestones?
Key Early Developmental Milestones:
They lie on their tummy, prop up on forearms, hold their head up and start to fix their eyes on objects nearby.
They begin to sit up and they stretch out with their hands to find objects within reach.
When successful at finding and manipulating items in reach they begin noticing items beyond their reach
They reach beyond themselves until they fall on outstretched arms
They begin to crawl to reach objects. This strengthens their arms and legs to prepare for standing and later walking.
But what happens when a young child does not reach for toys in prone or crawls to a desired object due to a development delay or medical condition that limits their ability?
The first two years are crucial for development and there are few devices designed to give a young child with mobility impairments the ability to explore their environment while promoting developmental postures.
What may help provide my child with mobility while supporting development?
Permobil is proud to introduce the Explorer Mini which was designed to provide an opportunity for independent mobility while promoting developmental milestones.
What does success look like for a child with mobility impairments?
In typical development, children need to work through their developmental milestones such as when learning to crawl. They often fail at first and keep trying until they're successful. Parents don't typically prop them up and "save them", they let them struggle through. This is where the Explorer Mini can give a young child a safe opportunity to work through postures that may promote development when they otherwise would be unable to self-initiate mobility. It may take time and practice, but they can ultimately be successful with posture and independent movement.
Caregivers and clinicians have been reluctant to recommend or accept a wheelchair as it may be seen as a "last resort", a failure, a sign of a disability (2). In fact, the disability is not having access to one's environment! This is particularly troubling for young children who need environmental exploration to learn, play, socialize and find who they are in their world. The Explorer Mini is a device that looks like a toy but can provide a very young child the opportunity to explore their environment, play with peers and family, while helping to support development.
Will the Explorer Mini delay my child from walking?
How is the Explorer Mini different than other power mobility devices?
There are limited options for early power mobility devices on the market.
Modified powered toys have been successfully used to provide children with the ability to explore their environment and move from point A to point B, but as non-medical devices they were not designed with the needs of children with mobility impairments in mind.
Of course there are pediatric power wheelchairs on the market, but the typical age range for these mobility devices is age three and above (4). Waiting for the three year old age range to provide power mobility means potentially missing out on earlier experiences with self-initiated mobility.
The Explorer Mini is a medical device that looks like a toy, but has been designed to promote early exploration and self-initiated mobility for children with mobility impairments. It has been rigorously tested and gone through regulatory approval to be considered a medical device.
The Explorer Mini is not intended to be a child's full-time device.
It is a tool allowing self-initiated mobility and freedom of movement which can help improve trunk and head control, and functional use of the upper extremities. It is not designed simply to get a very young child from point A to point B but is intended to allow them to explore their environment while in an upright posture that helps support milestone achievement. Each component of the Explorer Mini is intentionally designed to address areas of childhood development and is meant to be utilized as early as 12 months of age.
The saddle seat supports functional positioning and hip development by promoting anterior pelvic tilt and hip abduction

The tray table provides an upper extremity weight bearing surface to aid in development of head and truck control

A height adjustable column allows for a tool-less adjustments to easily change height for different activities and child growth

Stable platform with non-slip surface supports weight-bearing through feet

Compact front wheel drive base provides small footprint for exploring kid-sized spaces

The wrap around table and backrest provides just the right amount of support while allowing freedom of movement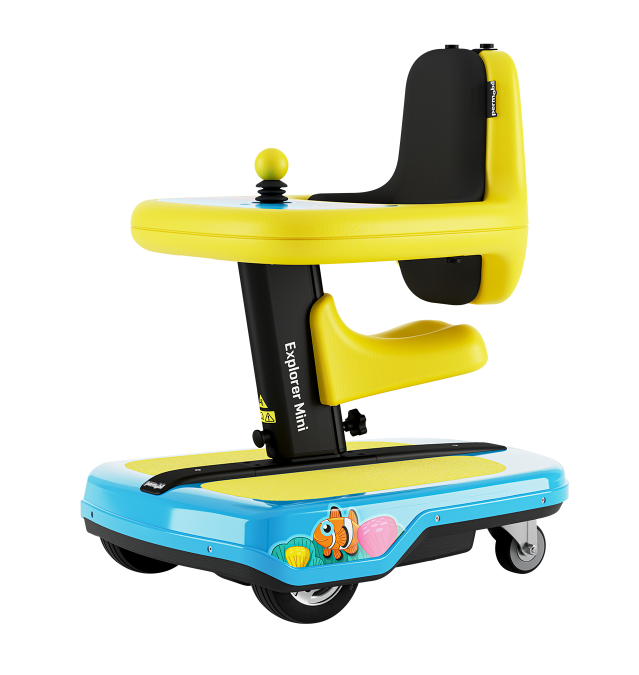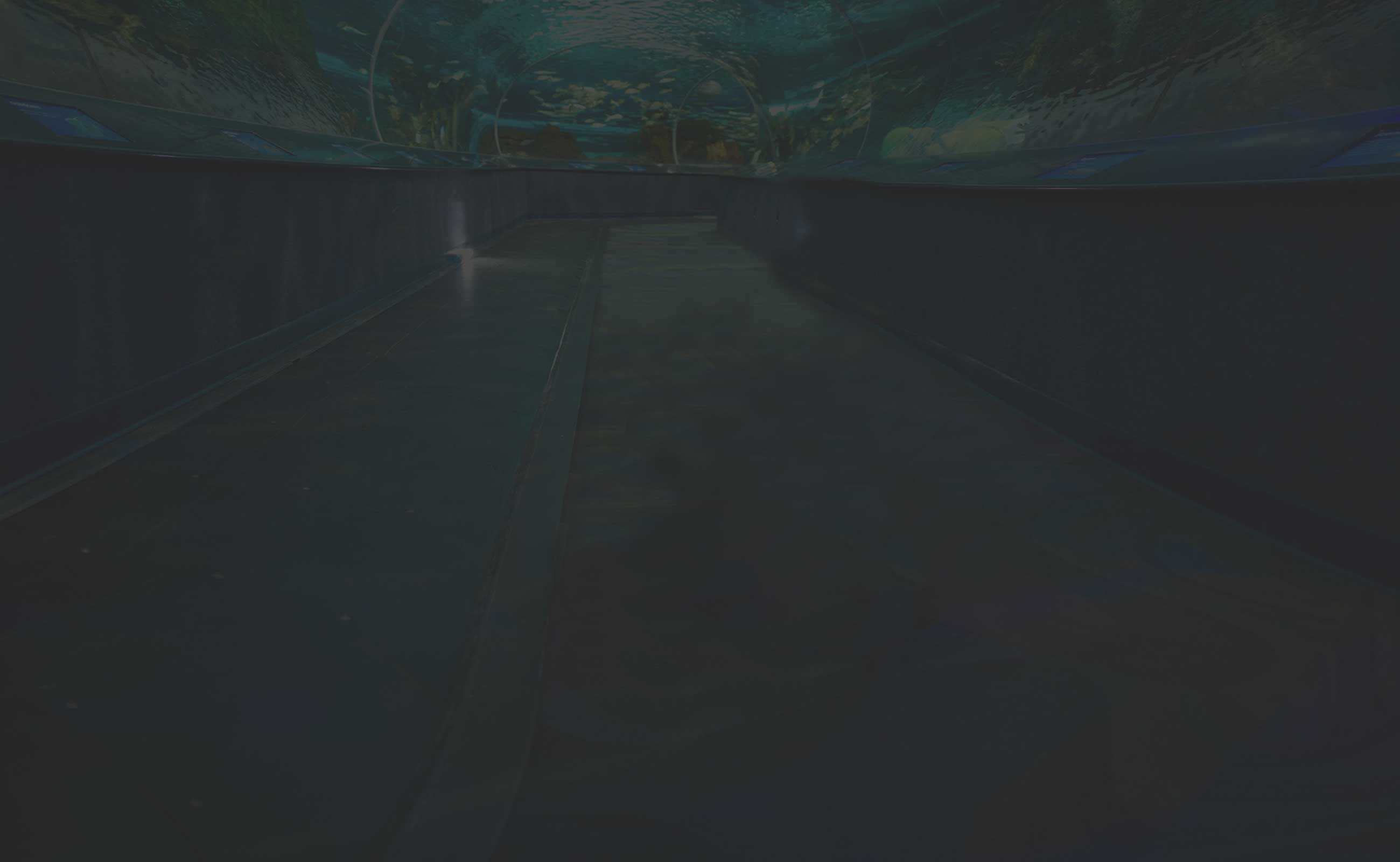 Developmentally Inspired Seating
The Explorer Mini is an ergonomic device with multiple weight bearing surfaces to help promote safe, stable upright postures. The intuitive design provides just the right amount of support enabling young children with mobility impairments opportunities to develop strength, endurance and postural control. Each element of the Explorer Mini was designed specifically for developmental milestones in early childhood.
Adjustable Column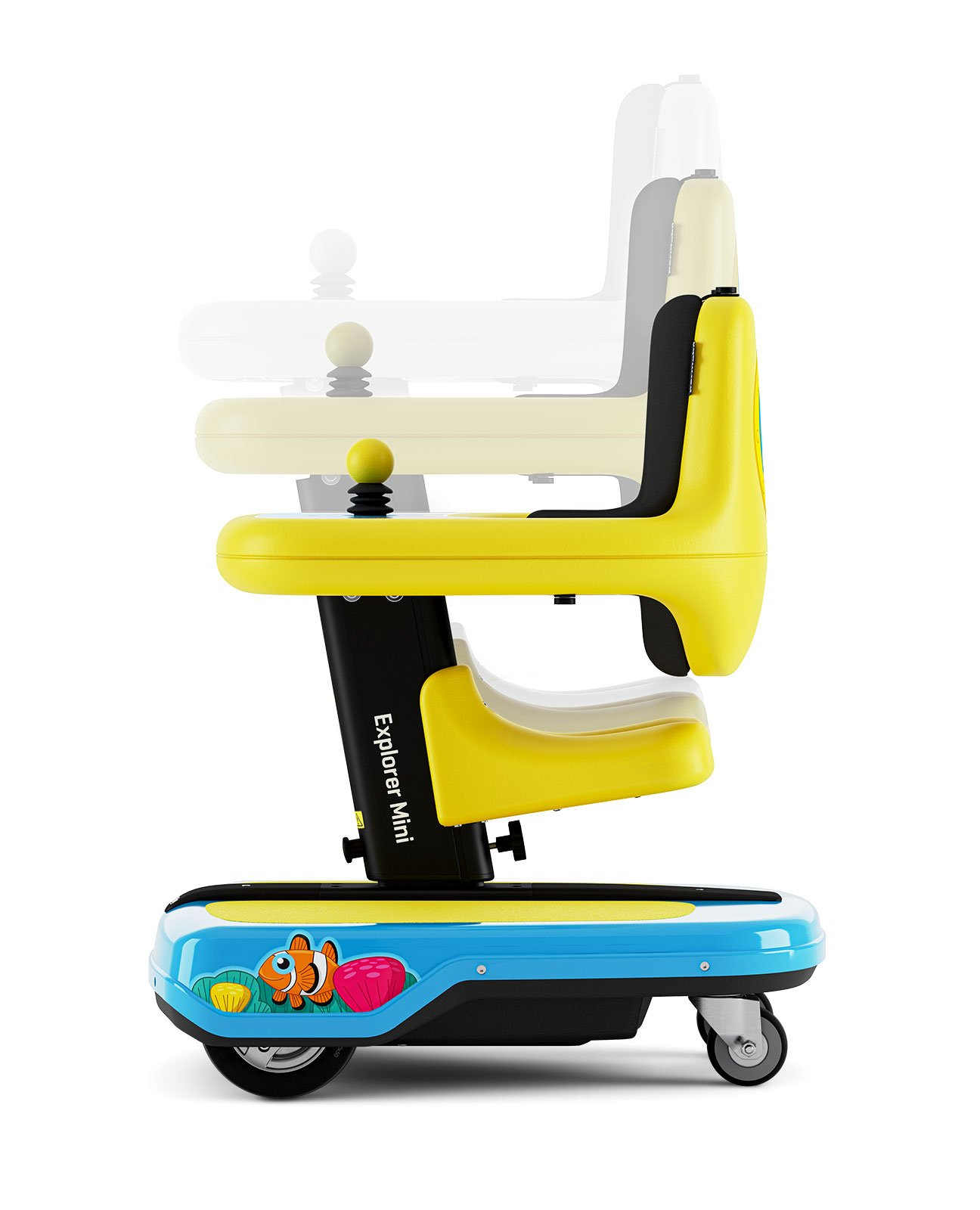 Adjustable support for safe seated or standing position
Tool-free height adjustment supports growth
Adjustable seat height for peer interaction and exploration
Supports changing positioning for activities and incremental standing
Altering height taps into vestibular system
Saddle Seat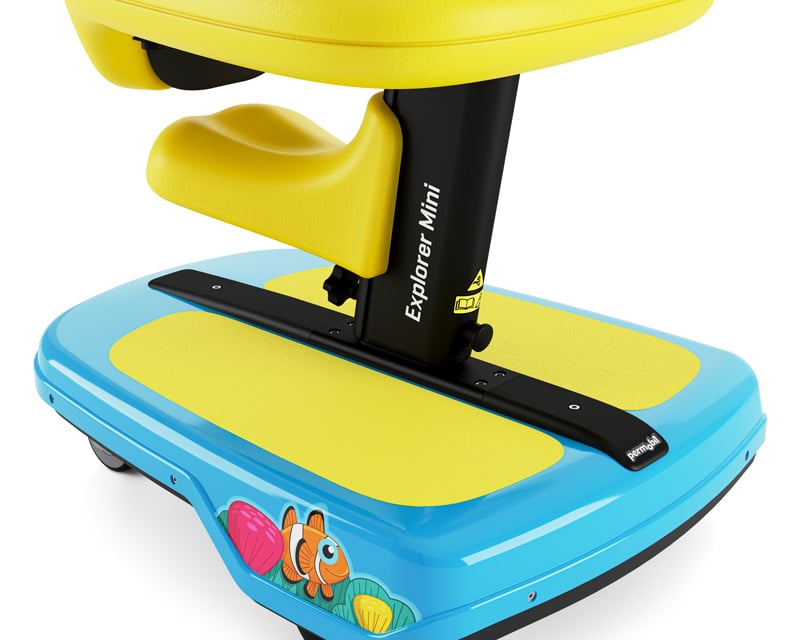 Gentle slope promotes anterior pelvic tilt
Positions knees in slight abduction supporting hip development
Allows forward/backward rocking to facilitate anterior to posterior development
Removable seat facilities independent standing
How does the Explorer Mini facilitate an active posture for function and exploration?
Midline Joystick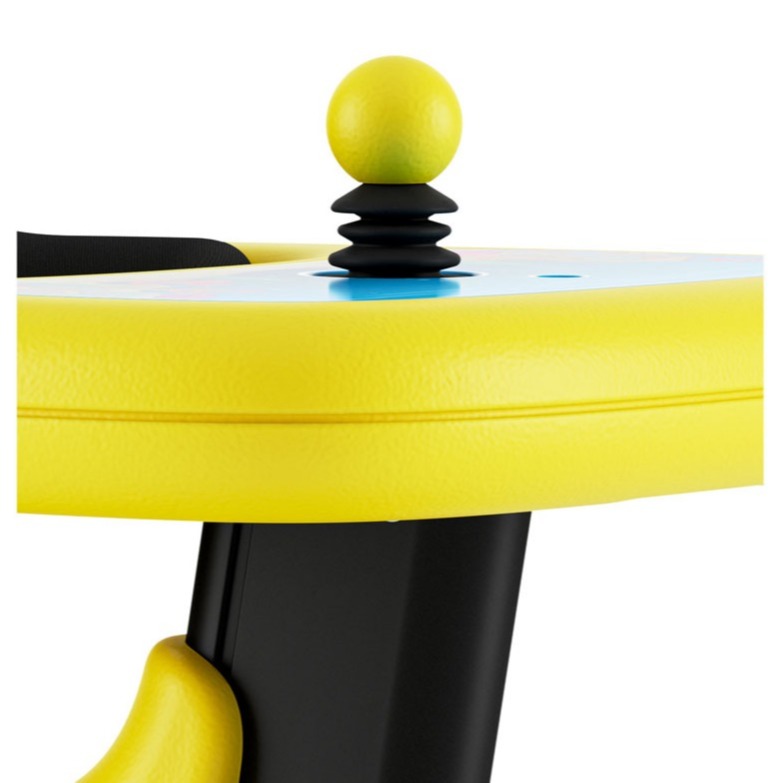 Small yellow ball-shaped handle is within visual fixation range for young children
Handle promotes reaching, visual and oral exploration
Encourages eyes and hands coming to midline
Promotes contact to volar (palm of hand) aspect of hand which leads to grasp and release and haptic perception which is recognizing objects through touch
Promotes bilateral upper extremity integration
Upper Extremity Weight-Bearing Surface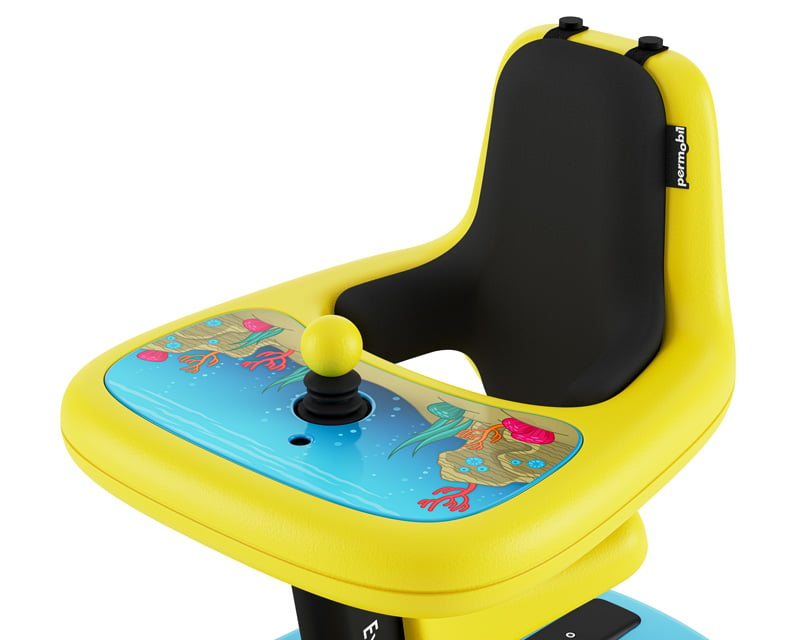 Weight bearing on elbows helps promotes head and trunk control
Develop body awareness through proprioceptive input
Aids in development of spinal curves
Supports respiratory function by helping to open rib cage
Common misconceptions about early mobility devices
1. Twelve months is too early to begin power mobility
A usability study on the Explorer Mini with young children found the device promoted self-initiated movement in the majority of children tested. The Explorer Mini has been regulatory approved as safe and effective for targeted population. Through a usability study testing, the Explorer Mini was found to promote exploration and self-initiated movement in young children with mobility limitations


How does the Explorer Mini promote independence in young children who struggle with mobility?
2. My child is too young to use a joystick
Of the 33 children under 36 months who participated in human factor validation studies of the Explorer Mini, 94% were able to move the device using the midline joystick control while 88% demonstrated cause and effect learning through grasping and releasing the joystick. The proportional joystick provides multi-modal sensory input and allows movements in all directions. The striking yellow color and position of joystick on the tray encourages eyes and hands coming to midline, grasp & release and bilateral upper extremity integration.


3. Explorer Mini does not provide enough seating or supports
The Explorer Mini provides a safe, supportive position without use of restrictive positioning components that limit freedom of movement necessary to develop postural control, strength and balance. The open design of the Explorer Mini supports development of postural control, strength and balance.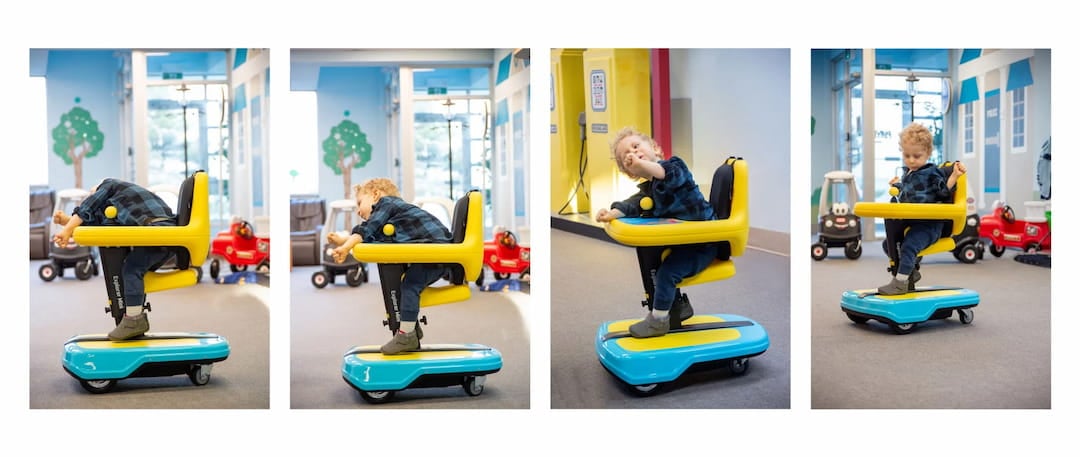 4. The Explorer Mini needs a headrest
As lifting and holding head in prone is usually achieved by 3 months, use of a headrest at this stage may inhibit development. A headrest may contribute to auditory neglect, limit vestibular input or restrict rotation of the head. The Explorer Mini is designed to facilitate activities such as weight bearing on elbows to aid in the development of head control.


5. The application for the Explorer Mini is limited without alternative drive controls such as switched input devices
The Explorer Mini was designed to support development and self-initiated mobility. Simply pressing a switch may contribute to cause and effect learning but does not provide the same degree of proprioceptive input as a joystick. If the goal was purely movement then a switch might be fine. The purpose of the Explorer Mini is to facilitate development and not just moving from point A to B.


6. The Explorer Mini doesn't have a soft enough seat cushion
The firm saddle seat provides proprioceptive feedback to facilitate upright posture and is not intended for all day use. The gentle slope of the saddle seat promotes anterior pelvic tilt while positioning the knees in slight abduction to support hip development. Additionally, children in the intended age range are likely to be wearing a diaper while in the Explorer Mini.


7. The Explorer Mini looks like a toy but is priced like a medical device
The Explorer Mini is a Class II prescription only medical device that has been rigorously tested and deemed safe for intended use through human factors validation studies. It is the only power mobility solution for young children ages 12-36 months on the market today that has been regulatory cleared by the FDA. While toy-like in appearance the Explorer Mini is a medical device that was specifically designed to be appealing to young children and their families.
Now that Sylvia has been in the Explorer Mini for a couple of weeks, we're really seeing a lot of drive for her own independence. She just wants to do stuff on her own now.
Mike Kennedy, Sylvia's Dad
Funding Alternative for the Explorer Mini
As a prescription only medical device, that has been demonstrated safe for intended use via human factors validation studies, the Explorer Mini can be submitted for insurance coverage. In the United States, there isn't a current HCPCS code available that the Explorer Mini would fall under. A miscellaneous code can be used but coverage will depend upon the funding source.
While insurance may cover the Explorer Mini, the lengthy process of approving power mobility devices consumes valuable development time. Currently, the average time it takes for a power mobility device to be approved is 3-6 months, and it can be significantly longer with some funding sources. Given this critical period of development in a very young child's life, it may not make sense to lose that much time trying to get the Explorer Mini covered by insurance. One option may be purchasing the Explorer Mini out of pocket now and submitting a claim to insurance for reimbursement.
Another consideration for alternative funding for the Explorer Mini is charitable options or state specific grants such as early intervention. For out of pocket alternatives, consider using a Flexible Spending Account or Health Savings Account. Leasing finance options such as Care Credit can be another option. Permobil has compiled a list of alternative funding options that can be explored, find it here: alternative funding resource.
At Permobil, we value the importance of early childhood development and we want the Explorer Mini accessible as possible to families with children who have mobility impairments, so we have priced it significantly below the cost of traditional power mobility devices on the market today.

---
For more information click here to contact your local representative
All contents © copyright 2021 Permobil. All rights reserved.
Sign up for Permobil email notifications