The Explorer Mini, recently named one of TIME's 100 Best Inventions of 2021, is a power mobility solution designed to aid in the achievement of developmental milestones by introducing self-initiated movement for children with mobility impairments as young as 12-months of age.
Today we are going to focus on what defines success for the Explorer Mini particularly when trying the device during an evaluation. Our four measures of success are: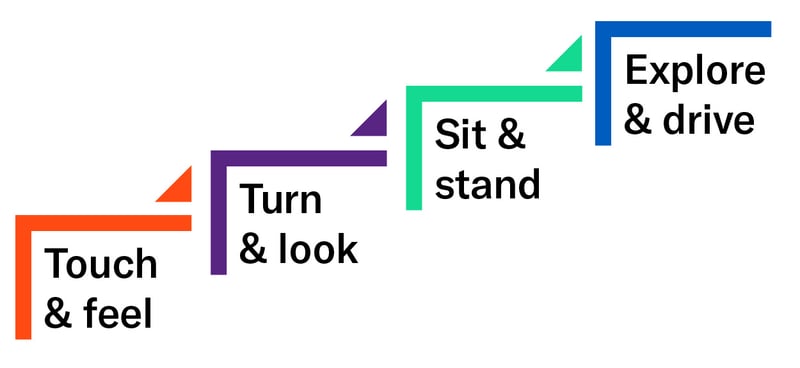 Touch & feel
Turn & look
Sit & stand
Explore & Drive
Touch & feel
Sometimes new experiences can be scary, frustrating, and intimidating, especially for children that do not have the basis to reflect on how their experience will turn out. To reach this first measure of success we need to allow the child to check out the device before transferring or placing them into the Explorer Mini. By allowing the child to get familiar with the Explorer Mini in their own pace, this can help reduce fear of the device itself.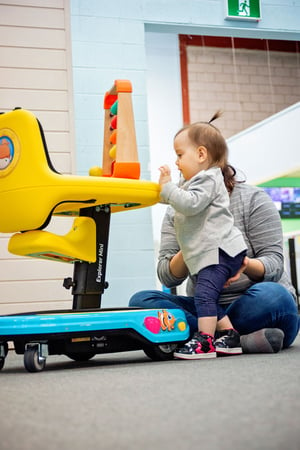 Some strategies to help the child become familiar with the device is to sit on the lap of a trusted adult such as a parent or therapist and just let them look at the device. The Explorer Mini comes with a set of stickers to decorate, and letting the child pick out the stickers and decorate the device helps introduce them to the Explorer Mini.
---
Turn & look
In our first webinar last year about the Explorer Mini in March of 2020, Dr. Teresa Plummer, shared with us the significant connection between vision and posture. When a child is being carried or moved by another person, they enter a state of being "visually idle" which means their visual system essentially goes offline. Since they can't control their movement, they will just look in front of them and tune out their surroundings. Self-initiated mobility allows for "visual foraging" which is searching for items in peri-personal space, or the area immediately surrounding our bodies. The Explorer Mini acts as a stable base of support, where a child can turn and look, which promotes postural development.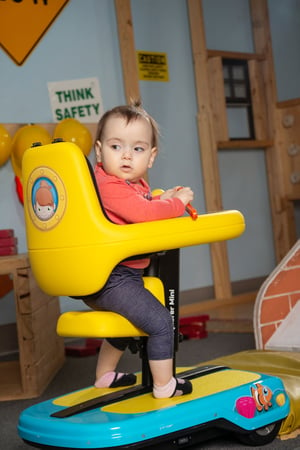 This photo of Haven illustrates this type of success. We see Haven with her pelvis in an active and stable position and she is able to turn her head and her trunk along with her visual attention.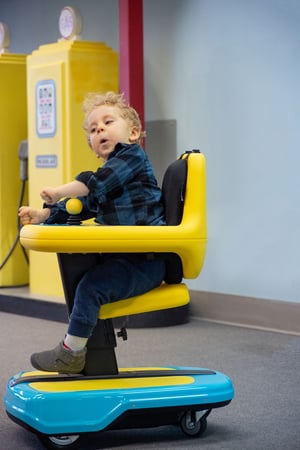 For Davis, his turn and look success related to the fact that his diagnosis is typically characterized by an increase of primitive reflexes. These are responses that he does not have control of. His body moves into extension in his lower extremities while crossing and extending his upper extremities along with his head turning. Davis is unable to disconnect his body movements from his head movements in this reflex position. Within about 30 minutes of being seated within the Explorer Mini, Davis felt that support of proximal stability through the developmentally inspired saddle seat. In addition, his legs were now bearing weight and his body was able to bend (or flex) at both the hip and the knee into a seated position. He started to be able to separate out that head turning from his arm crossing movement.
Join us next week as we go over the other two categories of how we define success in the Explorer Mini. We followed Susanna for the first three months of her journey with the Explorer Mini. Click here to learn more about Susanna's experience.
---
---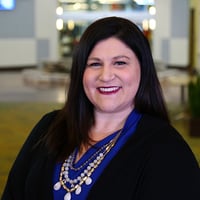 Jennith Bernstein, PT, DPT, ATP/SMS
Regional Clinical Education Manager
Jennith Bernstein received her Masters in Physical Therapy at North Georgia College & State University and returned to complete her transitional DPT at University of Texas Medical Branch in 2014. While at Shepherd Center, Jennith, initiated a "Seating Champion" program to improve the inpatient and day program clinicians understanding of complex seating, pressure management and skin protection as well as research reviews, advanced programming and adjustments. She was also part of a center wide multidisciplinary focus group for reduction of hospital acquired skin breakdown. Jennith has served as a volunteer teacher at the Universidad Mariano Galvez in Guatemala, instructing spinal cord injury curriculum as well as seating and mobility. Jennith has presented at national conferences such as RESNA, ISS, and the APTA NEXT conference. Jennith has been a practicing PT for 12 years and spent the last 10 years at a model SCI center (Shepherd Center) in Atlanta, Georgia. Jennith joined Permobil as the Clinical Education Manager for the Central Region in 2016.