During my 15 years working as the lead PT in a wheeled seating and mobility program, one thing I have learned is that the clinical decision-making process when finalizing manual wheelchair recommendations can be lengthy. Due diligence requires extensive investigative effort in order to identify the client's current medical and functional needs. Luckily, there are multiple best-practice resources for use as a guide. One of those guides is the "RESNA Position on the Application of Ultralight Manual Wheelchairs" which states:
"The evidence available regarding ultralight manual wheelchairs suggests that a properly configured ULWC will contribute to long-term functional success, decreased incidence of secondary complications, and will cost less to maintain over time. An ULWC should be considered for all individuals who are manually propelling a wheelchair to ensure maximum function and safety."

RESNA Position on the Application of Ultralight Manual Wheelchairs (2012)
With this in mind, and the client in front of me, the journey begins!
Frame choice, accessory options, environments of use...these manual wheelchair configuration considerations were always swirling around in my head as the evaluation progressed. In addition to the actual physical and functional exam, much of my time was spent trying to understand where a client is in their journey as a wheelchair user, and then matching the wheelchair configuration and features to their needs: Is the client a new user? Very experienced? Or in between? I would also try to assess how much knowledge the individual had about which features of their current chair are working well, versus what needed to be changed. This initial Q&A time, while extensive on the front end, was essential to determine what type of wheelchair frame was needed to best meet their medical and functional requirements.
The first decision to be made is folding wheelchair or rigid frame wheelchair? The case can be made for folding for clients who are longtime folding frame users and prefer this configuration due to familiarity. However, research has proven rigid frame chairs to be the lightest, most durable, and highest performing chairs because they are constructed from the fewest possible components and have the fewest moving parts. Unless there is a clear reason to continue use of a folding ultralight manual wheelchair (e.g. need to fold to access the home or the need for non-custom elevating leg rests), rigid frame manual wheelchairs should be the primary consideration.
---
Adjustable Rigid Frame Ultralight Manual Wheelchairs
The next decision to be made in terms of manual wheelchair provision involves determining a client's experience level with manual wheelchairs. This usually correlates with how long a person has been using a chair: is this their first chair or their 3rd or 4th?
People who are evaluated for their first chair are usually overwhelmed, often expressing a feeling of "I have no idea what I need, but I know something needs to change." They may arrive to the appointment in a basic rental wheelchair, issued to them at discharge from the hospital or rehab center. We discuss in detail where they use the chair (home and community use), surfaces, struggles, and goals for their use. For these newer users, adjustability is critical.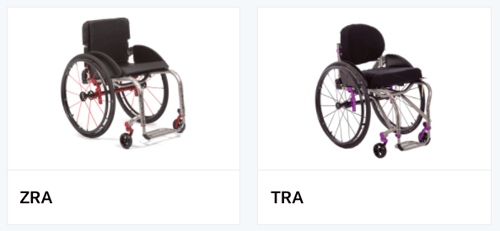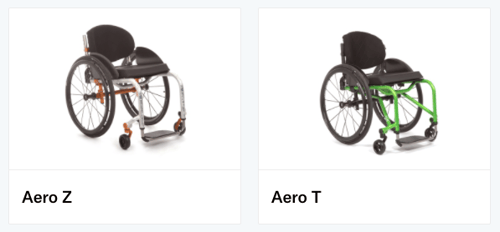 The adjustable frame ultralight manual wheelchairs, such as the TiLite Aero Z, ZRA, Aero T, and TRA provide maximum adjustability to customize a client's wheelchair configuration at delivery and allow for further adjustability down the road. The center of gravity can be moved forward and backward to ensure the casters are off-loaded, and an individual's propulsion efficiency is achieved. Adjustable front and rear seat-to-floor height options allow for more flexibility while dialing in a configuration that supports their postural stability and safe transfers.
This adjustability provides the ability to accommodate changes over time. When a client improves in skills and gains confidence, or if there is an unfortunate decline in their condition, the same chair can be adjusted to accommodate these new needs. The adjustable rigid frame ultralights are the most appropriate consideration for full-time manual wheelchair users who may be new riders, as well as for clients who have a diagnosis where changes in function are expected.
---
Performance Ultralight Manual Wheelchairs
Clients who are experienced wheelchair riders can easily state their chair configuration needs more clearly. While detailed discussions over pros and cons should still occur during the assessment, the center of gravity and seat-to-floor heights are usually the known factors based on the rider's experience. When adjustability is no longer needed, maximum efficiency can be provided by removing these adjustable components.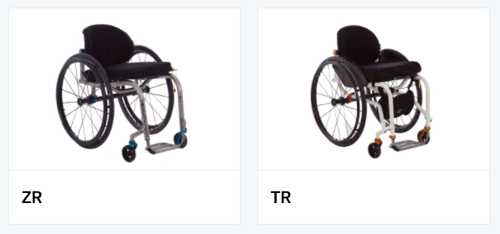 For these individuals, the TiLite TR and ZR are the perfect mobility solution. With the center of gravity and seat-to-floor heights confidently set, chair weight can be reduced, and propulsion efficiency gained. These chairs also use non-adjustable front caster housing, again reducing weight, but while also adding style! Knowing the exact rear wheel position needed, the TR/ZR can provide Zero Play Camber Plugs to give a much tighter feel to the chair, much like the sport suspension in a car. The zero play camber plugs are designed to remove any side-to-side movement from the rear wheels. Selecting a non-folding backrest can further reduce overall chair weight, improve rigidity for propulsion efficiency, and ease the effort of loading and unloading the chair during car transfers. Forgoing the adjustable hardware also means fewer nuts/bolts to tighten during routine maintenance checks (read more about MWC maintenance here!). The end result is a lower weight chair fine-tuned for efficiency and performance.
---
Dialing in the Prescription
Regardless of the degree of adjustability that is ultimately determined, it is essential that the client, therapist, and supplier go over the body measurements, wheelchair measurements, and pros/cons together as a team. An easy tool for doing this is the TiFit worksheet.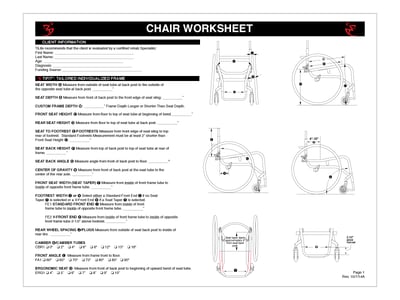 The TiFit worksheet guides the conversation as to how the current chair measurements affect function, and encourages considerations for changes on the next chair. I keep this in the client's file for reference during the fitting as well, to remind the group as to why certain changes were made between chairs. It is a great education and advocacy tool for the client too, giving them opportunities at each measurement to really think about changes that may be needed.
---
Some final thoughts
As my years in the wheelchair clinic progressed, I became more efficient in determining the wheelchair and components that would meet the needs of my clients. The key questions I routinely kept in mind to determine the appropriateness of an adjustable frame or performance frame were:
how many chairs has this person had in the past? and

how stable is this person's condition or injury?
Ultimately, providing adjustable options found on the Aero Z/ZRA/Aero T/TRA for the less experienced manual wheelchair user, and the performance packages offered on the TR and ZR for expert manual wheelchair user, is in lock-step alignment with clinical practice guidelines and rigorous research. Using these concepts in our practice, the end user will feel confident their needs were considered and met by a clinical and supplier team dedicated to using best practice processes and prescribing the right mobility solutions for each individual.
---
---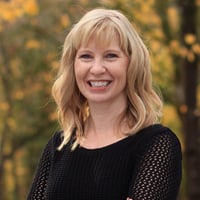 Catherine Sweeney, PT, ATP/SMS
Regional Clinical Education Manager
Catherine is currently a Regional Clinical Education Manager for Permobil. She graduated from Marquette University in Milwaukee, WI in 1990, and has extensive clinical experience in acute care, acute rehabilitation, and out-patient settings with a primary focus on neurologic rehabilitation. Prior to joining the Permobil team in September of 2019, Catherine worked at Providence St.Joseph Medical Center in Portland, Oregon for 24 years. She was instrumental in the development of the wheelchair seating clinic program, serving adults with mobility and positional needs. Catherine's skill set includes expert skill level in wheelchair seating and positioning interventions for adults, applying clinical best practice guidelines to achieve appropriate wheelchair seating outcomes for her clients. She was the lead clinical education resource for wheelchair seating interventions for Providence regional clinical settings in Oregon. Catherine is a RESNA certified Assistive Technology Professional (ATP) and Seating and Mobility Specialist (SMS). Now with Permobil, she is presenting clinical education programs to therapists and DME providers regarding seating, mobility, and pressure ulcer prevention concepts to advance the skill level of her audience with the focus on improving clinical outcomes for clients. Catherine is an active member of RESNA and the APTA, and served for two years as co-chair of the RESNA PT PSG .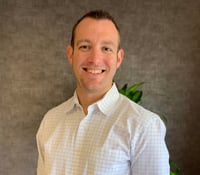 Thomas Halka, MOT, OTR, ATP
Regional Clinical Education Manager
Thomas Halka, MOT, OTR, ATP is a registered occupational therapist who graduated from Texas Woman's University in 2007 with a Master's in Occupational Therapy. From 2011-2019, Thomas practiced at the Spinal Cord Injury Unit at the VA Medical Center in Dallas, TX where he provided complex seating and mobility solutions for veterans with SCI/D and multiple sclerosis. Thomas earned his ATP from RESNA in 2018. He served on the planning committee for the PVA Summit and Healthcare Expo from 2016-2018. He has also served TWU as a member of the Vanderkooi Endowed Lectureship advisory council since 2015. Thomas joined Permobil in 2019 as a Regional Clinical Education Manager for Texas and Louisiana.