Looking for more information on seating and positioning? Check out our digital, rehab-focused Wheelchair Seating & Positioning Guide here.
---
There are three areas to consider when choosing a back support: shape of the shell, medium, and adjustability. We've gone over the shape of the shell and medium, and now we turn our attention to adjustability.
---
Why is adjustability important in back supports?
Adjustability is important to wheelchair back supports for the following reasons:
The human skeleton has natural curves that allow for optimal function.
If these curves are not supported well, they will either flatten or curve excessively, changing into an abnormal posture.
This is especially important when providing a back support for a child to promote natural curves of the spine as he or she grows.
What are ways that we can adjust a back support?
Angle and Depth
Using the mounting hardware
Posterior Contours
With moldable stays
Using tension adjustable straps or cables
Through mounted wings
Using foam wedges
Utilizing air or other cushioning inserts
Hardware is key when choosing a back support. Always consider what kind of adjustability it has so you can achieve optimal pressure redistribution.
Why is adjusting Seat-to-back angle (STBA) important?
Adjusting seat-to-back angle allows for:
Increased contact between the back and seat surface
The pelvis to reside in the intended area of the cushion
Pressure redistribution off the bony prominences
Stabilization at the pelvis and spine
Accommodation of limited hip flexion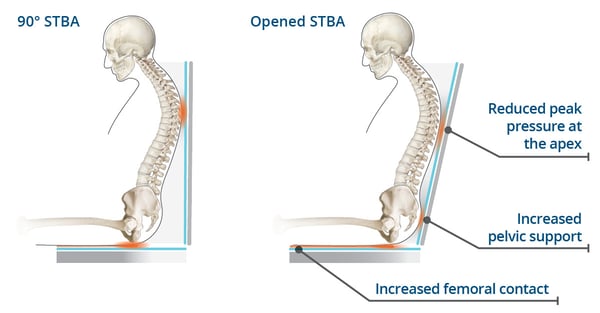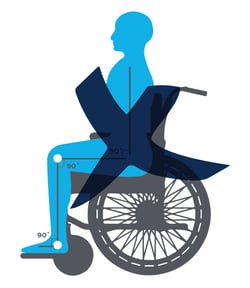 90/90/90 will NOT allow us to match the patient's joint angles.
What should we aim for with adjustability?
Look at what the patient's body is doing and consider that seat angles depend on their individual ROM, muscle integrity, and joint integrity.
Open or close the seat-to-back angle to accommodate for your patient's degree of hip ROM.
Change STBA to allow for more contact with the back support and seat surface.
Use methods such as moldable stays, wings, wedges, etc to conform to the patient's individual curvature.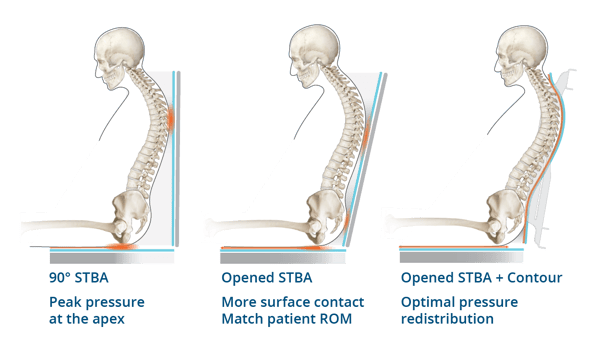 When more surface area makes contact with the patient, stability and comfort increase.
---

That wraps up our 3-part series focusing on what to consider when choosing a back support. Join us next time when we take a closer look at wheelchair accessories.
---
---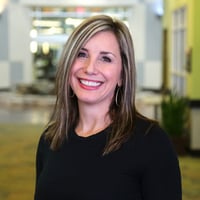 Stacey Mullis, OTR/ATP
Director of Clinical Marketing
Stacey serves as Director of Clinical Marketing for Permobil. A practicing OTR for over 20 years, she has experience in school-based pediatrics, inpatient rehabilitation, long term care, and home health. With her interest in wheelchair seating and positioning, Stacey engaged the challenges of providing appropriate seating in various clinical settings. She now uses this experience to develop programs and resources to educate clinicians on the principles of seating and wheeled mobility. She is passionate about equipping clinicians and through her previous role as Director of Clinical Education with Comfort Company and now with Permobil she has taught nationally and internationally to increase therapist capacity in this specialty area. Mullis graduated from Western University in London, Ontario, Canada with a BA Linguistics and BSc Occupational Therapy. She is a member of the NCOTA, CTF Executive Board, NRRTs, RESNA, and AOTA.